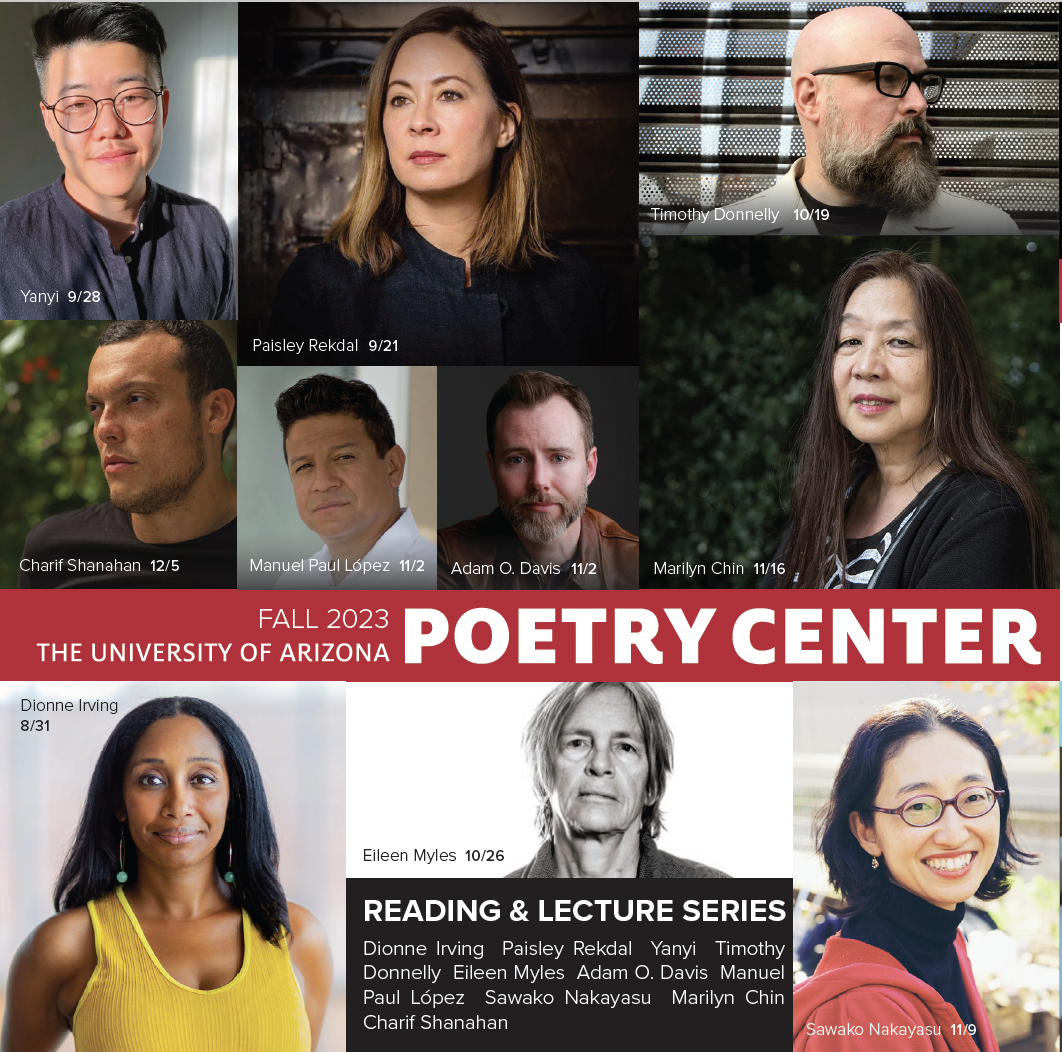 We could not be more excited to announce our Fall 2023 Reading & Lecture Series, featuring an amazing slate of writers!  We're grateful for support from the College of Humanities, Health Sciences Innovations in Healthy Aging,  the W.A. Franke Honors College, and from supporters in the Poetry Center's Walt Whitman Circle for their underwriting support. 
All reading series events will be livestreamed at the time of the reading unless noted otherwise on the Poetry Center website.
Starting off on August 31st is a partnership with the Creative Writing Program's Distinguished Visiting Lecture Series with a visit from writer Dionne Irving, who will read from her story collection The Islands, a PEN/Faulkner finalist and a New York Times Book Review Editor's Choice. 
In September, we'll welcome Paisley Rekdal, who will read at the Poetry Center on Thursday, September 21st.  Among many other honors and recognitions, Rekdal is a Guggenheim and Fulbright Fellow.  She teaches at the University of Utah, where she currently serves as the Director of the American West Center.  Her most recent work is West: A Translation, a hybrid book length poem that draws a powerful, necessary connection between railroad expansion and the Chinese Exclusion Act (1882–1943). On September 28th, we're thrilled to welcome poet Yanyi for our annual Morgan Lucas Schuldt reading.   Yanyi is the author of two collections including Dream of the Divided Field and The Year of Blue Water, which won the 2018 Yale Series of Younger Poets Award. 
October features visits from poet Timothy Donnelly on the 19th, who will read from his latest: Chariot, published this May.  His fourth collection, Chariot follows up on previous titles The Problem of the Many and The Cloud Corporation, all from Wave Books.  A Guggenheim Fellow, Donnelly is Director of Poetry in the Writing Program at Columbia University's School of the Arts.  On October 26th, we'll feature poet Eileen Myles.  The author of more than 20 collections of poetry and prose, including I Must Be Living Twice: New and Selected Poems and Chelsea Girls, Myles' recently published the poetry collection is a "Working Life."  They have been hailed by the New York Times as "one of the essential voices in American Poetry." 
In November, we're thrilled to be hosting poets Manuel Paul López and Adam O. Davis on the 2nd.  López is the author of four collections, most recently Nerve Curriculum from Futurepoem, hailed by Roberto Tejada as " thrilling confirmation of a unique élan that can fuel the Latinx imagination."   Davis is the author of the collection Index of Haunted Houses, winner of the Kathryn A. Morton Prize from Sarabande Books and finalist for the Big Other Book Award for Poetry. On November 9th, in partnership with the American Literary Translators Association and their conference The Place of Translation (happening in Tucson!), we'll host conference keynote Sawako Nakayasu for a reading.  Her newest books of poetry include Pink Waves from Omnidawn, a finalist for the PEN/Voelcker award, and Some Girls Walk Into The Country They  Are From from Wave Books, both of which engage the intersection between writing and translation.  On November 16th, we're thrilled to host poet Marilyn Chin.  The author of six collections, including her most recent Sage from W.W. Norton, Chin has been recognized with awards including the Ruth Lilly Prize for lifetime achievement in poetry, the American Academy of Arts and Letters award, the United Artist Foundation award, the Radcliffe Institute Fellowship at Harvard, the Anisfield-Wolf Book Award, among others. 
In December, we'll close the season with a visit from Charif Shanahan, on Tuesday December 5th.  Shanahan is the author of two collections, including Trace Evidence from Tin House, which Publisher's Weekly called "Exquisite and affecting. . . . an artistic vision that is dynamic and brilliantly conveyed." 
Looking forward to a spectacular season at the Poetry Center! 
_____________________________________________________________________________________________________________________________________________
Events take place at the Poetry Center unless otherwise indicated. Additional events and info at poetry.arizona.edu/calendar.
Thursday, August 31st, 7:00 PM
Reading: Dionne Irving
Thursday, September 21, 7:00PM
Reading: Paisley Rekdal
Thursday, September 28th, 7:00 PM
Reading: Yanyi
Thursday, October 19th, 7:00 PM
Reading: Timothy Donnelly
Thursday, October 26th, 7:00 PM
Reading: Eileen Myles
Thursday, November 2nd 7:00PM
Reading: Manuel Paul López and Adam O. Davis
Thursday, November 9th, 7:00PM
Reading: Sawako Nakayasu
Thursday, November 16th, 7:00PM
Reading: Marilyn Chin
Tuesday, December 5th, 7:00PM
Reading: Charif Shanahan