books
Main Reading Room (The Ruth Stephan and Myrtle Walgreen Collection)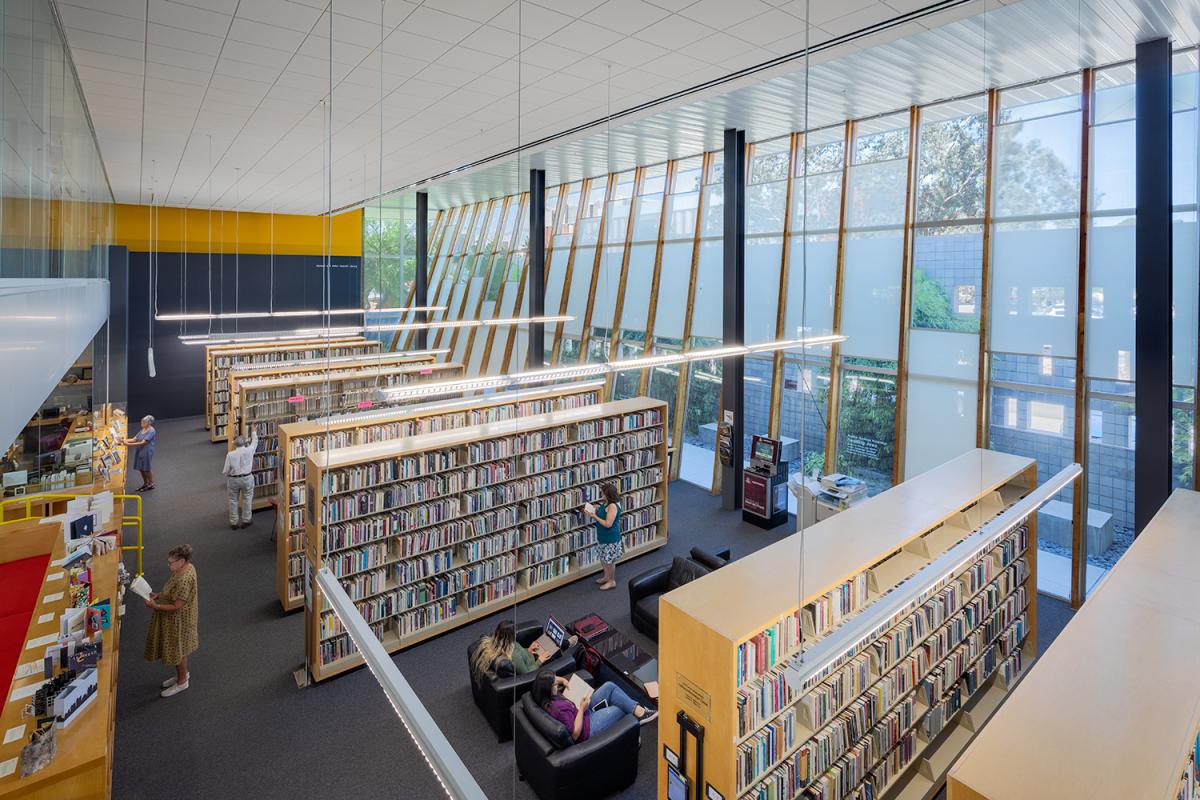 The Poetry Center Library has more than 50,000 books of contemporary poetry. You can find most of our books in the Reading Room on our ground floor, organized alpha by author. 
The Reading Room also has separate sections for literary journals, poetry criticism, children's books, and anthologies. Journals are organized alpha by title. Works of criticism are organized alpha by author. Children's books are organized by theme. Anthologies are organized according to geographic region. 
All books and journals remain in the building: the Poetry Center is a special-collections library and doesn't lend books. You are welcome to stay and read for as long as you like during our opening hours. 
LIBRARY HOURS
| | |
| --- | --- |
| Monday | Closed |
| Tuesday | 9:00 a.m. to 5:00 p.m. |
| Wednesday | 9:00 a.m. to 5:00 p.m. |
| Thursday | 9:00 a.m. to 5:00 p.m. |
| Friday | 9:00 a.m. to 5:00 p.m. |
| Saturday | 9:00 a.m. to 3:00 p.m. (academic year only) |
| Sunday | Closed |
Search the Poetry Center Library
The Poetry Center Library's main collection is named for Ruth Stephan and Myrtle Walgreen, who generously donated the endowment that funds our purchases of new titles every year. 
All visitors to the Poetry Center Library must abide by the Poetry Center's Code of Conduct. 
Rare Books
Older, more fragile, and more valuable books, along with our growing collection of artists' books, are housed in our closed-stack Rare Book Room. Ask any of the library staff for access to rare books. 
Archives and Rare Book Access Policies Form (for first-time users)
Poetry Center Rare Books (list updated annually)
Chapbooks
The Poetry Center Library has thousands of chapbooks (short collections of poetry, usually under 30 pages) in our closed-stacks Archives and Rare Book Rooms. 
Visit during the library's opening hours to browse recent chapbooks in the New Books section of the Reading Room. 
You can also search for individual chapbooks in our catalog. To read a specific chapbook from our collections, just ask a librarian. 
broadsides
You can view over 800 poetry broadsides in the Poetry Center's collections: just ask a librarian if you'd like to see a particular broadside. Some of the Poetry Center's broadsides can be found in no other library in the world. 
Broadsides are housed in the Rare Book Room. You can also view a selection of our new broadsides at the central table in the Reading Room.
Archives and Rare Book Access Policies Form (for first-time users)
Poetry Center Broadsides (list updated annually)