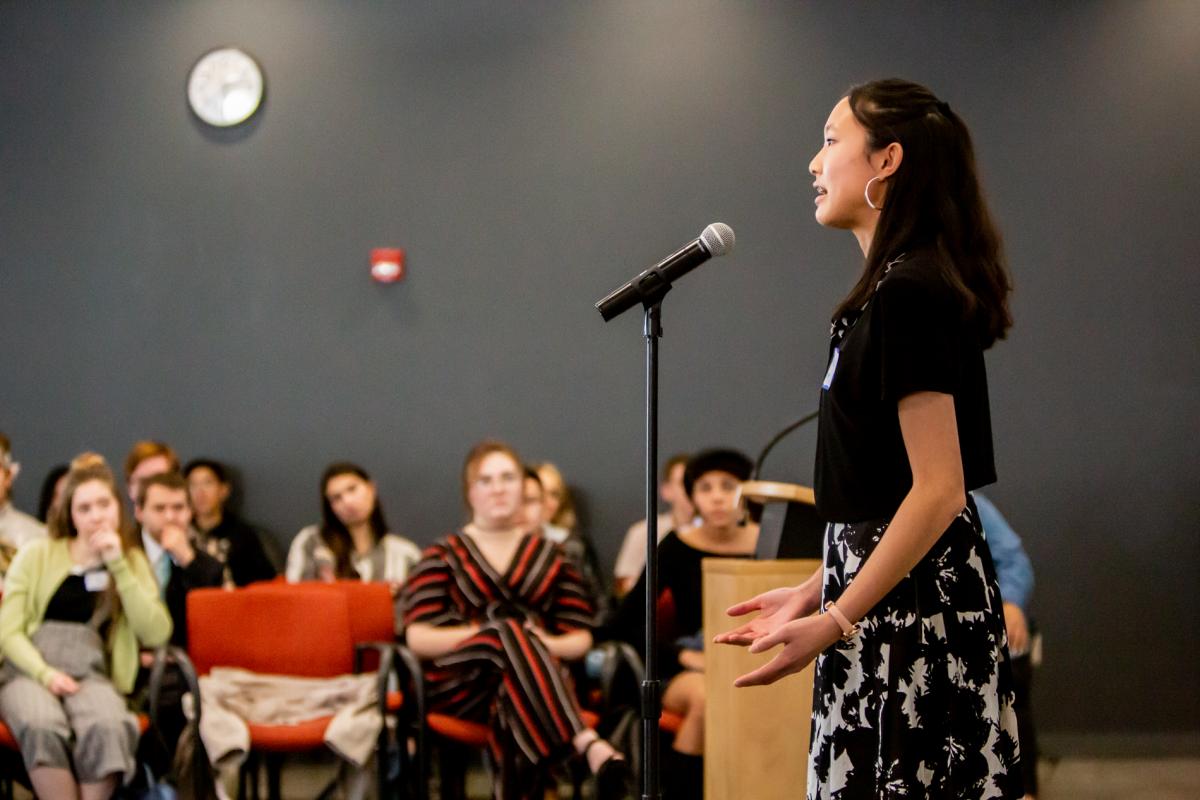 Poetry Out Loud: National Recitation Contest is a national program for high-school students and teachers that seeks to foster the next generation of literary readers by capitalizing on the latest trends in poetry – recitation and performance. The National Endowment for the Arts and The Poetry Foundation partner with state arts agencies to bring the Poetry Out Loud program to all 50 states and the US territories.
The University of Arizona Poetry Center is thrilled to be the new administrative home of Arizona's statewide Poetry Out Loud program. 
---
Register for 2022 Poetry Out Loud 
Teachers who would like to participate register themselves for the program. Once registered, each participating teacher/school receives free multimedia curriculum materials – a poetry anthology, teachers' guide, posters and comprehensive website all aligned to national standards – augmenting their regular poetry curriculum with poetry recitation and a classroom-level competition. School-level recitation champions compete to advance to the regional, state and then national levels.
Click here to register for the 2022 POL season! Registration closes October 31, 2021.
---
2021-2022 Timeline and Important Dates 
August 20, 2021– School Registration Opens
September 2021 – Teacher's Guide and Poetry Out Loud Anthology available online
October 31, 2021 – School Registration Closes
January 2022 – Classroom/School-wide Contests
February 2022 – Virtual Regional Competition Schedule 
| | | | |
| --- | --- | --- | --- |
| Northern Region | Central Region | Southern Region |   |
| February 26, 2022 | February 26, 2022 | February 18, 2022  |   |
March 5, 2022 – Virtual AZ POL State Finals Competition
March 15, 2022 – Virtual AZ POL State Finals Celebration 
April 25 - 27, 2022 –  Virtual POL National Finals, details TBA. 
---
Regional Partners
Arizona Poetry Out Loud Regional Partners are organizations with strong ties to their local literary and school communities, and are dedicated to creating opportunities for increased student and school involvement in the Poetry Out Loud program.
Central Region Partner
Virginia G. Piper Center for Creative Writing 
M. McDonough
m.mcdonough@asu.edu
Northern Region Partner
Northern Arizona University
Andrea Lenhart
Andie.Lenhart@nau.edu
Southern Region Partner
University of Arizona Poetry Center
Teré Fowler Chapman 
tfowlerchapman@arizona.edu
If you are unsure about your school's region, or would like more information, please contact the University of Arizona Poetry Center at pceducation@email.arizona.edu. 
---
The Poetry Out Loud website offers extensive learning tools, including eligible poetry for the competition, classroom ideas and teacher resources, and specific information about evaluation criteria.  It also contains a highly-useful audio guide that includes excerpts of famous actors and poets reciting poetry, a great way to learn about dramatic appropriateness and articulation.
The Poems and Performance section of the Poetry Out Loud website provides access to the online anthology and other resources for students.
Join Poetry Out Loud on Facebook.
Journals, Books and Websites (61 KB PDF) – Explore more poetry through these web-based poetry resources, print and electronic journals, books and more.
---
Special thanks to our generous sponsors: Poetry Out Loud, National Endowment for the Arts, Arizona Commission on the Arts, and Poetry Foundation.