Thursday, November 10, 2022 - 7:00pm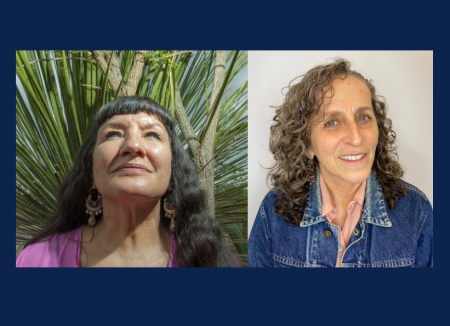 Guidance regarding COVID-19 procedures at our Reading & Lecture Series events is available here. All events will be streamed live on our website. 
This event will take place at the Health Sciences Innovation Building (HSIB), 1670 E Drachman St, Tucson, AZ 85721.
The Hannelore Quander-Rattee Works-in-Translation Reading is an annual reading featuring translators of poetry, international poets, and writers and scholars working with the boundless possibilities of translation. 
We are proud to present Sandra Cisneros and Liliana Valenzuela, who will read from their work.
Sandra Cisneros is a poet, short story writer, novelist, essayist, performer, and artist. Her numerous awards include NEA fellowships in both poetry and fiction, a MacArthur Fellowship, national and international book awards, including the PEN America Literary Award, and the National Medal of Arts. More recently, she received the Ford Foundation's Art of Change Fellowship, was recognized with the Fuller Award for Lifetime Achievement in Literature, and won the PEN/Nabokov Award for Achievement in International Literature. In addition to her writing, Cisneros has fostered the careers of many aspiring and emerging writers through two nonprofits she founded: the Macondo Foundation and the Alfredo Cisneros del Moral Foundation. As a single woman she made the choice to have books instead of children. A citizen of both the United States and Mexico, Cisneros currently lives in San Miguel de Allende and makes her living by her pen.
Liliana Valenzuela is an award-winning poet and acclaimed Spanish translator of works by authors such as Sandra Cisneros, Julia Alvarez, Denise Chavez, and many other writers. She is the author of the full-length poetry collection in two languages Codex of Love: Bendita Ternura (FlowerSong Books, 2020)  and the chapbook Codex of Journeys: Bendito Camino (Mouthfeel Press, 2013), and several artisan chapbooks. She is a Macondo and Canto Mundo fellow and has held residencies at The Tasajillo Residency, Writers' Colony at Dairy Hollow, and Vermont Studio Center. A native of Mexico City, Valenzuela lives and works in Austin, Texas. 
Additional support for the 2022-2023 Reading & Lecture Series was provided by Innovations in Healthy Aging – a strategic collaboration led by the University of Arizona Health Sciences, rethinking what it means to thrive while aging.