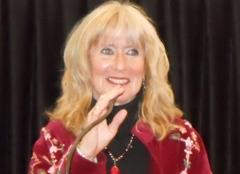 Registration at this link is open until the class is filled.
Class meetings: Two three-hour sessions, October 15-16, 2016. Saturday morning, October 15, 10am-1pm, and Sunday afternoon, October 16, 1pm-4pm, in the UA Poetry Center Conference Room.
Spend a weekend writing poems with poet, editor and environmental activist Pamela Uschuk. Divine and give shape to the wild inside by observing the wild outside in this generative beginning-level poetry writing workshop. Come prepared to write and share your work. Pamela will provide writing prompts, example poems, and encouraging criticism. Learn to create powerful metaphors from the natural world, the use of sound techniques to create rhythms as well as various types of line breaks to create form for your poems, and to illuminate multiple depths of meaning. Thoreau wrote, "In wilderness lies preservation." Just as we need to preserve the last wildernesses on our planet, poets need to preserve what's wild within themselves. You'll read and discuss eco poetry, urban nature poetry and nature poetry by writers such as Mary Oliver, Camille Dungy, Joy Harjo, Sandra Alcosser, Patricia Spears Jones, Pattiann Rogers, Audre Lorde, Linda Hogan, Theodore Roethke, Natasha Tretheway, W.S. Merwin, Wang Ping, Gary Snyder, Ann Fisher-Wirth, Marilyn Nelson, Teresa Mei Chuc, Jim Harrison, and others. Come howl out powerful poems of your own. You can expect to take home 5-6 new poems.