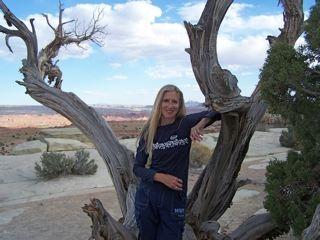 "Like Lorca, Uschuk is a poet of the duende, that mystical Spanish conception; she views the poem as a vehicle for fierce engagement with the body and its social realities, often with a metaphysical awareness that transcends and extends the corporeal into the natural world. Working a poetics rare for a North American writer, Uschuk has crafted a poetry equally steeped in nature and political resistance. This is an ecological poetics of engagement, a mythic poetry—part Lorca, part Rachel Carson."                     
- Sean Thomas Dougherty, RAIN TAXI, 2012     
Political activist and wilderness advocate, Pam Uschuk has howled out six books of poems, including Crazy Love, winner of a 2010 American Book Award, Finding Peaches In The Desert (Tucson/Pima Literature Award), and her most recent, Blood Flower, one of Book List's 2015 Notable Books.
Translated into more than a dozen languages, her work appears in over three hundred journals and anthologies worldwide, including Poetry, Ploughshares, Agni Review, Parnassus Review, etc.
Among her awards are the War Poetry Prize from winningwriers.com, New Millenium Poetry Prize, Best of the Web, the Struga International Poetry Prize (for a theme poem), the Dorothy Daniels Writing Award from the National League of American PEN Women, the King Editor-In-Chief of Cutthroat, A Journal of the Arts Uschuk lives in Tucson, Arizona with her husband, first Tucson Poet Laureate, William Pitt Root. She edited the anthology, Truth To Power: Writers Respond To The Rhetoric Of Hate And Fear, 2017. Other editing projects include the in-progress, Contemporary Chicanx Writers Anthology, co-sponsored by Cutthroat and The Black Earth Institute. Uschuk teaches yearly as a featured writer at Ghost Ranch. She has taught on Native reservations in Montana and Arizona as well as in undergraduate and graduate programs at Salem College, Pacific Lutheran University, Prague Summer Programs, Marist College, Fort Lewis College and the University of Tennessee, Knoxville, where she held the John C. Hodges Visiting Writer Chair. In 2018, Pam was named a Black Earth Institute Fellow and will be editing About Place Journal 's Spring 2019 Issue whose theme is dignity in the 21st Century. Shes recently finished work on a multi-genre book called Of Thunderlight And Moon: An Odyssey Through Ovarian Cancer as well as a new collection of poems.