Thursday, August 11, 2022 - 7:00pm
Add to Calendar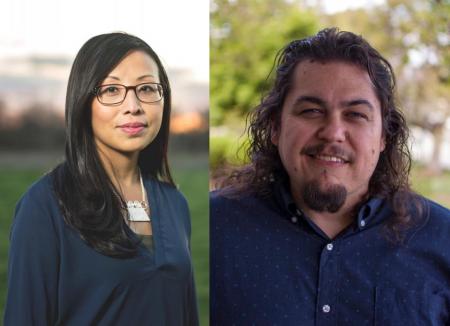 Guidance regarding COVID-19 procedures at our Reading & Lecture Series events is available here. All events will be streamed live on our website in addition to the in-person reading. 
2022 UA Poetry Center Summer Residents Mai Der Vang and Anthony Cody will read from their work. After the reading, there will be a book signing.
Mai Der Vang is the author of two poetry collections, Afterland (Graywolf Press, 2017) and Yellow Rain (Graywolf Press, 2021). She teaches in the MFA Program in Creative Writing at Fresno State.
Anthony Cody is from Fresno, CA with lineage in both the Bracero Program and the Dust Bowl. His debut collection, Borderland Apocrypha (Omnidawn, 2020) won the 2018 Omnidawn Open Book Prize, a 2021 American Book Award, and a 2020 Southwest Book Award, as well as recognized as a finalist for the National Book Award, PEN America / Jean Stein Award, the L.A. Times Book Award, among others. He serves as an editor for Omnidawn and Noemi Press.