Thursday, February 23, 2023 - 7:00pm
Add to Calendar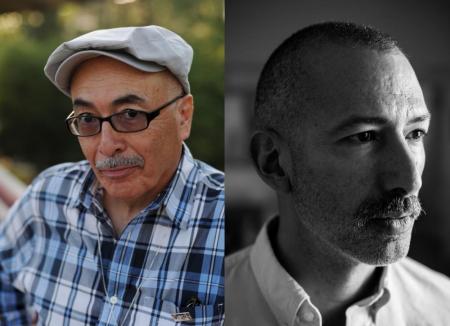 Guidance regarding COVID-19 procedures at our Reading & Lecture Series events is available here. All events will be streamed live on our website in addition to the in-person reading. 
We are proud to present a reading by Juan Felipe Herrera and Farid Matuk. 
Juan Felipe Herrera is the 21st Poet Laureate of the United States (2015-2016) and is the first Latino to hold the position. From 2012-2014, Herrera served as California State Poet Laureate. Herrera's many collections of poetry include Every Day We Get More Illegal; Notes on the Assemblage; Senegal Taxi; Half of the World in Light: New and Selected Poems, a recipient of the PEN/Beyond Margins Award and the National Book Critics Circle Award; and 187 Reasons Mexicanos Can't Cross The Border: Undocuments 1971-2007. He is also the author of Crashboomlove: A Novel in Verse, which received the Americas Award. His books of prose for children include: SkateFate, Calling The Doves, which won the Ezra Jack Keats Award; Upside Down Boy, which was adapted into a musical for young audiences in New York City; and Cinnamon Girl: Letters Found Inside a Cereal Box. His book Jabberwalking, a children's book focused on turning your wonder at the world around you into weird, wild, incandescent poetry, came out in 2018. Herrera is also a performance artist and activist on behalf of migrant and indigenous communities and at-risk youth.
Farid Matuk is the author of the poetry collections This Isa Nice Neighborhood and The Real Horse. His work has been supported, most recently, by The Headlands Center for the Arts and by a Holloway Visiting Professorship in Poetry & Poetics at UC Berkeley. Matuk's book arts project, Redolent, made in collaboration with visual artist Nancy Friedemann-Sánchez, was published in 2022 by Singing Saw Press. He lives in Tucson with his partner, the writer Susan Briante, and with their daughter. 
Additional support for the 2022-2023 Reading & Lecture Series was provided by Innovations in Healthy Aging – a strategic collaboration led by the University of Arizona Health Sciences, rethinking what it means to thrive while aging.