Saturday, January 28, 2023 - 2:00pm
Add to Calendar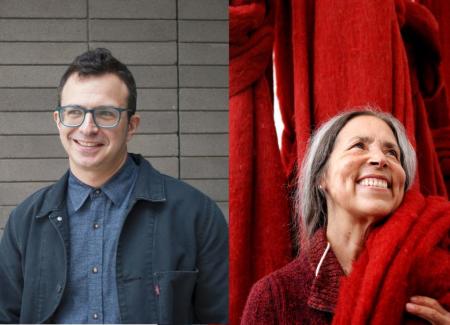 Guidance regarding COVID-19 procedures at our Reading & Lecture Series events is available here. All events will be streamed live on our website in addition to the in-person reading. 
In partnership with the Museum of Contemporary Art Tucson, we are proud to present a reading by Cecilia Vicuña and Daniel Borzutzky. 
Cecilia Vicuña (b. 1948 in Santiago, Chile; lives and works in New York and Santiago) is a poet, artist, filmmaker and activist. Her work addresses pressing concerns of the modern world, including ecological destruction, human rights, and cultural homogenization. This year alone, solo exhibitions of her work have been organized at a number of major institutions, including the Tate Modern, London, United Kingdom (2022); Solomon R. Guggenheim Museum, New York, NY (2022), and Museo de Arte Miguel Urrutia (MAMU), Bogotá, Colombia (2022).
Daniel Borzutzky's most recent books of poetry include Written After a Massacre in the Year 2018; Lake Michigan, finalist for 2018 Griffin International Poetry Prize; and The Performance of Becoming Human, winner of the 2016 National Book Award. His translations include Galo Ghigliotto's Valdivia, winner of ALTA's 2017 National Translation Award; and collections by Raúl Zurita, Jaime Luis Huenún; Paula Ilabaca Nuñez; and Cecilia Vicuna. He teaches in the English and Latin American and Latino Studies Departments at the University of Chicago. 
Please note this reading will take place in the Museum of Contemporary Art Tucson: 265 South Church Avenue, Tucson, AZ, 85701.
Additional support for the 2022-2023 Reading & Lecture Series was provided by Innovations in Healthy Aging – a strategic collaboration led by the University of Arizona Health Sciences, rethinking what it means to thrive while aging.