Thursday, September 22, 2022 - 7:00pm
Add to Calendar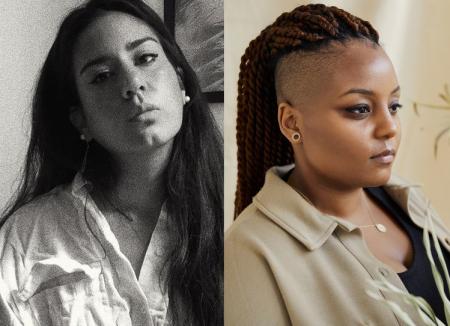 Guidance regarding COVID-19 procedures at our Reading & Lecture Series events is available here. All events will be streamed live on our website in addition to the in-person reading. 
The Morgan Lucas Schuldt Memorial Reading features emerging and innovative poets. This event is presented annually as part of the Poetry Center's Reading and Lecture Series, and is named after poet and publisher Morgan Lucas Schuldt (2/11/1978–1/30/2012).
We are proud to present Aria Aber and Shayla Lawz, who will read from their work.  
Aria Aber's first book, Hard Damage (University of Nebraska Press, 2019), won the Prairie Schooner Book Prize in Poetry and a Whiting Award. Her poetry has appeared in the New Yorker, Poetry Magazine, New Republic, and elsewhere. She was a 2020-2022 Wallace Stegner fellow at Stanford University, and is a PhD student at the University of Southern California.
Shayla Lawz is a writer and interdisciplinary artist from Jersey City, NJ. She works at the intersection of text, sound, and performance and has received fellowships from Cave Canem, Jack Jones Literary Arts, The Digital Studies Center at Rutgers-Camden (DiSC), and the Hurston/Wright Foundation, among others. Her debut poetry collection speculation, n. was chosen by Ilya Kaminsky for the 2020 Autumn House Poetry Prize; she lives in Brooklyn, NY where she teaches in the department of Humanities and Media Studies at Pratt Institute. 
Additional support for the 2022-2023 Reading & Lecture Series was provided by Innovations in Healthy Aging – a strategic collaboration led by the University of Arizona Health Sciences, rethinking what it means to thrive while aging.