Hello and welcome to Virtual Kids Create! This is a self-paced version of the monthly kids day we host at the Poetry Center and includes age-appropriate language arts workshops for children from infancy to ten-years-old, developed by our incredible facilitators. September's theme, in honor of Labor Day, is "poems of work & care." The activities include read- and sing-a-longs, and creative writing exercises for pre-school and elementary students. Feel free to use this as a guide to create your own at-home, structured Kids Create, or pick and choose activities you think the kids in your community might enjoy.
Infant to 3-year-old read-a-loud & sing-a-long:
In this video, Kids Create facilitator Kathy Sutton reads poems including "And I'll Be There" by Alan and Marilyn Bergman, "Helping" by Shel Silverstein, and the book Ada Twist, Scientist by Andrea Beaty and David Roberts.
Musician Gabrielle Pietrangelo leads a sing--and-read-a-long that includes "I've Been Working on the Railroad," "De Colores," and the book Night Job, written by Karen Hesse and illustrated by G. Brian Karas.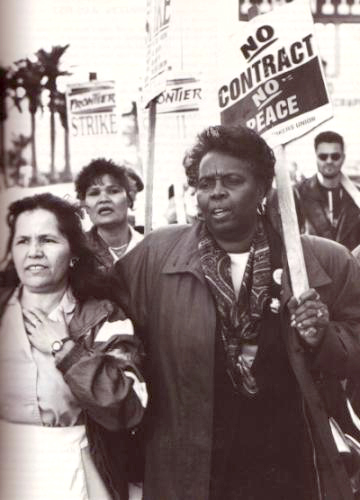 This Exquisite Corps activity by facilitator Sophie Daws draws inspiration from the Labor Movement and the  solidarity--working together with people in your community and other communities to achieve change--that was a huge part of it.
"Solidarity is an act of care. It means working together as a community," Sophie writes, "Today we are going to explore an exercise in care and collaboration. Much like social movements, art comes from collaboration and community." In this simple but engaging prompt, kids and their favorite adults work together on a poem, proving that what we write together can be as special as, if not more special than,what we can create on our own.
Image depicts labor organizer Hattie Canty, elected as president of the Las Vegas Culinary Worker's Union Local 226 in 1990.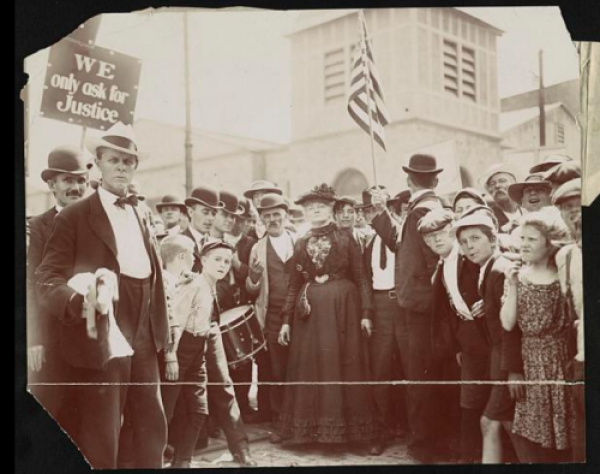 "Throughout history, people have joined together to improve their working conditions and pay," UAPC staff member Wren Goblirsch writes in the introduction to this activity, "Since the time of the Industrial Revolution, this has often been done by creating labor unions—organizations that advocate for workers—and going on strike. A labor strike is when employees refuse to work until their demands are met, whether that's safer working conditions, more pay, shorter workdays, or any number of other concerns."
As part of this writing prompt, participants are invited to write poems in response to historical photographs that depict children on strike or supporting a strike. Young writers will be asked to describe the photograph of their choice and then select words from that description to craft into a five-line poem.
Image depicts the March of the Mill Children. Cover image depicts the Tex-Son Garment Workers' Strike.