With Poetry Out Loud just around the corner, we're excited to introduce you to some of the people who make this program run! Today, get to know Teré Fowler-Chapman, the Southern Region Coordinator for Arizona Poetry Out Loud.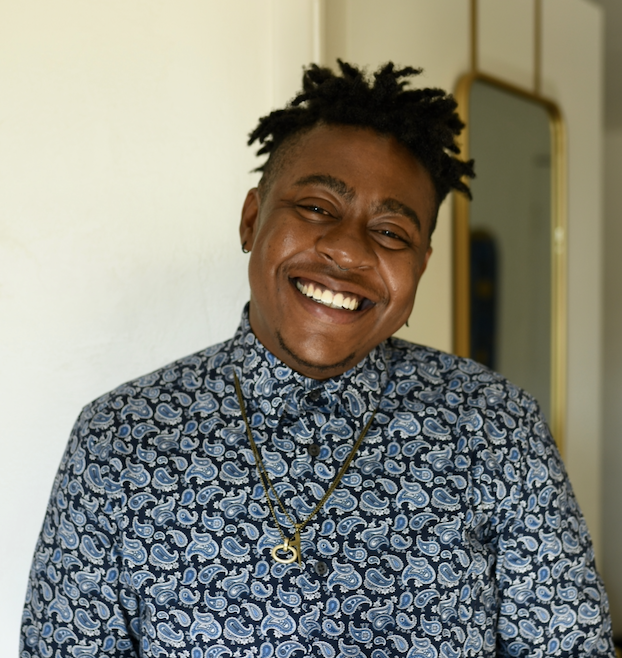 Tell us a little bit about yourself.
My name is Teré Fowler-Chapman (he/they) and I am a cultural worker. I live in what is now known as Tucson, Arizona but respectfully is the land of Tohono O'odham and Yaqui people. I recently received my bachelor's creative writing from Southern New Hampshire University and am currently a grad student and counselor.
I am passionate about transformative justice, storytelling podcasts, taking care of my animals, learning new things, harvesting and re-planting water, and promoting proactive mental health practices wherever I can!
Tell us about your work with Poetry Out Loud and the University of Arizona.
I have partnered with the University of Arizona since 2012. Over the years, it's been a wonderful journey of judging competitions in Poetry Out Loud, performing poetry, and facilitating workshops as a teaching artist!
What is your Poetry Out Loud role?
I am so excited to be the Southern Region Coordinator this year! In this role, I get the exciting opportunity to support students and teachers in participating in a nation wide poetry recitation contest! I love this competition and in the past years have been a coach, judge, and featured artist. So, I'm really excited support this programming on a more administrative level this year!
 
When did you first learn about Arizona's Poetry Out Loud program? How long have you participated in the program?
I first learned about this program in 2014 when I was asked to be a featured artist for the Poetry Out Loud Regional Competition. Fun fact: I brought my own poems but was so inspired by the youth reciting their poems. I went to the bathroom during the first round and quickly memorized small works of Sonia Sanchez to perform during the break. You can check out my first time participating in this program here in the VOCA Audio Library! Since then, I have participated every year as a coach, as a judge, as workshop facilitator.  
What do you enjoy most about Poetry Out Loud?
I enjoy the stories on why the students chose the poems they did (or maybe the poems chose the students, it's an indescribable magic the way it happens). Then to hear the poem come back to life through their body and spirit is just magical.
What is your favorite poem from the Poetry Out Loud anthology?
My favorite poem in the anthology is "alternate names for black boys" by Danez Smith. It's just a poem that is timeless and explains black masculinity in a way that feels all encompassing! I find that as a trans black man, to be felt and seen fully is rare so I try to hold on to those moments tightly.
What are you looking forward to with this year's Poetry Out Loud program?
I am really looking forward to seeing the poem performances! That's the best part! Especially after the last year we've collectively had, I'm excited to hear a poem!
Tell us about your artistic practice. Where can we find your work?
My artistic practice is learning the power of rest right now. I am mostly working on myself and am pausing and celebrating the moments when that work and my creative work intersect. You can find any updates on my website, maroonwork.com.