The University of Arizona Poetry Center is thrilled to announce a partnership with the Tucson Tome Gnome for their April book distribution in celebration of National Poetry Month.  On April 23rd, the Tucson Tome Gnome (with the support of the Gnome's helpers Emily Walsh, Mary Ellen Flynn and Jody Hardy) will distribute 45 copies of poet Todd Boss' latest collection Someday the Plan of a Town around Tucson to be discovered by readers.  To follow along with the book distribution--and potentially track down your own copy--be sure to follow the Tucson Tome Gnome on Instagram and Facebook!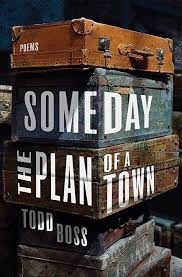 Boss will be visiting Tucson on May 21st at the Copper Room in Hotel Congress at 5pm, where he'll read from Someday the Plan of a Town and be in conversation with composer Jake Runestad, with whom Boss has worked as a librettist on their Emmy award-winning collaboration, Earth Symphony.  Earth Symphony was commissioned by True Concord Voices and Orchestra, and premiered with True Concord in Tucson in February of 2022 to rousing success and standing ovations.  Details about Boss' May visit can be found here. 
The April 2023 giveaway will be the 20th from the Tucson Tome Gnome, which has quickly become one of Tucson's most fun literary and literacy initiatives.  Learn more about the Tome Gnome in this #ThisisTucson spotlight piece or in this profile from Shoutout Arizona.