We're excited to present the following matinee with author, activist, bookseller, and Poetry Center blog contributor Denise Chávez. It will be held on Friday, April 23 from 10 am to 11:30 am.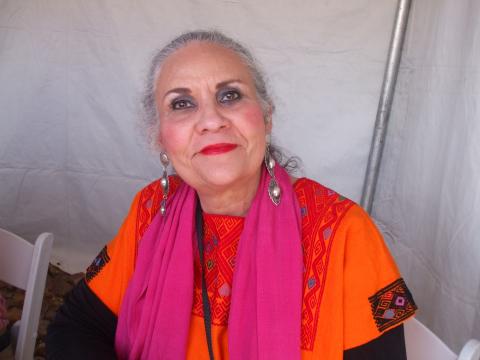 The last year has been different for everyone. We have all had to adjust to our new lives, working from home, studying from home, being at home more than before. Let's think about what home means. What does home mean to you? Where is Home? When do we feel at home?  What is your favorite thing about home? Is it being with family? Is it your culture? Your traditions? Your language? Your food? It is a special room or the outdoors?
Sometimes our home is not home, it is your backyard or a special space, or at your grandmother's house where you love the smell of the kitchen, or it is being with your best friend and laughing because you feel safe and loved.
Author Denise Chávez's book A Taco Testimony: Meditations on Family, Food and Culture is about home, her home, and growing up with Tacos? Yes, Tacos! Tacos are her Home. Join her on Zoom as we celebrate who we are, where we come from, and what we love! We will have time for sharing and questions.
This virtual, Zoom-based matinee is open to up to 450 middle and high school students. While we were previously offering it only to students in Arizona and New Mexico, it is now open to classrooms in any location. Register here.
Denise Chávez is a Borderland writer, bookseller, and activist. Founder of Libros Para El Viaje, a Refugee, Migrant and Asylum-seeker book donation initiative, she owns Casa Camino Real Bookstore in Las Cruces, New Mexico. She is the author of The King and Queen of Comezón and Loving Pedro Infante, among other works.
This matinee is sponsored by the Confluencenter for Creative Inquiry.