For Febe
2012 was a cataclysmic year. The rent on our place, The Mesilla Cultural Center, doubled. Without the help of former Supreme Court Justice Daniel Sosa and his wife, Rita, who had an available property, we would have been homeless. In May, an adobe house from the 1850s became our sanctuary and our new bookstore, Casa Camino Real. Three-hundred boxes of books and a piano found their way across town to the heart of the Mesquite Historical District, a few blocks from San José cemetery, where my parents are buried.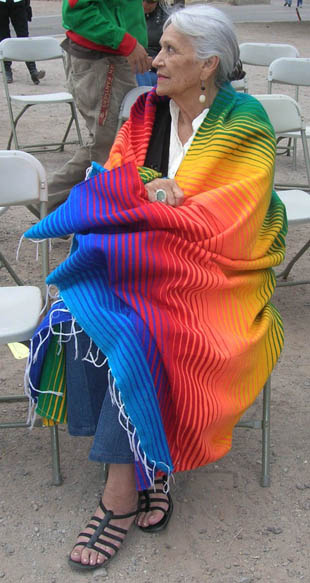 In this sacred space we came back to life. The bookstore was painted in vivid ochre, turquoise, and lime green colors by an enthusiastic group of volunteers including my older sister, Faride Conway. Faride--or as I called her, Febe--painted the children's room turquoise, sitting cross-legged on the floor finishing the baseboards. Faride spent a life in law enforcement, detective work, ran a security guard and bail bond business, and in her later years moved to the healing professions and became a certified massage therapist and bead artist.
That year our bookstore ran a shoe drive for a local homeless shelter. The response was tremendous. We collected nearly 400 shoes for children, youth, and adults. I also received a request for shoes for a family whose parents had been deported. In addition, local artists, including Febe, decorated shoes for a silent auction to raise money. On December 9, 2012, Febe died of liver cancer. I didn't have the heart to sell her hand-crafted shoes and have kept them. I only wish they fit me. I am a size seven and I think she was a nine.
2012 was a cold and harsh winter. The bookstore had no heat, nor was there a stove or refrigerator. The toilet was shot. I replaced things as I could, got donations. The yard was landscaped by a local housing authority group. I wept my way through the sadness of my sister's death, as well as our disruptive move, to nonstop José Feliciano 33' records. His was the voice that gave me the most consolation.
*
Little did I know that poet Martín Espada, who was on that list serve, would take that message about the family whose parents were deported to heart, and make it a poem:
Mr. and Mrs. Rodríguez Have Been Deported Leaving Six Children Behind With the Neighbors.
Please donate shoes
To this family
Care of the Mesilla Cultural Center
Rodríguez family shoe sizes:
Marina, age 17: size 6
Rocío, age 15: size 5
Memo, age 13: size 7
Jesús age 12: size 4
José, age 8: size 4
Ana, age 5: size 3
 
from The Trouble Ball: Poems by Martín Espada, W. W. Norton, 2012
But, of course, life is a simple and powerful poem if you are present enough to understand the real story.
*
In the summer of 2018, our bookstore began delivering books to Refugee, Migrant and Asylum-seeking families. Our ongoing program is called Libros Para El Viaje/Books for the Journey. We have distributed thousands of books donated by hundreds of bookstores, booksellers, authors, community groups, publishers, and readers of all ages throughout the U.S. as well as from New Zealand and Bogotá, Colombia. Last winter we even had a wonderful pajama drive, collecting jammies, thermal clothing, gloves, hats, shoes, and warm clothing of all sizes, from many people, all wanting to reach out to those in need, most especially asylum seekers living in tarps and tent cities on the bridges of Juárez. It was gratifying to see the community's response. There are always so many people to thank.
*
The year is now 2020 and our Refugee and Asylum-seeking families are still being broken up, parents deported, children separated and sequestered. My nights are troubled and full of prayer. I pray for the Black Lives Matter protestors, and for my people in New Mexico, our Navajo families beset by the Covid-19 virus, a friend in Juárez who is ill from the virus, people in our Mesilla Valley who are sick, the men and women who work in maquiladoras and in meat-packing plants on the Border, the children separated from their parents in detention centers, adults and youth deported in the dead of night on planes flying out of the country from our nearby El Paso airport, and for our elders in nursing homes. I pray for the neighborhood feral cats, my own cats, sad and lost cats I see on Facebook. I pray for all sentient lives who are in need.
With the recent closure of the U.S. Mexican border due to COVID-19, we are not able to travel into México as we did before, to Biblioteca Para La Vida--a library in Anapra, a suburb of Juárez--and to Casa Cristo Rey, a health clinic, as well as other distribution sites.
What is to be done? What can we do as activists, poets and storytellers of our time and place? My days and nights are spending wondering, thinking, planning. I can't sleep. I get up. I move. I respond. I look around. I see what is going on. I understand the need.
Libros Para El Viaje will continue its work collecting books, art supplies, journals, clothing, medical supplies--whatever is needed. Despite the temporary closure of our bookstore, books continue arriving. All our donors, from age three on up know the power and beauty of a book. We continue to serve others in what Wren Awry from the Poetry Center calls "an altered world."
My creative challenge now is how to implement a dispersal of donated children's books to the public from our bookstore, keeping everyone safe and happy. I lay boxes out and begin to fill them with books for each Asylum-seeking family, tailored to their ages, their needs. Although I have never met them, I will pray over myself, trusting I will find the right books for them. Books that empower, delight, and heal.
*
Today is another day. There is work to do:
FAMILY 1: Mom, 15-year-old boy FAMILY 2: Mom, Dad, 18 month old boy
FAMILY 3: Mom, Dad, 9 year-old boy, 7 year-old girl, 6 year-old girl
 
FAMILY 4: Mom, 14 year-old girl, 12 year-old girl, 8 year-old girl, 3 year-old boy, 3 month old boy
FAMILY 5: Dad, 13-year-old girl
FAMILY 6: Woman, 35-year-old, and Woman, 24-year-old. Sisters. 
I know there is a special book for each person. Maybe one or two or three or more. I just need to stop and reflect a bit. The Bible? A Spanish-English dictionary? A baby board book about numbers, animals? Flash cards? Coloring books? Journals? Each family will have its box, its gift of story. I will never forget the young man who asked me for a book on film amid poverty and need in the Chamizal Park tent city. I didn't have a book on that subject for that future artist, but maybe next time I will.
*
It's just as important to have the right shoes as it is to have the right book. The fit is important. Not too tight. Not too loose. Secure and not confining. Considering my special foot needs, I have never had the right RIGHT shoes. Or seldom have I had the right shoes. But for now, that's fine. The ones I wear every day are worn, but still good.
From time to time, as I move around Casa Camino Real, I will find an occasional bead on the floor or in my path. I pick it up. I am grateful for this reminder. Nothing we love will ever be lost. I know my sister Febe is saying hello and that she approves of our continued work.
We must learn to thrive during perceived and real darkness. We are not stuck. Never have been. We must carry on, one book, one step from those worn shoes at a time. As we continue to walk through our lives with Ánimo and will, our steps will grow stronger, our intent firmer. Así es. That's how it is.
A FEW SUGGESTIONS FOR EMPOWERING BOOKS FOR FAMILIES:
Soñadores/Dreamers by Yuyi Morales. Yuyi left her México in 1994 and found her way to the
U.S. with her young son, discovering her talent, her voice, and her spirit through the power of a public library.
El Lustrador by René Corado. René worked as a shoeshine boy in his native Guatemala. He is now a biologist and the Collections Manager of the Western Foundation of Vertebrate Zoology, the Museum with the largest collection of eggs and nests of birds of the world, with more than one million eggs and more than twenty thousand nests. His is a wonderful story.
Alma and How She Got Her Name by Juana Martinez-Neal. We often discount our names and who we are. My sister, Faride, never really knew how beautiful her name was. It means "The Chosen One" in Arabic.
Books by writer Jorge Argueta, including Arroz con Leche/Rice Pudding, Guacamole, Salsa, Tamalitos and Sopa de Frijoles/Bean Soup. Our family, food and culture nourish and bless us. These celebratory books remind us of who we are.
Contact Denise Chávez for a bibliography of empowering books for children, youth, and adults and to learn more about Libros Para El Viaje: comezon09@comcast.net
 
Denise Chávez is a Performance writer, Novelist, Playwright, Teacher and Cultural Activist based in Las Cruces, New Mexico. She has roots in Far West Texas with her mother's family and in Las Cruces, New Mexico with her father's family.  A true child of La Frontera, Chávez's books include The King and Queen of Comezón, A Taco Testimony: Meditations on Family, Food and Culture, Loving Pedro Infante, Face of an Angel, The Last of the Menu Girls, and Descansos: An Interrupted Journey.  An actor, Chávez has performed her one-woman shows, Novena Narrativas and El Muro/The Wall: A Chorus of Immigrant Women's Voices throughout the U.S. Chávez has also published a children's book, La Mujer Que Sabía El Idioma de Los Animales/The Woman Who Knew the Language of the Animals.  Her current children's book projects include: The Two Delfina's, La Hermana Ying y La Hermana Yang and Chano's Dream. Chávez most recent novel, The King and Queen of Comezón, a border mystery love story won the International Latino Book Award in Fiction as well as the Indie Book Award Silver Prize. The Pima County Library in Tucson named it one of the Best Southwestern Books of the Year in 2015.  It was also given the Texas Foco Award for Fiction. Chávez is currently revising a novel, Street of Too Many Stories.  She continues to work on various projects including Resolana/Reflected Sunlight: Chicano Art, Culture and Literature, El Movimiento and Beyond, a collection of stories entitled The Febe Stories, as well as doing research for a family memoir, Río Grande Family.  
Chávez and her husband, photographer Daniel Zolinsky, are committed to preserving the history and story of the Borderland culture. To this end, they are creating MUSEO DE LA GENTE, a Cultural Resource and Archival Center in Las Cruces on the historic Camino Real. MUSEO DE LA GENTE will house a resource library, present workshops and exhibits, as well as serve as a venue for multi-cultural and multi-generational literary, literacy, music and arts events for audiences of all ages and backgrounds. Chávez is the Owner of Casa Camino Real, a bookstore and art gallery at 314 South Tornillo Street in Las Cruces, New Mexico, that specializes in new, used and out of print Chicano/Latino, Southwestern, Children's and World books. Chávez is also the Director and Co-Founder, along with Kari Lenander. Executive Director of the Border Servant Corps, in Las Cruces, of Libros Para El Viaje/Books for the Journey, an ongoing Refugee, Migrant and Asylum-Seeker Book Collection Initiative. Since its inception in the summer of 2018, the program has distributed thousands of books on the U.S./Mexico border and in Cuidad Juárez, México. Donors include the American Booksellers Association, The Children's Book Council, REFORMA, and hundreds of organizations, writers, publishers, bookstores and readers. Working with the University of Arizona Poetry Center, Libros Para El Viaje continues to work for human rights issues knowing that books heal lives. A mural of the bookstore is featured in the Children's Book Room at the Poetry Center and has been featured in their Brave Books Program.
"Our collaboration with the Poetry Center has been a boon and a blessing, transforming our work and allowing us to connect with many whose lives have been healed and elevated by books."
Feature image by Daniel Zolinsky.