Zines are self-published booklets that can be made with little to no money or resources: just some paper, glue, a Sharpie, perhaps a photo copier. They've been made by artists, writers, and radicals for generations. Zines have roots in subcultures including science fiction and punk rock, as well as in BIPOC, queer, and feminist presses and liberation movements.
Zines circumvent publishers and other gatekeeping institutions, rendering their academic, mainstream, heteronormative, patriarchal, white, and ableist standards irrelevant. Zines resist hierarchy, zines resist censorship. If we're told we don't have to appease others, if we're encouraged to think freely and creatively, if we're told that a lack of money won't prevent our self-expression, what kind of art would we make? What stories would we tell?
Cut & Paste: Zines from the Poetry Center's K-12 Programs & Beyond--on display in the Poetry Center library until June 23, 2023--includes zines from students at City High School, the Arizona Queer Archives, Tucson Zine Fest/Groundworks, and the University of Arizona Poetry Center collection: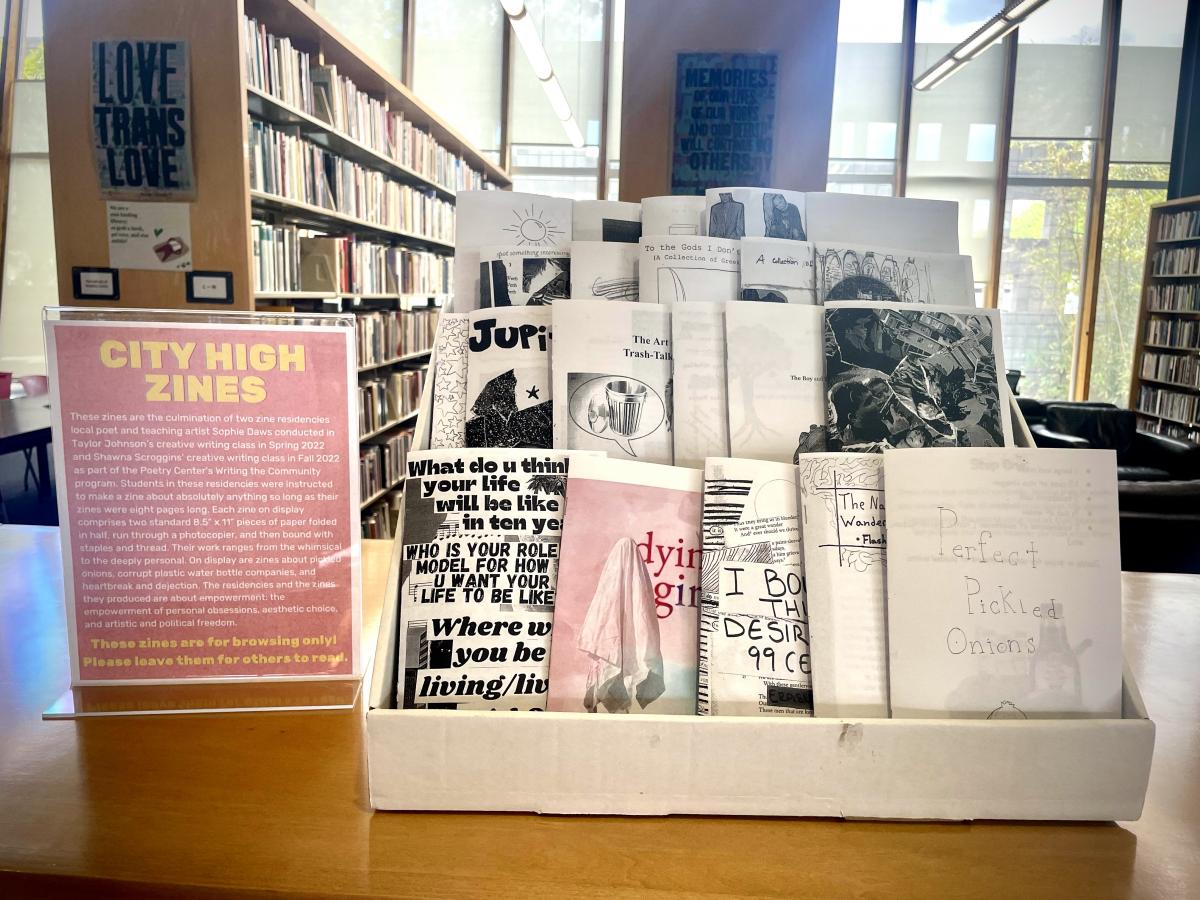 The City High School zines on display are the culmination of two zine residencies local poet and teaching artist Sophie Daws conducted in Taylor Johnson's creative writing class in Spring 2022 and Shawna Scroggins' creative writing class in Fall 2022 as part of the Poetry Center's Writing the Community Program. Students in these residencies were instructed to make a zine about absolutely anything so long as their zines were eight pages long. Each zine on display comprises two standard 8.5" x 11" pieces of paper folded in half, run through a photocopier, and then bound with staples and thread. Their work ranges from the whimsical to the deeply personal. On display are zines about pickled onions, corrupt plastic water bottle companies, and heartbreak and dejection. The residencies and the zines they produced are about empowerment: the empowerment of personal obsessions, aesthetic choice, and artistic and political freedom.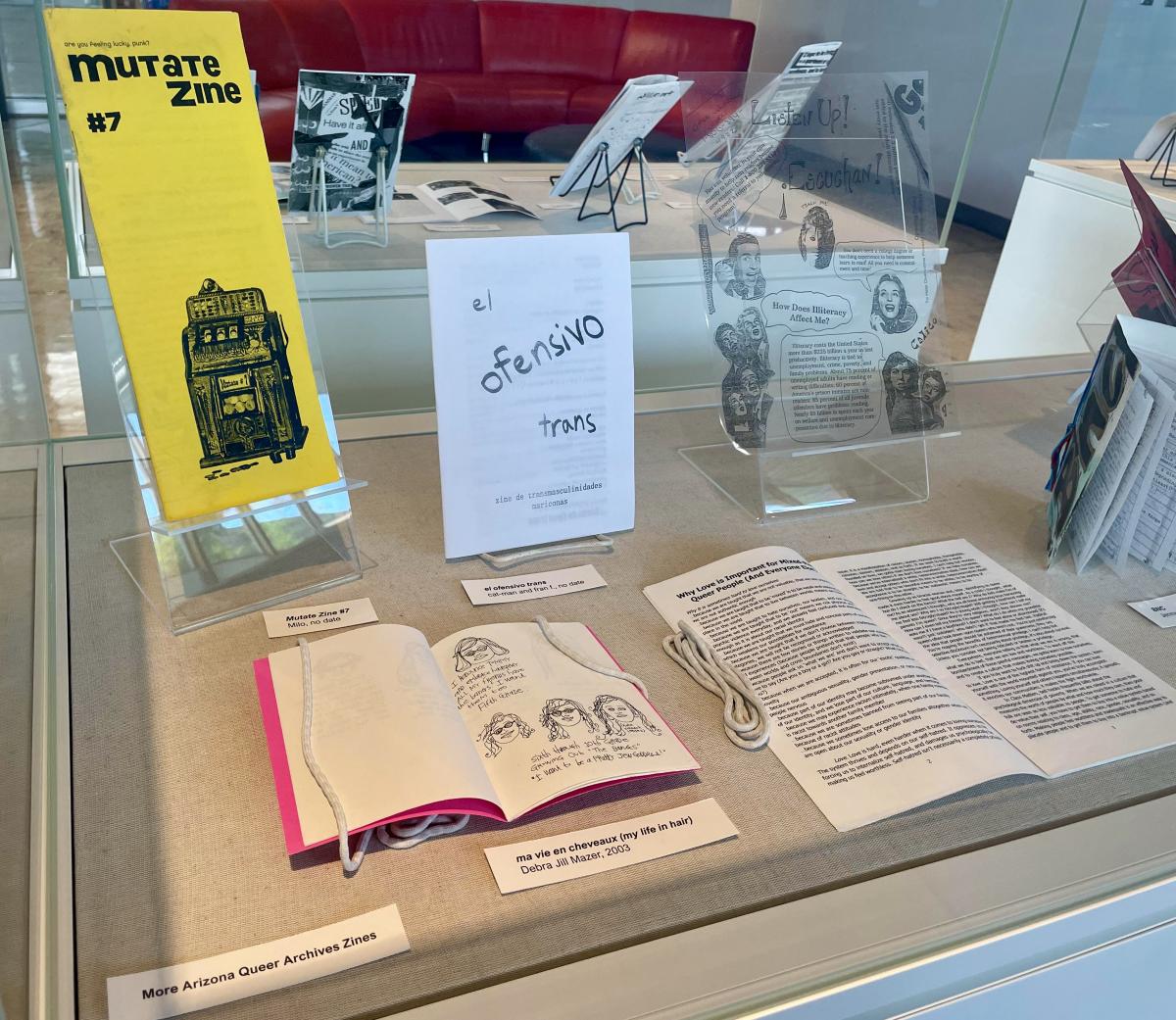 The Arizona Queer Archives zines are drawn from the Adela C. Licona and Fly Away Zine Mobile collections. The Licona collection grows from Professor Licona's collecting practice that resulted from her early scholarly research "centered on zines, especially zines produced by QTPOC and BIPOC communities," and the Fly Away Zine Mobile collection is from a former traveling library focused on zines and other forms of DIY publishing which was acquired by Adela and the AQA for preservation, sharing, and safekeeping. The zines in this exhibit were selected by the Poetry Center Education Staff alongside Licona and Arizona Queer Archives founder Jamie Lee. Learn more at www.arizonaqueerarchives.com.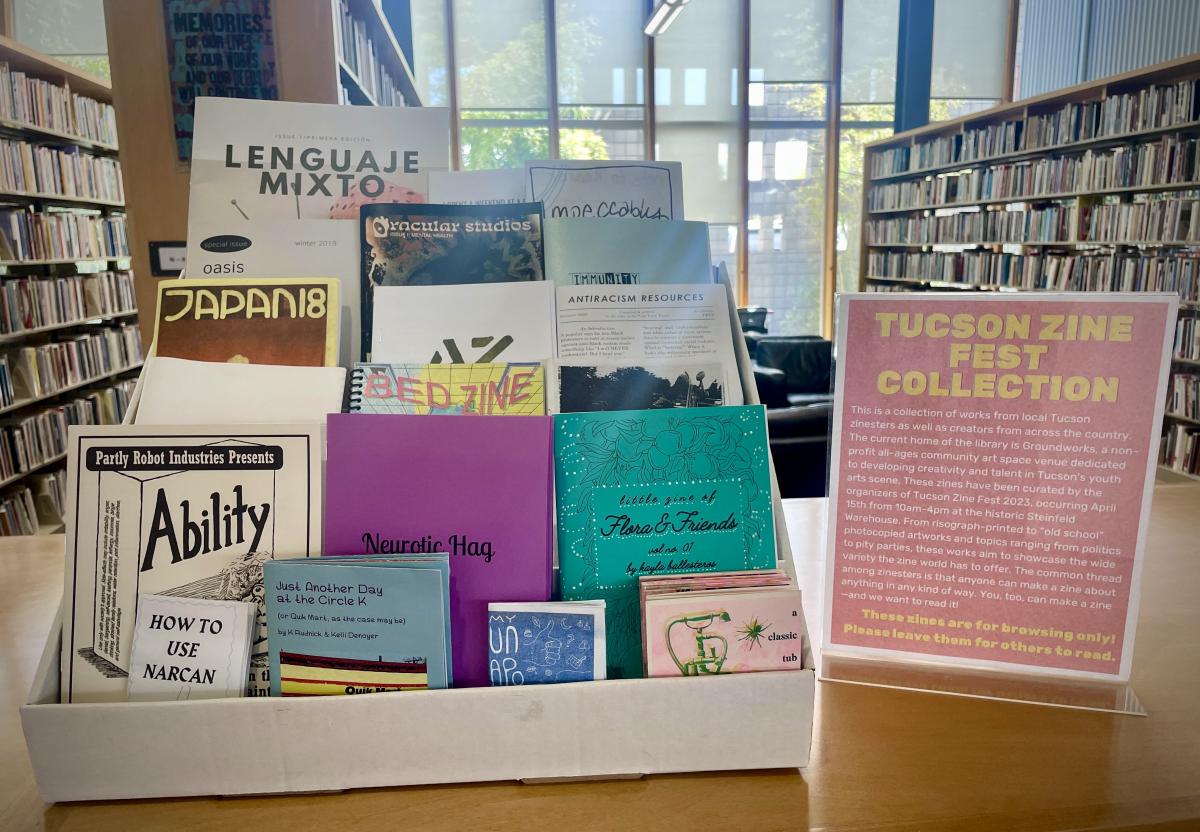 The Tucson Zine Fest Zine Library is a collection of works from local Tucson zinesters and creators from across the country. The current home of the library is Groundworks, a non-profit all-ages community art space venue dedicated to developing creativity and talent in Tucson's youth arts scene. These zines have been curated by the organizers of Tucson Zine Fest 2023, occurring April 15th from 10am-4pm at the historic Steinfeld Warehouse. From risograph-printed to "old school" photocopied artworks and topics ranging from politics to pity parties, these works aim to showcase the wide variety the zine world has to offer. The common thread among zinesters is that anyone can make a zine about anything in any kind of way. You, too, can make a zine—and we want to read it! Learn more at www.tucsonzinefest.com and www.groundworkstucson.com.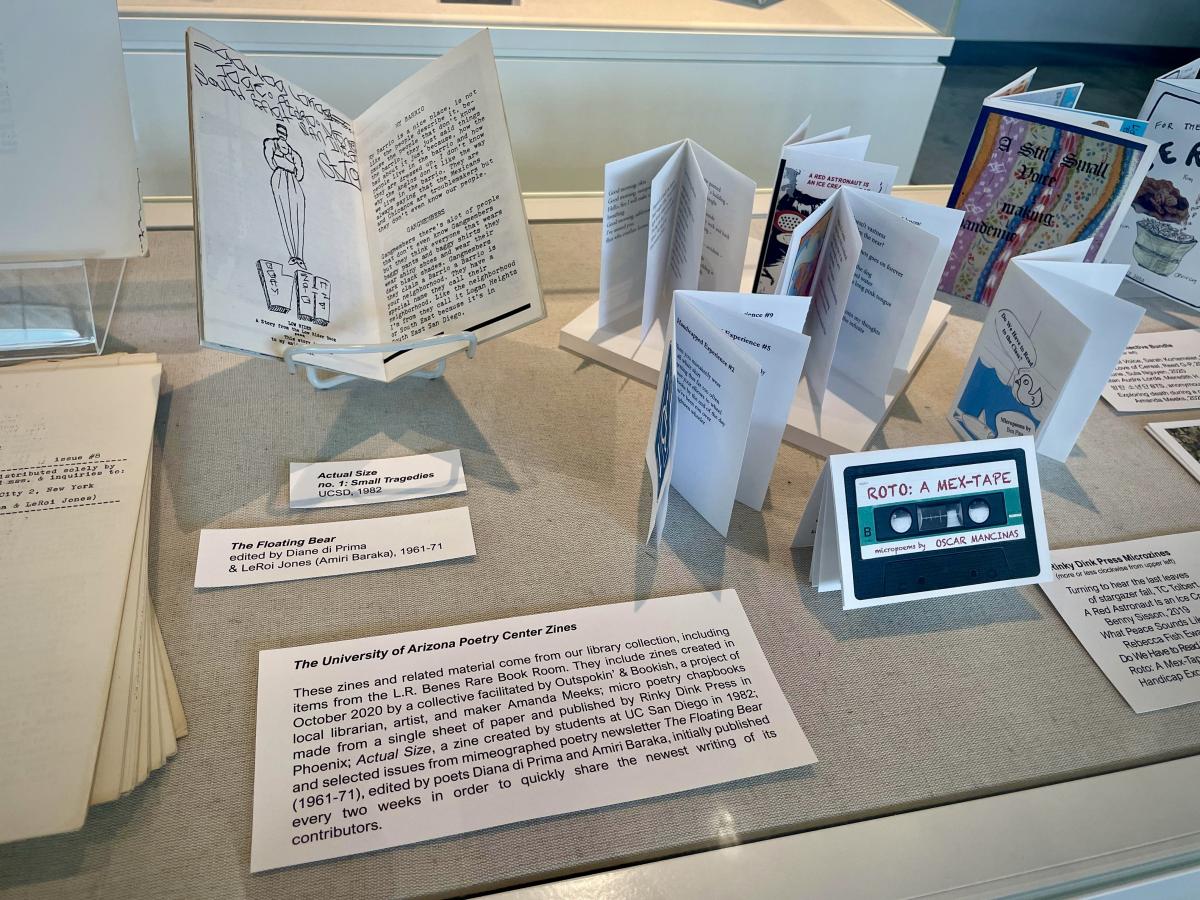 The Poetry Center zines and related material come from our library collection, including items from the L.R. Benes Rare Book Room. They include zines created in October 2020 by a collective facilitated by Outspokin' & Bookish, a project of local librarian, artist, and maker Amanda Meeks; micro poetry chapbooks made from a single sheet of paper and published by Rinky Dink Press in Phoenix; Actual Size, a zine created by students at UC San Diego in 1982; and selected issues from mimeographed poetry newsletter The Floating Bear (1961-71), edited by poets Diana di Prima and Amiri Baraka, initially published every two weeks in order to quickly share the newest writing of its contributors.
Further Reading:
The First Rule of Punk, Celia C. Pérez
Gabi, a Girl in Pieces, Isabel Quintero
Notes from the Underground: Zines and the Politics of Alternative Culture, Stephen Duncombe
Stolen Sharpie Revolution: A DIY Resource for Zines and Zine Culture, Alex Wrekk
Whatcha Mean, What's a Zine?: The Art of Making Zines and Mini-Comics, Mark Todd and Esther Pearl Watson
Zines in the Third Space: Radical Cooperation and Borderlands Rhetoric, Adela C. Licona
You can also read more about zines via our Brave Books blog series.