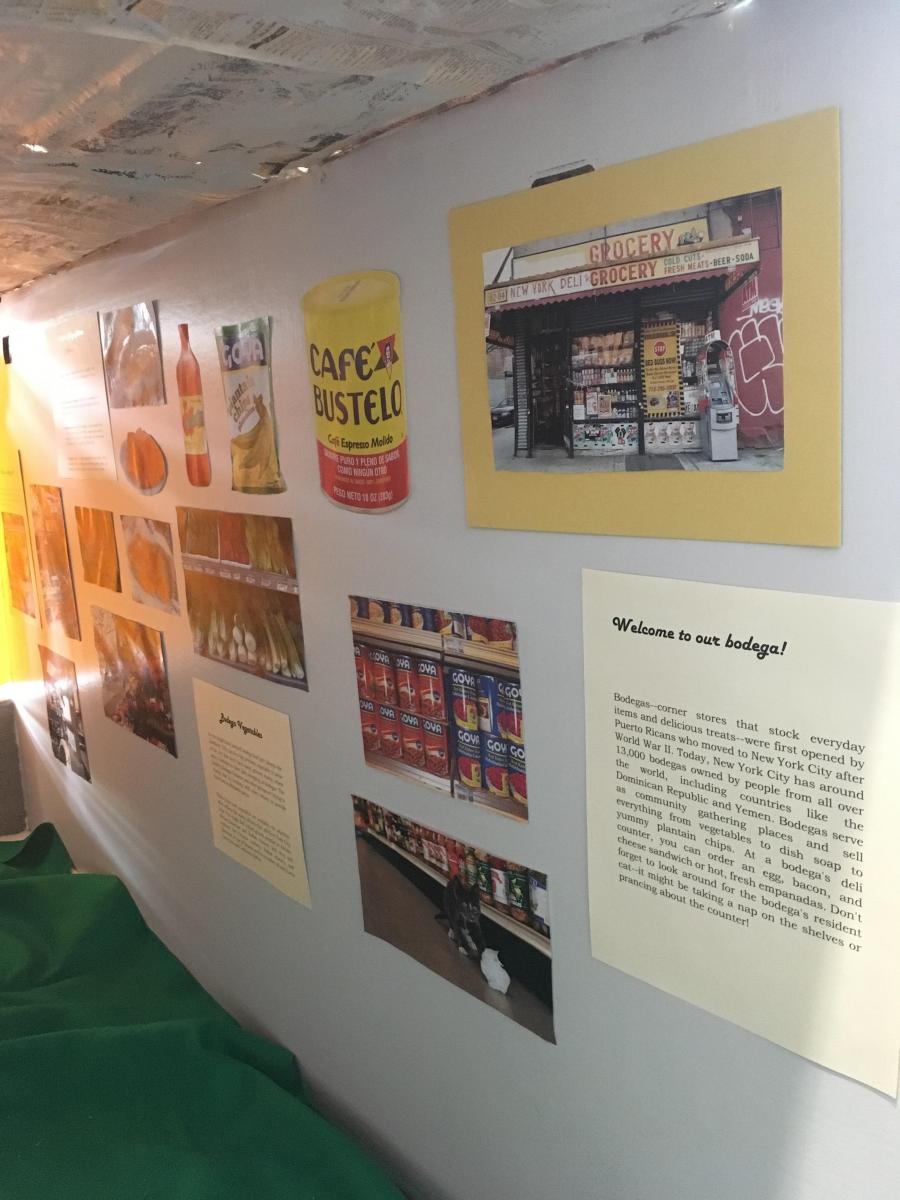 A few weeks ago, I found myself on my hands and knees inside of Brave Books' bodega, pasting pictures of cats and bean cans, kimchi and chopped cheese sandwiches onto the wall. I was installing a DIY exhibit inside our cardboard reproduction of a New York City convenience store in an attempt to make the space more interactive. Education Coordinator Aisha Sloan and I wanted to offer visitors the chance to learn about bodegas, which were founded by Puerto Ricans and Dominicans who moved to the city after World War II and are an integral part of the history and culture of Spanish Harlem (today, the stores are owned by people from a wide variety of backgrounds and spread out across the city). I grew up outside New York City and spent my late teenage years tromping all over that town, so the foods and facts I chose for the display were motivated as much by nostalgia as by research. Café Bustelo—the espresso that all my friends brewed like normal coffee—had to be there, as did egg and cheese sandwiches, my daily breakfast when I half-lived with a boyfriend in his two-floor, roommate-filled apartment under the J Train. I decided to skip Arizona Iced Tea--that iconic NYC bodega drink manufactured on Long Island but named after the state I now live in—because I already had a picture of a kitten lounging in a Skittles box, and I didn't want to overdo it with the sugary imagery (eat your veggies, kiddos!). I made sure to include a vegetable display and a blurb about the Healthy Bodegas Initiative, which works with store owners in food desert areas to provide fresh produce at affordable prices. I added pictures of Goya plantain chips, and a punch bright display of bouquets. I even bought a stuffed cat to serve as our faux-bodega's faux-mascot and mouser.   
Then I started to wonder: If I was a parent or teacher excited about food culture and writing, what bodega-related poems would I share with my kids and/or students? So I thumbed through my favorite anthology of culinary poems, The Hungry Ear, edited by Kevin Young. The three poems I landed on aren't specifically about bodegas, but they each talk about the kinds of food found in corner stores across New York City, from Harlem to Crown Heights. Links to them are below, and each is paired with a writing exercise you can adapt in your home or classroom: 
In "The Latin Deli: An Ars Poetica," Judith Ortiz Cofer writes of a "plastic Mother and Child magnetized," "the green plantains
hanging in stalks like votive offerings," and the old man that brings the shopkeep "lists of items
that he reads to her like poetry." Ortiz Cofer uses sound and smell to bring this deli, which serves customers from across Latin America, to life.
Prompt: Where do you shop for food? Write a poem or prose piece about it. How does the place smell? What does it sound like? Who shops there? What makes that store unique when compared to other stores? 
In "The Tropics of New York," Harlem Renaissance poet Claude McKay writes about how food--and, in particular, tropical fruit like "Bananas ripe and green, and ginger root // Cocoa in pods and alligator pears"--conjures up his Jamaican birthplace.
Prompt: Pick a climate or ecosystem that's very different from the one you live in (for example, "The Coast of Tucson"). Then write a poem about how food brings that climate or ecosystem to the place where you live. In the first stanza, describe or list the food, in the second, write about what it reminds you of, and in the third share how it makes you feel. 
"Breakfast" by Minnie Bruce Pratt captures the buzz of a greasy spoon in the morning, from kitchen to counter to work-booted customer. 
Prompt: Write about your favorite breakfast. Who prepares it? Who do you eat it with? Where? Is the place calm, busy, or somewhere in between? Try to use at least one metaphor (like Bruce Pratt's "breakfast // sandwiches, silverfoil softballs").