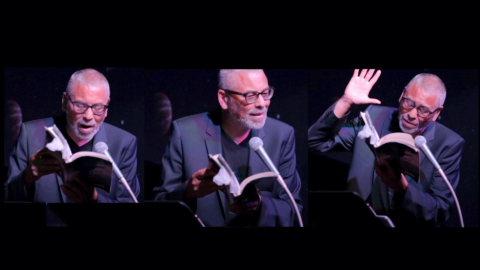 Writer & Cultural Worker
Peter J. Harris, 2018 Los Angeles COLA Fellow in literary arts, Fellow of the Los Angeles Institute for the Humanities at USC, and award-winning poet, is the author of Bless the Ashes, poetry (Tia Chucha Press), winner of the 2015 PEN Oakland Josephine Miles Award, and The Black Man of Happiness: In Pursuit of My 'Unalienable Right,' a book of personal essays, winner of a 2015 American Book Award. In 2021, FlowerSong Press will publish Harris' Safe Arms: 20 Love & Erotic Poems (w/an Ooh Baby Baby moan), with Spanish translations by Francisco Letelier.
Harris is founding director of The Black Man of Happiness Project, a creative, intellectual and artistic exploration of Black men and joy. Harris writes the blog WREAKING HAPPINESS: A Joyful Living Journal.
His 2018 TEDx Pasadena Talk with Adenike A. Harris, at Huntington Library, "Healing vs. Retaliation: Surviving Trauma and Sexual Abuse," described and celebrated 15 years of working with his daughter after convicting and jailing her predator ex-stepfather." Harris and his daughter are also contributors to Love WITH Accountability: Digging up the Roots of Child Sexual Abuse, edited by Aishah Shahidah Simmons (2019).
Since the 1970s, Harris has published his work in a wide variety of publications, including Wide Awake: Poets of Los Angeles and Beyond, edited by Suzanne Lummis; Altadena Poetry Anthologies for 2018 and 2019; and Coiled Serpent: Poets Arising from the Cultural Quakes & Shifts in Los Angeles, edited by Neelanjana Banerjee, Daniel A. Olivas, and Ruben J. Rodriguez. Since 1992, Harris has been a member of the Anansi Writers Workshop at the World Stage, in LA's Leimert Park.
Photo by Tiffany Judkins.