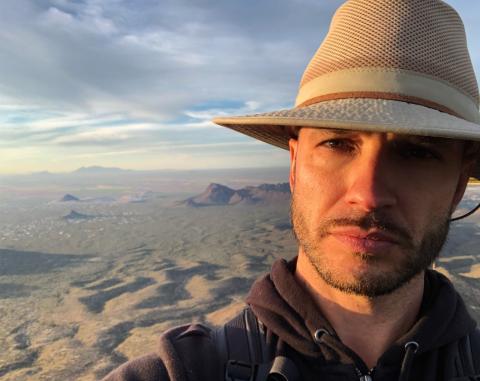 Logan Phillips is a poet, DJ, cultural worker and author of Sonoran Strange (West End Press / University of New Mexico Press, 2015). He holds an MFA in Creative Writing from the University of Arizona where his recent work won a 2021 Academy of American Poets Prize.
Born and raised in Cochise County, Arizona to a family of Irish-Slavic ancestry, Phillips lived in and around Mexico City 2006-2011, where he contributed to organizing and hosting the country's first regular poetry slam series. Also in Mexico, Phillips co-founded the transdisciplinary troupe Verbo•bala Spoken Video, which has collaborated and performed across the US and Mexico, as well as in Colombia, England and Germany.
As a teaching artist Phillips has visited over 100 schools and libraries, and from 2013-2018 he co-directed the youth-centered arts and social justice organization Spoken Futures, Inc., whose programs included the Tucson Youth Poetry Slam. Phillips lives in Tucson with his family where he is at work on his next book.