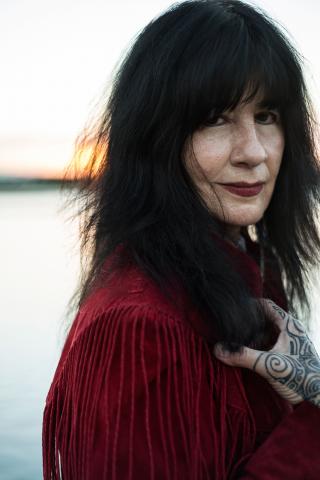 Joy Harjo's eight books of poetry include Conflict Resolution for Holy Beings, How We Became Human: New and Selected Poems, and She Had Some Horses. Harjo's memoir Crazy Brave won several awards, including the PEN USA Literary Award for Creative Non-Fiction and the American Book Award. She is the recipient of the 2015 Wallace Stevens Award from the Academy of American Poets for proven mastery in the art of poetry; a Guggenheim Fellowship, the William Carlos Williams Award from the Poetry Society of America, and the United States Artist Fellowship. In 2014 she was inducted into the Oklahoma Hall of Fame. A renowned musician, Harjo performs with her saxophone nationally and internationally, solo and with her band, the Arrow Dynamics. She has five award-winning CDs of music including the award-winning album Red Dreams, A Trail Beyond Tears and Winding Through the Milky Way, which won a Native American Music Award for Best Female Artist of the Year in 2009. She is Professor of English and American Indian Studies at the University of Illinois at Urbana-Champaign and lives in Tulsa, Oklahoma.
EXCERPT: "CRAZY BRAVE" from Crazy Brave: A Memoir (Norton, 2013)
Once I was so small I could barely see over the top of the back seat of the black Cadillac my father bought with his Indian oil money. He polished and tuned his car daily. I wanted to see everything.
This was around the time I acquired language, when something happened that changed my relationship to the spin of the world. It changed even the way I looked at the sun.
…My rite of passage into the world of humanity occurred then, through jazz. The music was a startling bridge between familiar and strange lands. I heard stomp-dance shells, singing. I saw suits, satin, fine hats. I heard workers singing in the fields. It was a way to speak beyond the confines of ordinary language.
I still hear it.