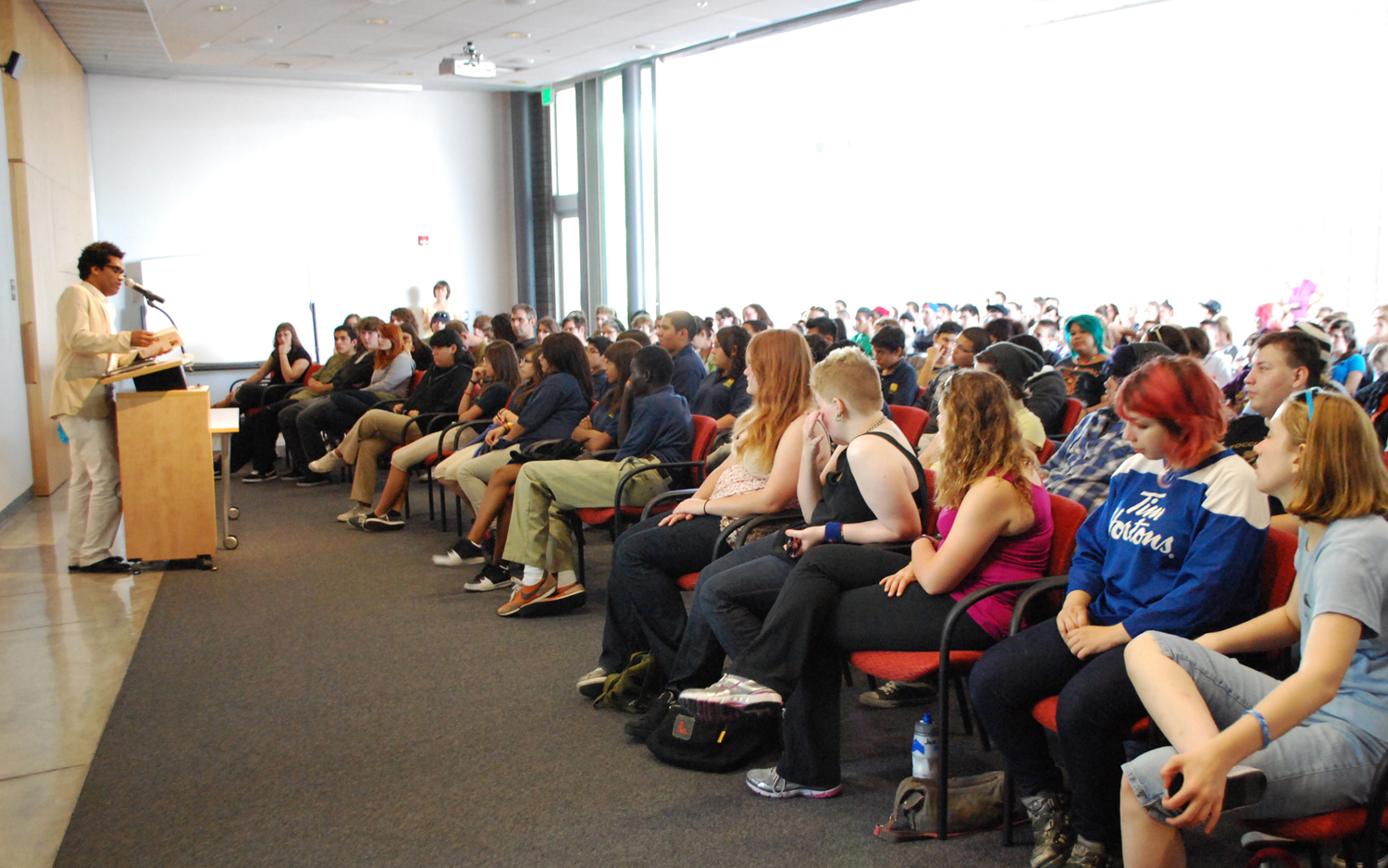 Invigorate the study of poetry and literature in your classroom through a matinee performance from a Poetry Center visiting writer. Thanks to the sponsorship of the Donald Pitt Family Foundation and the Friends of the Poetry Center, we are able to offer these performances to local schools free of charge.
Since 1962, the Poetry Center has hosted a visiting writing reading series. More than 1000 writers, including most major contemporary U.S. poets, have traveled to Tucson to read at the Poetry Center. We arrange for some of these visiting writers provide readings to groups of K-12 students.
Matinee performances take place on select Fridays. Teachers and schools are served on a first-come, first-serve basis, and requests must be placed well in advance to Renee Angle at angler@email.arizona.edu. Most matinee performances are ideal for middle- and high-school groups; however, we do occasionally host writers whose work is appropriate for an elementary-school audience. Matinee performances include a 20-minute reading and a 20-minute Q&A session.
Prior to the matinee performance at a school, the Poetry Center works with the school to teach the work of the visiting writer. Once you've scheduled a matinee with us, we also provide some or all of the following services, depending on available budget and the particulars of your school and the visiting writer:
A class set of books by the visiting poet for your student to read prior to the matinee performance.
A set of all books written by the matinee poet for your school library.
Creative reading and writing lessons delivered by teaching artists prior to the matinee.
There are several ways to implement this program:
A single teacher can teach the poet/author and host the reading in your classroom for his/her class or classes only.
Several teachers or a whole department can partner to teach and host the poet/author.
Teachers from an entire school can participate and prepare for the visit.
To host a poet at your school, one planning meeting (hour and a half in length) is required with everyone in the school who will be involved in the visit. We request that teachers familiarize students with the writer's work prior to a visit. This can be done in many ways. We will make recommendations on how to achieve an ideal author visit based on a particular writer's work and performance style as well as your goals for students. Author visits are ideal for groups of 60 or less, but sometimes a poet visit can involve the whole school successfully.
Check our calendar for scheduled matinee performances.
Interested in getting on the wait list for a matinee performance by a visiting writer at your school? Email Educational Programs Coordinator Renee Angle at angler@email.arizona.edu.