Tuesday, April 25, 2017 -

5:30pm

to

6:30pm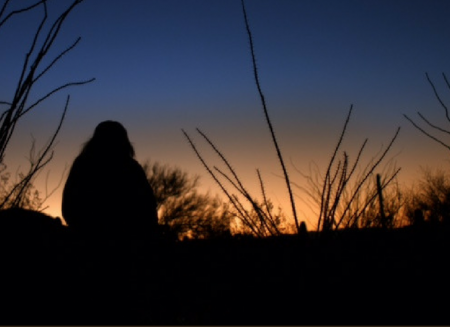 Please note: This event takes place in the Center For Creative Photography Auditorium (1030 N. Olive Rd.)
Join the UA Hanson Film Institute and the UA Poetry Center for an hour-long conversation about collaboration through film and poetry with Ofelia Zepeda and Jonathan VanBallenberghe. The event will feature a screening of their collaborative film "O'odham Dances," a reading of additional poetry by Zepeda, and thoughts from both artists on collaborative relationships and intersections. 
"O'odham Dances" is a lyrical film adaptation of Ofelia Zepeda's poem of the same name, which portrays a Tohono O'odham ritual in which people join with not only the animals of the desert but all the important elements necessary for rain, including winds, clouds, and the heat off the desert. The film shows the dramatic transformation of the Sonoran desert as night falls: the sun sets, the moon rises, and animals that have quieted their movements through the day's intense heat come out in search of food and water. Desert images and sounds – saguaro silhouettes, coyotes calling, bats at dusk, the intensity of desertstarscapes – are captured through aerial cinematography, time lapse, and creative audio to convey the powerful sense of place/sacred space that Zepeda's poem evokes. This film was commissioned by the Western Folklife Center with a grant from the National Endowment for the Arts. 
Ofelia Zepeda is a Tohono O'odham poet and professor of linguistics at the University of Arizona. Her works include Where Clouds are Formed (2008), Ocean Power (1995), Home Places: Contemporary Native American Writing from Sun Tracks (1995), A Papago Grammar (1983), and When It Rains, Papago and Pima Poetry = Mat hekid o ju, 'O'odham Na-cegitodag (1982).
Jonathan VanBallenberghe is a documentary filmmaker raised in Juneau, Alaska, and now based in Tucson, Arizona. His films have screened at festivals including SXSW, Tribeca (Special Jury Mention for Best Documentary Short), the Arizona International Film Festival (where he is a three-time winner of Best of Arizona), the American Conservation Film Festival, and the Loft Film Festival. In 2016 he was a Redford Center finalist for Almost an Island, his documentary-in-progress about the Inupiaq village of Kotzebue, Alaska. He has received Gold Addy Awards for his cinematography and grants from the Arizona Commission on the Arts and the Tucson Pima Arts Council. His independent films include In the Company of Moose, The Ostrich Testimonies, Guru, Hear Me See Me, River of Bears, and Above Alaska. In 2005 he and his wife, Sharon Wahl, created Open Lens Productions, which produces online content, broadcast commercials, independent documentaries, wildlife films, and full dome planetarium shows.