Saturday, October 21, 2017 - 7:00pm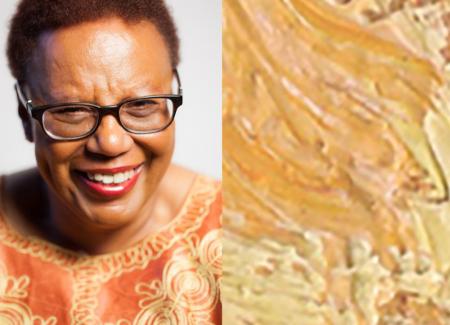 As a capstone to the Thinking Its Presence conference, there will be free and open-to-the-public closing remarks from the Thinking Its Presence board of directors, a performance by the collaborative group "The Buffalo"—comprised of Kendra Mylnechuk, Ciara Rose Griffin, and Sukha Belle PotterTalk—to be followed by readings from honored guests Patricia Spears Jones and Erica Hunt.
For the full conference schedule, including programming only open to registered conference attendees, please see https://thinkingitspresence2017.sched.com. 
Patricia Spears Jones is a Brooklyn-based African American poet and author of A Lucent Fire: New and Selected Poems from White Pine Press and seven other collections and chapbooks who is the Jackson Poetry Prize winner for 2017 and a 2016 Pushcart Prize winner; a recipient of a Barbara Deming Fund award and the Foundation from Contemporary Arts as well as grants from the NEA and NYFA. Her work is included in major anthologies, most recently, Truth to Power: Writers Respond to the Rhetoric of Hate and Fear (Cutthroat, A Journal of the Arts); The Golden Shovel Anthology: New Poems Honoring Gwendolyn Brooks (U. of Arkansas Press); BAX: Best American Experiment Writing, 2016 (Wesleyan U. Press) Of Poetry and Protest: From Emmett Till to Trayvon Martin (WW Norton) and Resisting Arrest: poems to stretch the sky (Jacar Press). Two plays commissioned by Mabou Mines, the famed experimental theater company were produced in New York City.  She is an emeritus senior fellow for the Black Earth Institute.  She has read and led workshops at The Fine Arts Work Center  Poets House, St. Mark's Poetry Project, Naropa University, The Community of Writers at Squaw Valley, The Poetry Center at SFSU and Kelley Writers House at UPenn. She is teaching at Adelphi University, Fall 2017. 
Kendra Mylnechuk, co-Creator, Actress (Mother Bison): Kendra is a Native American (Lummi) actor, theatre artist, teaching artist, director and producer. She currently lives in Missoula, MT. Her film performances have screened at Sundance, Tribeca, SXSW, and other festivals around the world. In 2013, she won best actor in NBC/Universal Pictures Short Cuts Film Festival. Her theatrical work in NY has been seen at Off and off off Broadway venues. She performed in a national tour as Shelby in Steel Magnolias with MT Rep, and has worked regionally in LA, OR, and Montana. She's worked as an actor with renown playwrights (including Samuel D. Hunter, William Yellowrobe, Jessica Goldberg, and James McLure) at the annual Missoula Colony, a conference and reading series. She recently helped develop a theatre program at N'Kwusm, a Salish language immersion school on the Blackfeet Reservation, created and implemented 2017 curriculum for elementary schools in Montana on Native American Studies utilizing theatre in education (TIE) techniques. In 2015, she co-founded MT+NYC Collaborative, a theatre company with producers rooted in both NY and MT. Ms. Mylnechuk is currently working on a documentary about her adoption, search for her biological mother, and her Native heritage.
Ciara Rose Griffin, Creator, Actress (Prisoner): Ciara has spent most of her career working in devised theater. In 2005 she became a founding member of The Buttenik Ensemble. In 2007, Ciara ventured to Seattle where she continued acting, directing, and creating original works. Ciara was a company and staff member at Annex Theatre and had the pleasure of working with Helsinki Syndrome, Sound Theatre Company, and Ghost Light Theatricals, as well as many incarnations of the Buttenik Ensemble. For the last 7 years she has called Brooklyn home. Some of her NYC credits include FCKNLZ on Broadway, The Hamlet Project, Three Day Hangover's production of Twelfth Night, and Spem in Allium. In 2015 Ciara founded the MT+NYC Collaborative, a performance collaborative supporting artists in NYC and Montana by producing theatrical works and hosting writer's retreats for all disciplines.
Sukha Belle Potter, Actress, (Baby Bison): Sukha is a 4 year old of Lummi descent, born in Brooklyn and currently living in Montana. She had her performing debut in the critically acclaimed 2016 film Buster's Mal Heart by Sarah Adina Smith (in theatres nationally spring 2017), playing the daughter of Rami Malek (Mr. Robot). Her work on that film solidified her desire to play all the time, which she does. Her contribution to this piece will live largely in keeping her scene partners, and the piece, in a constant state of play, magic, and childlike logic. She is the daughter of theatre artist Kendra Mylnechuk and playwright Tyler Potter.
The Thinking Its Presence conference is presented by the University of Arizona Poetry Center with generous support from the following UA departments and units: Office of Student Affairs and Enrollment Management, College of Humanities, College of Social and Behavioral Sciences, Africana Studies Program, Office of Diversity and Inclusive Excellence, Department of English, Confluencenter for Creative Inquiry, and Institute for LGBT Studies, in addition to generous support from the Arts Foundation of Tucson and Southern Arizona, The Rumpus, and the Academy of American Poets.