Friday, October 20, 2017 - 7:00pm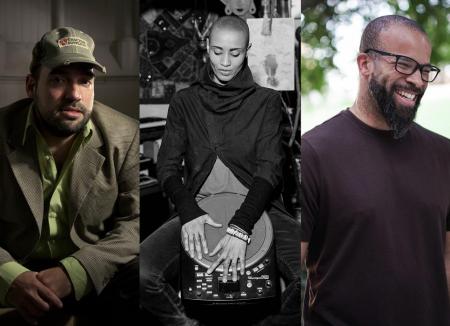 For the second night's free and open-to-the-public portion of Thinking Its Presence, keynote Urayoán Noel will present a talk, followed by a keynote performance, "Fodder," by poet and scholar Douglas Kearney and multimedia collaborator Val Jeanty.
For the full conference schedule, including programming only open to registered conference attendees, please see https://thinkingitspresence2017.sched.com. 
Urayoán Noel is the author of six books of poetry, most recently Buzzing Hemisphere/Rumor Hemisférico (University of Arizona Press) and the performance text EnUncIAdOr (Editora Educación Emergente). His other works include the critical study In Visible Movement: Nuyorican Poetry from the Sixties to Slam(University of Iowa Press), winner of the LASA Latino Studies Book Prize, and the bilingual edition Architecture of Dispersed Life: Selected Poems by Pablo de Rokha, forthcoming from Shearsman Books. Noel is an associate professor of English and Spanish at NYU, and also teaches at the low-residency MFA of the Americas at Stetson University. 
Haitian electronic music composer/percussionist/turntablist, Val Jeanty evokes the musical esoteric realms of the creative subconscious. She incorporates her African Haitian Musical traditions into the present and beyond, combining acoustics with electronics and the archaic with the post-modern. Her "Afro-Electronica" installations have been showcased in New York City at the Whitney Museum, the Museum of Modern Art, the Brooklyn Academy of Music, the Village Vanguard and internationally at SaalFelden Music Festival in Austria, Stanser Musiktage in Switzerland, Jazz à la Villette in France, and the Biennale Di Venezia Museum in Italy.
Douglas Kearney has published six books, most recently, California Book Award Finalist, Buck Studies (Fence Books, 2016), of which Amaud Jamaul Johnson writes: "Seriously, a marvel. I recommend entering Buck Studies at midnight, only after listening to Public Enemy's Fear of a Black Planet on repeat, skimming Pindar, Uncle Remus and the Bible, and eating at least two bowls of Count Chocula." Kearney's collection of writing on poetics and performativity, Mess and Mess and (Noemi Press, 2015), was a Small Press Distribution Handpicked Selection that Publisher's Weekly called "an extraordinary book." Raised in Altadena, CA, he lives with his family in the Santa Clarita Valley and teaches at CalArts.
The Thinking Its Presence conference is presented by the University of Arizona Poetry Center with generous support from the following UA departments and units: Office of Student Affairs and Enrollment Management, College of Humanities, College of Social and Behavioral Sciences, Africana Studies Program, Office of Diversity and Inclusive Excellence, Department of English, Confluencenter for Creative Inquiry, and Institute for LGBT Studies, in addition to generous support from the Arts Foundation of Tucson and Southern Arizona, The Rumpus, and the Academy of American Poets.