Thursday, October 19, 2017 - 7:00pm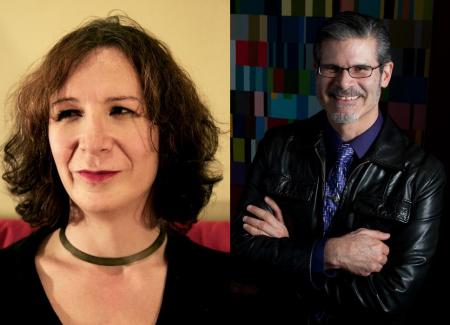 The first open-to-the-public event of the Thinking Its Presence conference will include welcomes and readings from the Thinking Its Presence founder, Prageeta Sharma, and the board of directors, a keynote talk by Roberto Tejada, and presentations by keynote Trish Salah and honored guest James Thomas Stevens.
For the full conference schedule, including programming only open to registered conference attendees, please see https://thinkingitspresence2017.sched.com. 
Roberto Tejada is the author of poetry collections that include Full Foreground(Arizona, 2012), Exposition Park (Wesleyan, 2010), Mirrors for Gold (Krupskaya, 2006), and Todo en el ahora (Libros Magenta, 2015), selected poems in Spanish language translation. He founded and co-edited the journal Mandorla: New Writing from the Americas, a multilingual annual of poetry and translation (1991-2014), and is the author of art histories that include National Camera: Photography and Mexico's Image Environment (Minnesota, 2009); a monograph on pioneering Chicana conceptual artist Celia Alvarez Muñoz (Minnesota, 2009), and such catalog essays as "Los Angeles Snapshots" in Now Dig This!: Art and Black Los Angeles, 1960-1980 (Hammer Museum, 2011). He is faculty in the Creative Writing Program and Art History Department at the University of Houston.
Born in Halifax, Trish Salah is the author of Wanting in Arabic(TSAR 2002, 2013) and Lyric Sexology Vol. 1 (Roof 2014, Metonymy 2017) and co-editor of special issues of Canadian Review of American Studies 35.2 (2005) and TSQ: Transgender Studies Quarterly 1.4 (2014). The 2013 edition of Wanting in Arabic won the Lambda Literary Award for Transgender Fiction. At the University of Winnipeg she organized the conferences Writing Trans Genres: Emergent Literatures and Criticism and Decolonizing and Decriminalizing Trans Genres. Her writing appears in recent issues of Vetch, TSQ, Drunken Boat, Angelaki, and in Topside Press' new anthology, Meanwhile, Elsewhere: Science Fiction and Fantasy from Transgender Writers. Currently an assistant professor of Gender Studies at Queen's University, she is a member of the editorial boards of TSQ, Eoagh, and Topia.
The Thinking Its Presence conference is presented by the University of Arizona Poetry Center with generous support from the following UA departments and units: Office of Student Affairs and Enrollment Management, College of Humanities, College of Social and Behavioral Sciences, Africana Studies Program, Office of Diversity and Inclusive Excellence, Department of English, Confluencenter for Creative Inquiry, and Institute for LGBT Studies, in addition to generous support from the Arts Foundation of Tucson and Southern Arizona, The Rumpus, and the Academy of American Poets.