Thursday, October 19, 2017 - 9:00am

to

Saturday, October 21, 2017 - 9:00pm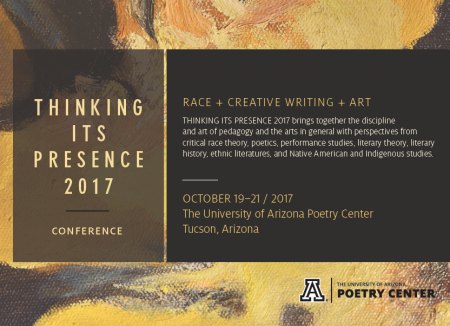 Thinking Its Presence: Race, Creative Writing, and Literary Study examines innovative creative writing and scholarship that re-thinks the complex and inseparable links between literary forms and the racialized thinking, processes, and histories that have shaped this country since its founding. The conference brings together the discipline and teaching of creative writing with perspectives from critical race theory, poetics, performance studies, literary theory, literary history, ethnic literatures, and Native American and Indigenous studies. We intend to foster a dynamic exchange among creative writers and scholars. To that end, the conference will include readings, panels devoted to scholarship, and panels devoted to critical discussion of pedagogies and institutional practices.
The 2017 Thinking Its Presence Conference will explore the concept of José Esteban Muñoz' "ephemeral archive."
Conference events will take place from 9:00 am to 5:00 pm each of the three days, with keynote evenings from 7:00 pm to 10:00 pm. The 9:00-5:00 sessions are only open to registered attendees, and the evening sessions will be open to the public. The daytime schedule is available at Sched, and for information on the evening events, see our calendar.  
To register for the conference, or for more information, see https://poetry.arizona.edu/TIP2017.
The Thinking Its Presence conference is presented by the University of Arizona Poetry Center with generous support from the following UA departments and units: Office of Student Affairs and Enrollment Management, College of Humanities, College of Social and Behavioral Sciences, Africana Studies Program, Office of Diversity and Inclusive Excellence, Department of English, Confluencenter for Creative Inquiry, and Institute for LGBT Studies, in addition to generous support from the Arts Foundation of Tucson and Southern Arizona, The Rumpus, Kore Press, and the Academy of American Poets.