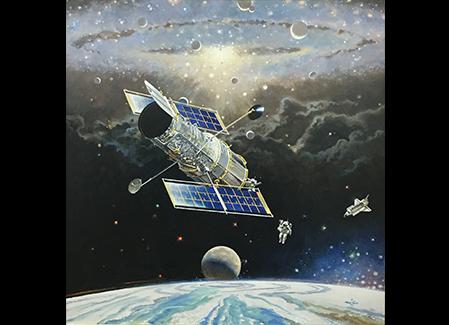 Curated by Julie Swarstad Johnson
When Apollo 11 touched down on the moon in 1969, a flurry of poems by writers including May Swenson, N. Scott Momaday, and Stanley Kunitz described, deconstructed, and reimagined the historic event. As the Apollo missions gave way to the Space Shuttle and unmanned probes reach the far extremes of our solar system, new generations of poets including Srikanth Reddy, Tracy K. Smith, Rae Armantrout, and Heather Christle continue to engage with both the fact and fiction of spaceflight. Join us for an exhibition of poems spanning the history of spaceflight, presented alongside the space art of Robert McCall (in collaboration with the UA Archive of Visual Arts) and images of Mars taken by the HiRISE camera on board the Mars Reconnaissance Orbiter.
Exhibitions are displayed in the Jeremy Ingalls Gallery of the Poetry Center.
Image credit: Robert T. McCall, Hubble Space Telescope, 1990, Oil on canvas, University of Arizona Archive of Visual Arts.