Wednesday, February 27, 2019 - 7:00pm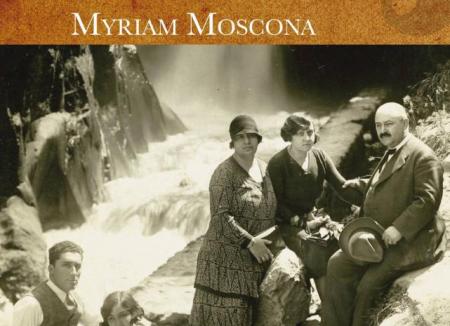 This event takes place at the Jewish History Museum, 564 S Stone Ave, Tucson, AZ 85701.
Join us for a trilingual reading in Spanish, English, and Ladino with Tela de sevoya (Onioncloth) author Myriam Moscona along with translators Jen Hofer and John Pluecker of Antena. Moscona's celebrated book Tela de sevoya (Onioncloth) features a narrator who travels from Mexico to Bulgaria, searching for traces of her Sephardic heritage. Reading will be followed by discussion.
Acompáñennos en el Museo de Historia Judía de Tucson para una lectura trilingüe en español, inglés y ladino con la escritora Myriam Moscona, quien estará acompañada de los traductores y editores Jen Hofer y John Pluecker de Antena. El reconocido libro de Moscona "Tela de sevoya" narra la historia de la protagonista, quien viaja de México hasta Bulgaria, en busca de los rastros de su herencia sefardí. La lectura será seguida de un diálogo con la autora.
Miércoles 27 de febrero de 2019 a las 7pm
Wednesday February 27, 2019, 7pm
Museo Historia Judía
Jewish History Museum
564 S. Stone Avenue
Gratís y Abierto al Público
Free and Open to the Public
This event is co-sponsored by Consulado de México and the University of Arizona Poetry Center. The UofA Poetry Center will also host a reading with Moscona, Hofer and Pluecker on Thursday February 28, 7pm:
https://poetry.arizona.edu/calendar/myriam-moscona-jen-hofer-john-pluecker
In 2012, TELA DE SEVOYA / ONIONCLOTH was awarded one of Mexico's most prestigious literary prizes, the Premio Xavier Villaurrutia, whose previous winners include Octavio Paz, Carlos Fuentes, and Mario Bellatin.
Myriam Moscona is a poet and journalist born in Mexico City in 1955, of Bulgarian Sephardic descent. Moscona is the author of nine books, including Vísperas (Fondo de Cultura Económica, México, 1996), Elque nada (ERA, México, 2006) and De par en par (Bonobos, México, 2009), which explores poetry beyond its traditional construction.Her book-length sequence Ivory Black (Negro marfil), translated from the Spanish by Jen Hofer, received the 2012 Harold Morton Landon Award from the Academy of American Poets.
Jen Hofer is an LA-based poet, translator, social justice interpreter, teacher, knitter, book-maker, public letter-writer, urban cyclist, and co-founder of the language justice and language experimentation collaborative Antena and the language justice advocacy collective Antena Los Ángeles. She has published 10 books in translation, 3 books of poetry, and numerous homemade books in DIY editions.
John Pluecker is a language worker who writes, translates, organizes, interprets, and creates. In 2010, he co-founded the collaborative Antena and in 2015 the social justice interpreting collective Antena Houston. His most recent translations from the Spanish include Gore Capitalism and Antígona González. His book of poetry and image, Ford Over, was released in 2016 from Noemi Press.