Saturday, March 20, 2021 - 12:00pm

to

Sunday, March 21, 2021 - 2:00pm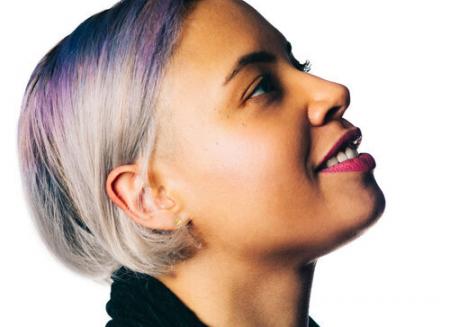 Registration is available through our partner The Shipman Agency. Please note that all class times are in Eastern Standard Time, not Arizona Time. 
2 Sessions: Saturday, March 20 + Sunday, March 21
12:00-2:00PM EST
Lillian-Yvonne Bertram
Lillian-Yvonne Bertram's most recent book of poetry is Travesty Generator (Noemi Press, 2019), which Cathy Park Hong called, "trailblazing." Their other poetry collections include Personal Science (Tupelo Press, 2017); a slice from the cake made of air (Red Hen Press 2016); and But a Storm is Blowing From Paradise (Red Hen Press, 2012), chosen by Claudia Rankine as the winner of the 2010 Benjamin Saltman Award. Bertram's other publications include the chapbook cutthroat glamours (Phantom Books, 2012), winner of the Phantom Books chapbook award; the artist book Grand Dessein (commissioned by Container Press), a mixed media artifact that meditates on the work and writing of the artist Paul Klee and was recently acquired by the Special Collections library at St. Lawrence University; and Tierra Fisurada, a Spanish poetry chapbook published in Argentina (Editoriales del Duende, 2002). They collaborated with the artist Laylah Ali for the exhibition booklet of her 2017 art show The Acephalous Series. 
Bertram has published poetry, prose, and essays in numerous journals. Their honors include a 2017 Harvard University Woodberry Poetry Room Creative Grant, a 2014 National Endowment for the Arts Poetry Fellowship, finalist nomination for the 2013 Hurston/Wright Legacy Award, a Vermont Studio Center Fellowship, and fellowships to the Bread Loaf Writers Conference, Cave Canem, and others. Their essay "To find kisses pressed in books: 100 Years of Gwendolyn Brooks" was featured on the Poetry Foundation's website in the fall of 2016, where they have previously blogged for Harriet, the Poetry Foundation's blog.
Workshop Session: March 20th & March 21st, 12:00pm - 2:00 pm EST, $200
Williams Carlos Williams is famous for saying that "a poem is a small (or large) machine made of words". Digital poetry—specifically computational poetry—takes this quite literally. Poems can be computational machines, and machines can be poems. If you've ever had even the slightest curiosity about digital poetry or questions about how computer programs can "write" poetry (or prose!) then this short 2-session seminar is for you.  
In this basic introductory level class, you will learn the basics for understanding (1) how a poetry generator can work (2) experiment with preexisting poetry generator programs and (3) make your own poetry generator.  
Maybe you're thinking "this sounds cool, but intimidating…. I don't know anything about computer programming or software…" That's perfect! You don't need to have any prior experience with computation or programming. All you need is a willingness to learn, an internet connection, and a web browser. 
You'll learn not just how to program a generator to produce a poem, but how these "meaningful machines" can be useful for invigorating a writing practice or engaging in radical revision!