Tuesday, October 4, 2022

to

Thursday, December 22, 2022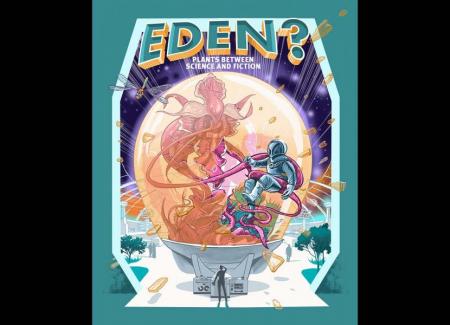 What would you do if your salad bit you back or started to talk? Eden? Plants between Science and Fiction, a multimedia exhibit about the role of plants in science fiction literature and film, invites you to engage in exactly this thought experiment. Conceptualized by graduate students at the University of Münster in Germany, this exhibit features killer plants from outer space and utopian gardens of the future through poems, (graphic) novels, and films with plant protagonists. Hosted at the Poetry Center and the Tree Ring Laboratory, this exhibit brings together the natural sciences, visual culture, and literature, asking us to pay attention to what we often consider to be mere scenery and examine our thinking about plants. In light of our current ecological crisis, an encounter with plants as intelligent beings who talk back might just enable us to imagine different ways of living together on our shared planet.
Curated by Katharina Scheerer and presented in collaboration with the Literary and Cultural Plant Studies Network.
Join us for a free screening of Little Shop of Horrors (1986) at the Loft Cinema on October 11, 7pm, as part of the Tucson Humanities Festival.
This is a physical exhibit that will be displayed in the Jeremy Ingalls Gallery at the Poetry Center and the lobby of the Laboratory of Tree-Ring Research.