Tuesday, November 10, 2020 - 5:00pm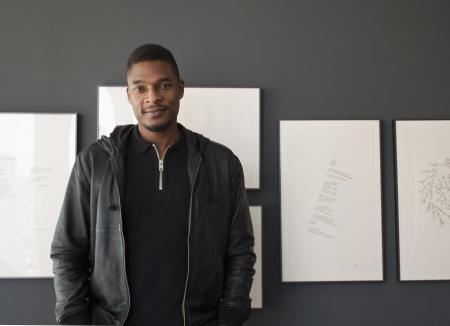 Director's Choice is a series of virtual events presenting historic readings from the University of Arizona Poetry Center's extensive audiovisual archive Voca, as selected by past and present leadership of the Center, including Gail Browne, Alison Hawthorne Deming, Tyler Meier, and Frances Sjoberg. As part of the lead up to our celebration of the Poetry Center's 60th anniversary, join us online for these live, free listening parties featuring one reading from each decade of the Poetry Center's sixty years of existence. 
From the 2010s: Join us to watch a reading by Terrance Hayes, originally given on February 4th, 2016. Hayes visited the Poetry Center as one of the featured presenters in a miniseries that asked poets to reflect on the relationship between poetry and the culture of spectacle. Hayes reads from across his collections, including poems from Muscular Music, Hip Logic, Wind in a Box, Lighthead, and How to Be Drawn, as well as a sequence of new poems written in response to the murders of nine church parishioners in Charleston, South Carolina in 2015. Hayes explores the idea of spectacle through the lens of violence and how it manifests in ways gendered, political, and historical. The reading reveals the shaping force of the violence within ourselves and the violence that has shaped and continues to shape America.  
No RSVP required; to join, use this link and information. 
https://arizona.zoom.us/j/92616361801?pwd=VW05YXVDQm9sQWRTUmVwSVRvTUZFZz09
Passcode: 738951