Thursday, October 17, 2019 - 7:00pm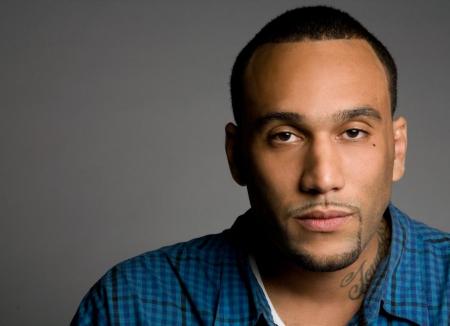 We're happy to provide the opportunity to hear from a local community organization working toward carceral justice at our Art for Justice readings. Please expect this reading to be slightly longer.
We are proud to present Tongo Eisen-Martin, who will read from his work commissioned for the Poetry Center's Art for Justice grant. After the reading, there will be a short Q&A and a book signing.
Tongo Eisen-Martin is a poet, movement worker, and educator. His latest book Heaven Is All Goodbyes was published by the City Lights Pocket Poets series, was shortlisted for the Griffin Poetry Prize and won a California Book Award and an American Book Award.
Our local opener for this reading is Timoteio Padilla. He is a public health educator, organizer, and community activist working within the anti-violence movement, both on a grassroots and professional level.  Timoteio organizes and engages men in social justice movements to end violence against women, and build solidarity with LGBTQ identified folks in dismantling systems of oppression, while considering intersections of privilege and power as they relate to masculinity. Timoteio has worked professionally with survivors of domestic violence, providing domestic violence education and safety planning, in addition to facilitating men's groups with both men who have been arrested for Domestic Violence and men within the community. Timoteio has experience in facilitating anti-violence curriculum, addressing dating violence and sexual violence with adolescent youth of all genders, and facilitates trainings and groups that engage men to challenge hetero-normative patriarchal male supremacy. Timoteio engages his work and organizing from a decolonial framework rooted in indigenous values, tradition and culture.
Timoteio will be speaking on behalf of Sustainable Nations. Sustainable Nations is an Indigenous peoples' organization serving the renewal of ecologically, culturally and economically sustainable Indigenous Nations. We offer training, consulting, and development services in renewable energy systems, traditional/green/natural building, ecological wastewater treatment, food systems, Indigenous community master planning and design, and localized bioregional economic development. Roots to Sky, a new, still emerging project of Sustainable Nations, offers workshops, training, and consulting, in de-colonial parenting and education, healing, gender justice and sexual health, and Indigenous community based transformative justice.