Thursday, September 26, 2019 - 7:00pm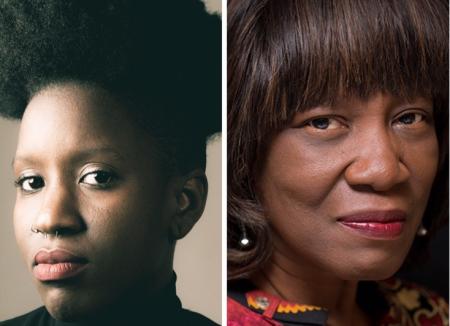 We are proud to present Patricia Smith and Angel Nafis, who will read from their work commissioned for the Poetry Center's Art for Justice grant. After the reading, there will be a short Q&A and a book signing.
Patricia Smith is the award-winning author of eight critically acclaimed books of poetry, including Incendiary Art, winner of the 2018 Kingsley Tufts Poetry Award and the 2018 NAACP Image Award and finalist for the Los Angeles Times Book Prize; Shoulda Been Jimi Savannah, winner of the Lenore Marshall Prize from the Academy of American Poets; Blood Dazzler, a National Book Award finalist.
Angel Nafis is the author of BlackGirl Mansion. She is the recipient of fellowships from Cave Canem, Millay Colony, the Poetry Foundation, and the National Endowment for the Arts. Founder and curator of the Greenlight Bookstore Poetry Salon, she is also half of the ODES FOR YOU Tour with poet, musician, and visual artist Shira Erlichman, and with poet Morgan Parker, she runs The Other Black Girl Collective.
Our local opener for this event will be Leilani Clark. Leilani Clark is a Tucson community organizer, activist and performance artist of Native and African American decent. She's been involved in the Immigrant Rights and Ethnic Studies movements since high school. After surviving sexual assault in 2011 and an oppressive rape culture of silence, she began to reclaim her story and confront gender violence in movement spaces through the art of slam poetry. Through the collaboration with many local grassroots POC-led organizations like BIPOC United-Tucson, Sustainable Nations' Roots to Sky Healing Justice Program, the H.O.N.O.R. Collective, and MalintZine. Leilani is currently working around Community Accountability and Transformative Justice responses to violence, creating spaces of healing and resiliency for survivors of gender-based violence and further uncovering the silenced her-stories of the Tucson MAS Movement.