Thursday, April 22, 2021 - 5:00pm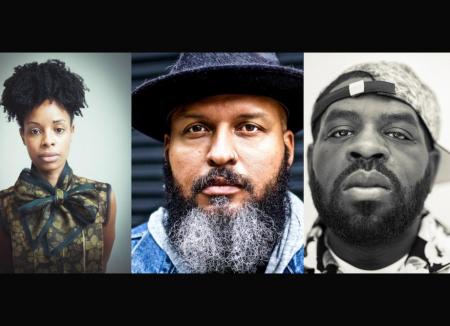 This event will be live on Facebook and YouTube.
Join us for an Evening with Nicole Sealey, John Murillo, and Hanif Abdurraqib hosted by Literary Director Diana Delgado. They will read and have a conversation with Delgado as part of the Institute for Inquiry and Poetics. The convening's theme is Art for Justice. Learn more about the Art for Justice project here. 
The Institute for Inquiry and Poetics, founded at the University of Arizona Poetry Center, is a thought center designed to create space and time for poets to respond to pressing questions that reside at the intersection of social concern and poetry. Encouraging interdisciplinary modalities and investigative research, the Institute will ask poets a series of questions, and digitally archive their responses on poetry.arizona.edu.
We believe that social, racial, and environmental justice are rooted in language, and that poets are preeminent language makers that can help us reckon with society's most perplexing questions. We also believe that each person never loses the capacity to learn, grow, and change; and because of this radical capaciousness, we hope to reorient conversations and reframe our future through imaginative language and action.