Saturday, October 15, 2022 - 1:00pm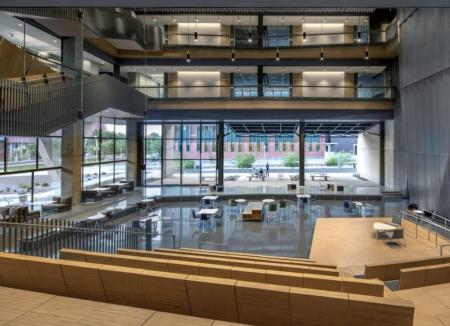 This event will take place in the forum at the Health Services Innovation Building (HSIB) an indoor/outdoor space.  HSIB is located at 1670 E Drachman St. Tucson, AZ 85721, a five minute walk from the Poetry Center.  All are welcome! 
Join us for monthly poetry discussions, led by docents from the UA Poetry Center. The event is free, and no preparation or knowledge of poetry is necessary to participate.  A reading packet will be shared.  For anyone who enjoys poetry or learning more about poets in a conversational setting, this informal gathering includes many opportunities to contribute to the conversation and ask questions. It is also a great way to meet people in the community who have similar interests.
Sandra Cisneros is a poet, short story writer, novelist, essayist, performer, and artist whose work explores the lives of the working-class.  Her numerous awards include NEA fellowships in both poetry and fiction, the Texas Medal of the Arts, a MacArthur Fellowship, several honorary doctorates and national and international book awards, including Chicago's Fifth Star Award, the PEN Center USA Literary Award, the Fairfax Prize, and the National Medal of Arts. Most recently, she received the Ford Foundation's Art of Change Fellowship, was recognized among The Frederick Douglass 200, and won the PEN/Nabokov Award for international literature.
Her classic, coming-of-age novel, The House on Mango Street, has sold over seven million copies, has been translated into over twenty-five languages, and is required reading in elementary, high school, and universities across the nation.  
In addition to her writing, Cisneros has fostered the careers of many aspiring and emerging writers through two non-profits she founded: the Macondo Foundation, which celebrates its 25th anniversary in 2020, and the Alfredo Cisneros del Moral Foundation, which ran for fifteen years. She is also the organizer of Los MacArturos, Latino MacArthur fellows who are community activists. Her literary papers are preserved in Texas at the Wittliff Collections at Texas State University. 
Sandra Cisneros is a dual citizen of the United States and Mexico and earns her living by her pen.  As a single woman, she chose to have books instead of children.  She currently lives in San Miguel de Allende, México.  Her most recent book, Martita, I Remember You/Martita, te recuerdo, a story in English and in Spanish, was published in 2021. In 2022, a new collection of poetry, Woman Without Shame, her first in 28 years, will be published by Knopf and by Vintage Español in a Spanish language translation, Mujer sin vergüenza, by Liliana Valenzuela.