Woven Words Launches with Desert Museum Poetry Reading
33 poetry installations tell the story of the desert landscape and wildlife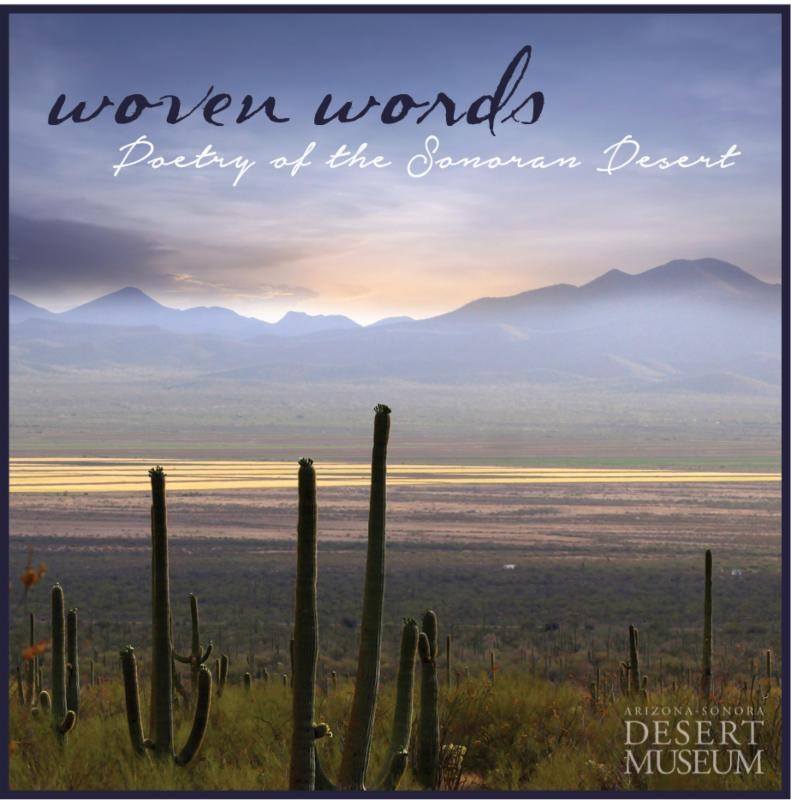 The Woven Words project, which connects two of Tucson's enduring cultural institutions, will be unveiled at a Jan. 28 poetry reading.
A collaboration between the University of Arizona Poetry Center and the Arizona-Sonora Desert Museum, Woven Words was designed to have two parallel outcomes: the poetry will deepen the experience of an exhibit and the exhibit will deepen a reader's experience of the featured poems.
Years in the making, the completed project features 33 poetry installations throughout the Desert Museum grounds, with the words connecting to the landscape and desert life. Developed by ASDM Poet-in-Residence Eric Magrane, along with the staffs of both organizations, the innovative project is intended to present a fundamentally new way to experience the desert museum. The project "underscores the profound relationship between knowledge, the imagination and an ethos of conservation."
To celebrate the launch of Woven Words, the Desert Museum's Warden Oasis Theater will host a poetry reading at 1 p.m. on Jan. 28. Entrance to the event is free with current Museum membership, or valid admission receipt. RSVP required (crusing@desertmuseum.org).
The reading will feature poets included in the project reading their work and the work of other featured poets in the project.  Featured readers include Arizona Poet Laureate Alberto Ríos, Alison Hawthorne Deming, Ofelia Zepeda, Richard Shelton, inaugural Desert Museum Poet-in-Residence Eric Magrane, Wendy Burk, and Byrd Baylor. An illustrated map created by artist Allen Crawford will also be unveiled at the reading, which will make possible a "poetry tour" of the Desert Museum. 
Each poem included in Woven Words has a story. Irish poet Seamus Heaney's poem "The Otter," which is now part of the project in the form of a 40-foot tile mural near the otter enclosure, has a special connection to Tucson. On paperwork Heaney submitted to the Poetry Center during one of his visits, he indicated that the now-much-anthologized poem was written after one of his previous visits to Tucson and his visit to the otters at the Desert Museum. The mural was created in partnership with Santa Teresa Tile Works to honor this connection.
Near the hummingbird enclosure, a haiku by Issa (translated by Robert Hass) now appears: "Don't worry spiders / I keep house / Casually." The poem was chosen after hearing the story of the hummingbird exhibit's renovation. After hummingbirds were reintroduced to the habitat, keepers noticed they weren't thriving. Spider webs are an essential part of hummingbird nests, so it was only when the spiders were reintroduced to the habitat that the birds began to reproduce.