Book shopping is one of life's great pleasures, and we're incredibly lucky to be able to do so much of it in the course of our regular duties at the Poetry Center. I do the Poetry Center Library's rare book buying, and this part of my work is a source of deep joy. There's the satisfaction of building up our historical collections with rare chapbooks and broadsides from major names--and there's also the thrill of finding and supporting the work of contemporary artists who are making innovative, urgent, beautiful books. The art of the book is thriving, and poetic artist's books are a growing part of our rare book collections.
In recent years, we've been able to purchase rare and artist's books at a higher level due to the generosity of the donors who contributed to our Rare Books Endowment Fund. The income from this endowment has allowed us to purchase a number of books that would have been otherwise out of our reach, and we are so excited to share these new-to-us works with the public. Here are two recent examples: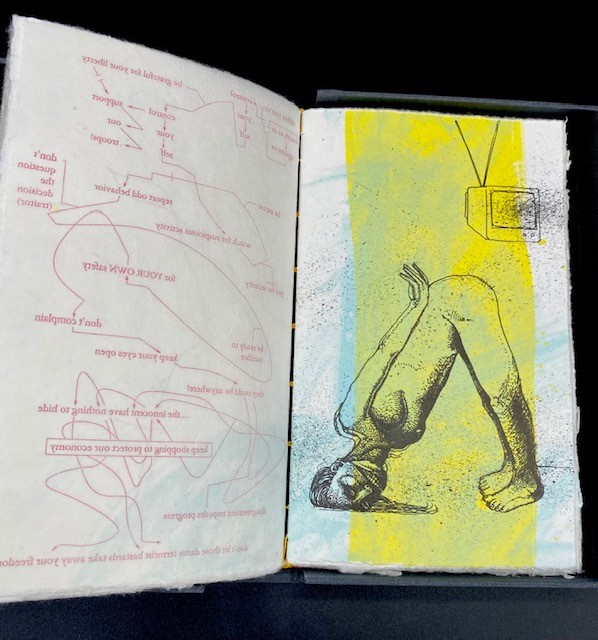 Egil and Thorsten Dennerline's Lover Loser: Diagram Poems combines lithographs with poems; the text of the poems are "held together with lines, shapes, and arrows," becoming drawings themselves, and are printed on translucent paper, so that the lithographs show through. The book interrogates the human condition and the relationship between text and image.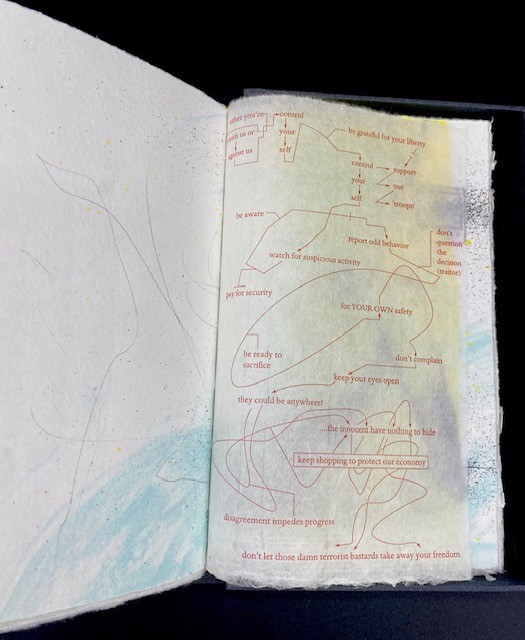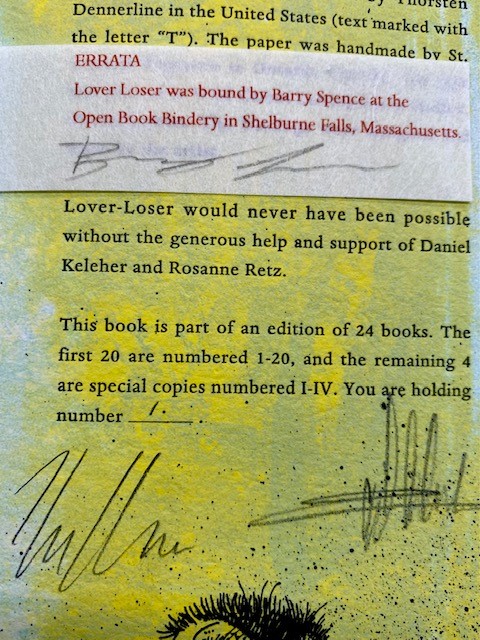 Dennerline, Egil, and Thorsten Dennerline. Lover Loser: Diagram Poems. St. Louis: Bird Press, 2003. 
We've also recently acquired a large-format, stunning artist's book presentation of Anthony Hecht's Séance for a Minyan, pairing ten poems with intaglios by Michael Kuch.
The ten poems here focus on Biblical characters; the number ten was chosen to correspond with the minyan, or quorum, necessary to commence public worship under Jewish law. The poems and images are presented in a series of fold-out triptychs. 
Hecht, Anthony, and Michael Kuch. Séance for a Minyan: Ten Poems. Northampton, Massachusetts?: Double Elephant Press, 2001. 
Although we do our best with sized-for-web photos, these works are really best appreciated in person, where the beauty and texture of the paper, the color and craftsmanship of the bindings, and the vibrancy of text and image arrest and transform our gaze. We are so eager to share these (and other works from our Rare Book Room) with you when we re-open in August. You may access rare books from our collections during our opening hours this fall: just ask a librarian! We cannot wait to see you all again in the library.