The Poetry Out Loud Semi-Finals and Finals are coming up May 9th and 10th in Washington, DC! In addition to the live competition at Lisner Auditorium, both the Semifinals and National Finals can be viewed via a one-time-only live webcast at Arts.gov/Poetry-Out-Loud.
The schedule is as follows:
National Semifinals: May 9th
Semifinal One, 9:00 AM ET
Champions from Connecticut, Delaware, District of Columbia, Maine, Maryland, Massachusetts, New Hampshire, New Jersey, New York, North Carolina, Ohio, Pennsylvania, Rhode Island, South Carolina, U.S. Virgin Islands, Vermont, Virginia, and West Virginia.
Semifinal Two, 1:00 PM ET
Champions from Alabama, Arkansas, Florida, Georgia, Illinois, Indiana, Iowa, Kansas, Kentucky, Louisiana, Michigan, Mississippi, Missouri, Nebraska, Oklahoma, Puerto Rico, Tennessee, and Wisconsin.
Semifinal Three, 5:00 PM ET
Champions from Alaska, American Samoa, Arizona, California, Colorado, Hawaii, Idaho, Minnesota, Montana, Nevada, New Mexico, North Dakota, Oregon, South Dakota, Texas, Utah, Washington, and Wyoming. Biruni Hariadi, the Arizona State Finalist, will be competing in this, the third semifinals.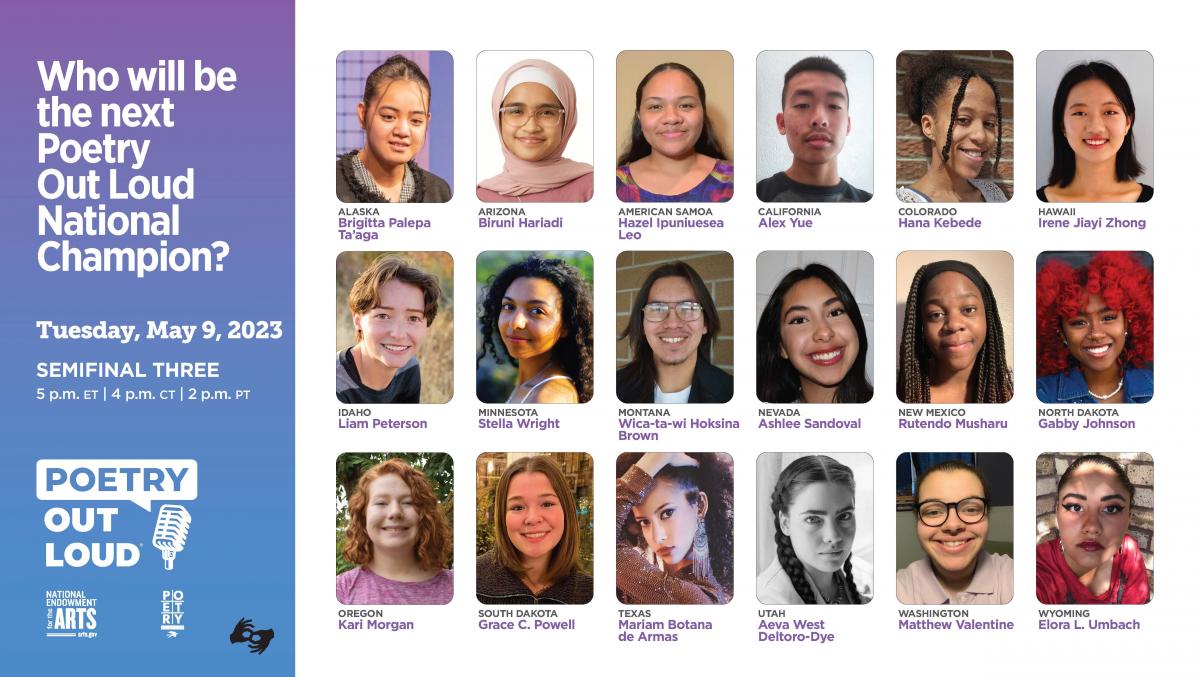 National Finals: May 10th
On Wednesday, May 10, 2023, the National Finals will take place at 7:00 p.m. ET, also at Lisner Auditorium. The top three scoring students from each semifinal, nine in total, will move on to the National Finals, which will culminate with the live announcement of the 2023 Poetry Out Loud National Champion. The National Finals are free and open to the public—no ticket required.
Judges include Crisosto Apache, H-Dirksen L. Bauman, J. Nicole Brooks, Guadalupe García McCall, Diana Khoi Nguyen, and Brian Teare. The evening will also include a performance by bilingual singer-songwriter Alisa Amador, winner of the 2022 NPR Tiny Desk Contest.
Read the National Endowment for the Arts press release here.