vocalisms is a regular feature that presents selected tracks from voca, the Poetry Center's online audio video library of more than 800 recorded readings, spanning from 1963 to today.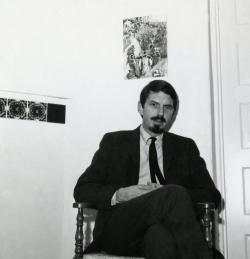 Robert Creeley (1963), "For Love" 
The Poetry Center's Reading & Lecture Series was inaugurated in 1962 with a reading by Stanley Kunitz. But pride of place for earliest recorded reading at the Poetry Center belongs to a 1963 reading by Robert Creeley. In this track from that recording, Creeley reads "For Love," the title poem of his collection published in 1962. Many of the recordings you'll see featured in this blog series began their lives as reel-to-reels, audiocassettes, videotapes, CDs, and DVDs. Fifteen years of work by Poetry Center staff, from 2000 to 2015, went into digitizing these recordings! Every year, we add twenty to thirty new born-digital recordings to voca, our online platform for sharing the digitized recordings with the public. It's a labor of love—and our delight—to make these significant recordings available to you.
You can listen to more of this reading here.