We're delighted to introduce The Tiny Crack, the 2022 edition of our 6-12 Writing the Community anthology. Below you'll find the anthology's introduction, by teaching artist Rachel Mindell, and three student poems from the book.
Introduction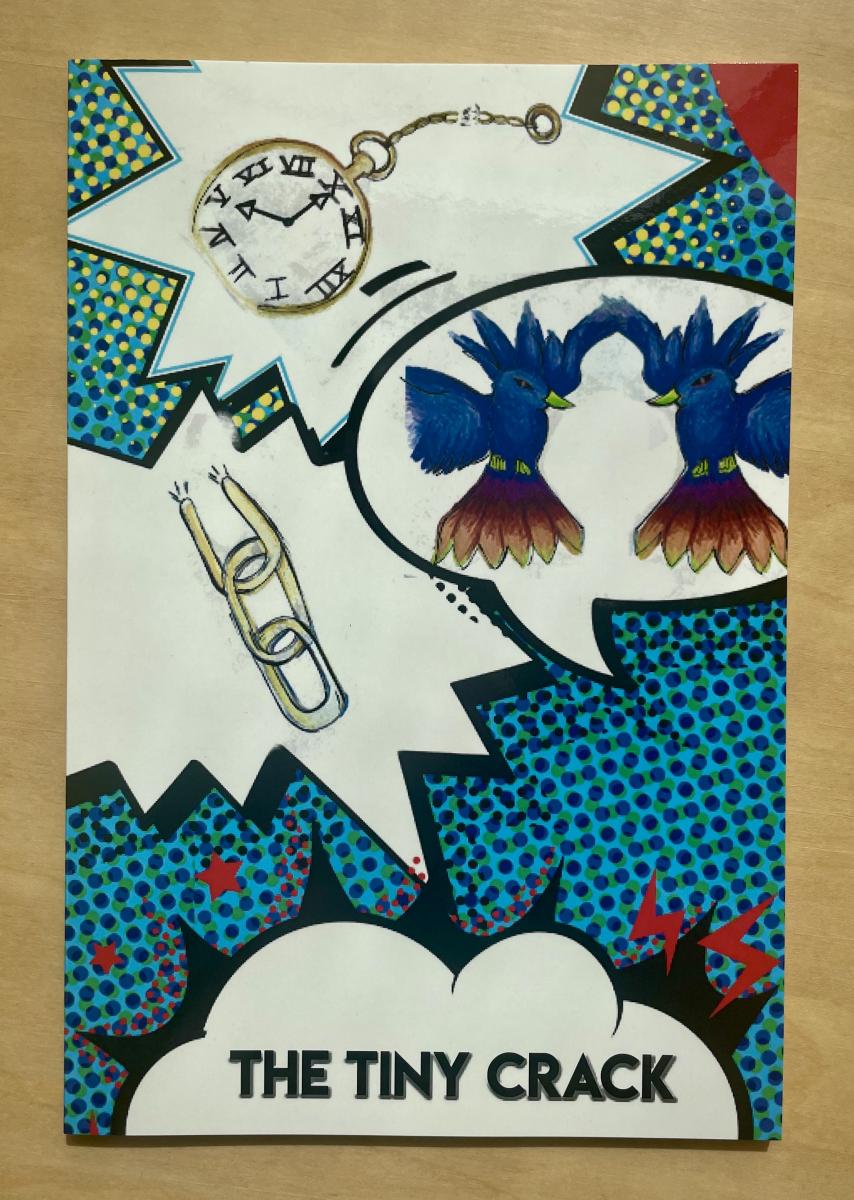 And so another year spent reckoning with what is visible, what is real. As COVID-19 continues to impact every life, in ways seen and unseen, young writers bravely address words to an uncertain world. It is an honor and privilege to introduce this small collection of big poems by students in grades 6-12 at CAPE High School and Safford Middle School, poems that disrupt, dive, delve, and elevate, poems that explore what it means to live divided and adapt and persist.
Reading through these poems as a group, I'm struck by their examination of undersides. These writers insist, rightly, on the value of what is often hidden. They question, rightly, quick judgements and biases.
As Patrick writes:
I was gone.
I'm coming back.
Got a couple bad charges.
People don't look at me the same.
I was lost running wild.
These poets affirm, again and again, "I am not only what you see. I am more than what you believe."
Robert writes:
I'm Black
They profile me
Assuming
I'm violent and dangerous
Scary and vicious
I'm Black
Powerful and brilliant
Hardened
From my environment
Over my ten years as a poet in the schools, I've become an unwitting evangelist for the five senses. I ask students, again and again, to write using sight, sound, smell, taste, and touch. This year I realize I've been missing what might be, in fact, more important than images the senses can capture—that is, reality that deflects detection or distorts it.
For more than two years, many of us have lived in fear of a virus we don't see, an invisibility with tremendous, irreversible consequences. Perhaps it's time to revise how we think about vision and fright in all its facets. What do we really know about what we see?
Daniela writes:
Although you see my smile you don't see my tears. You don't see my anger. Then the worst of all is that you don't see my fear. I try to see your tears. I try to see your anger. Then worst of all I see your fears.
And it's not just vision I'm urged to expand on. These young writers choose words that command hearing, warrant listening, and acknowledge how tenuous, illusory, and arbitrary our division between sound and silence is.
Here's Yisreal:
listen on what i'm about to tell you
these 4 thinking rules might even help you think about life
think about what you're missing think about time
& think about the crime & how you going to fix it
The page (paper or screen) offers a powerful opportunity to visually insist on absences of sound. To break lines so they drop quiet, to leave space between ideas. For the speaker to explore how they are and have been hushed.
As Layla writes:
He said silence speaks volumes  
He said women don't get to speak  
He said you are a woman you sit there and look pretty  
(Be silent)
Who is allowed to speak and who is not can be dictated by archaic and stereotypical expectations. Madasyn picks up the thread:
Silence is quiet,  
speechless is silent,  
Quiet is as speechless as a butterfly
I'd like to borrow that butterfly and let it move us towards the senses of proximity, the smell, taste, and touch of things held close. Many of the writers in this anthology know physical deprivation and detention. They have been withheld from bodily nearness, have experienced trauma and physical loss.
Lionel responds to 2Pac ("I am the rose that grew from a crack in the concrete"):
But is it true, can I really sprout from this tiny little crack?
With no help it's hopeless,
Like a butterfly when you touch its wings,
Most of the time I feel like that butterfly is me.
There is real and devastating pain in these poems, pain felt in the body, the mind, the spirit, and the heart. Our writers express regret, shame, helplessness, and the urgent wish for one more time, one more chance. They write about being stuck, in-between or out of the way. They yearn for freedom. They question choices, they want a way forward. They ask what will sustain us.
Jai writes:
Do you like watermelon too? Can you let me know when you get this mama bear I want to see your beautiful smile.
I have no answers. I appreciate questions. And I am so grateful to these students for their willingness to speak what can feel unspeakable—there is no other way. They are valiant. I am grateful to my colleagues in this work—Eva Sierra, Teré Fowler-Chapman, and Matisse Rosen—and the teachers at CAPE and Safford schools who made the time to embrace this process. I am grateful to the funders and sponsors for Writing the Community and to leaders at the UA Poetry Center who tirelessly bring teaching artists to the classroom and lift up student work—thank you Gema Ornelas and Wren Goblirsch.
Somehow, those of us who are lucky enough to still be here are sometimes able to pause, to write and steward poems, to acknowledge and mourn loss, to go underneath the surface of things and shine our little light. Here's to not knowing how and going in anyway. Here's to these words by Moses:
I don't know how to do this.
I don't know how to put my thoughts into this.
I don't know how to make a poem
POEM
But don't worry I still made one.
Yours,
Rachel Mindell
Teaching Artist
Student Poems
I Come From
I come from my grandpa's house, the place I grew up.
I come from Edgewater Drive, the street I grew up on.
I come from Tracy & Kip, my parents that have done so much for me.
I come from the coffee my grandpa makes in the morning.
I come from Tucson, Arizona; the city and state I grew up in.
I come from the love I have for my brother and family.
I come from my family telling me they love me.
I come from the Earth that everyone lives on.
I come from the universe in which we exist.
-Layne P.
My Imagination Be
my imagination be
like your heart beating
my imagination be
the moon and the stars
my imagination be
the way you smile
my imagination be
chorizo con papas
my imagination be
your happiness
my imagination be
outgoing
my imagination be
the way you are
my imagination be
weird
my imagination be
good to get to know
my imagination be
your best friend
my imagination be
loving and kind
my imagination be
honest
my imagination be
funny
my imagination be
the best person ever!
-Ariana M.
Heart
The hard part is that it will all end.
When? People ask all the time.
It comes when needed. Although the heart may not be ready.
The heart needs love
The heart will learn to love.
It will not always be right away.
Once the time comes, the heart will love and love and love.
When the time does come, the heart will be shattered like glass being
dropped.
The heart will shrivel up and Currell up into a ball, the heart will cry
rivers.
The heart wants more time. It NEEDS more time.
-Shawnee Gibes