Speedway and Swan featuring Diana Delgado
Join me and special guest the poet and the Literary Director of the Poetry Center, Diana Delgado in Studio 2B for a reading our favorite poems across generations. You'll hear a vital sampling of poems from new collections (such as Kate Colby's The Arrangements and Kate Greenstreet's EP Birds in the House) as well as favorite poems from contemporary masters like Frank Standford and Jean Valentine. You won't want to miss a soon-to-be classic from the Poetry Center's Voca audio files, featuring a very special reading of a Tommy Pico poem by the poet Morgan Parker.
With music from Leon Bridges, George Harrison, and The Beasty Boys among others.
Lucie Brock Broido | "After the Grand Perhaps," A Hunger, Alfred A Knopf (1989).
Lorna Dee Cervantes| "A un desconocido," Drive: The First Quartet, Wings Press (2006).
Suzi F. Garcia | "Works" and "Stumping for a Better World Through Greens and Grains," from Big Energy Poets: Eco-Poets Think Climate Change (eds. Heidi Lynn Staples and Amy King), BlazeVox (2017).
Linda Gregg |"The Weight," All of it Singing, Graywolf Press (2008). 
Kate Greenstreet |"Of a Year Not Given" and "What It Means to be a Stranger" from the EP Birds in the House, a companion to her book The End of Something, Ahsahta Press (2018).
Brenda Hillman | "Quartz Tractate," Death Tractates, Wesleyan (1992).
Anne Boyer | an excerpt from "No," A Handbook of Disappointed Fate, Ugly Duckling Press (2018).
Morgan Parker | "Nature Poem" by Tommy Pico public reading, The University of Arizona Poetry Center, September 6, 2018.
Frank Stanford | "Hidden Water," The Light the Dead See, University of Arkansas Press (1991).
Matt McBride |"City of Incandescent Light" and "Cities of Glass Houses," City of Incandescent Light, Black Lawrence Press, 2018.
Jean Valentine| "In Prison," from The New Yorker (May 27, 2007).
Kate Colby | "Inside Job" "The System" and "X-ing Out the Window Panes," The Arrangements, Four Way Books (2018).
Dulce Maria Loynas | "LVII," Absolute Solitude (trans. James O'Connor), Archipelago Books (2016).
Marosa di Giorgio | "Sometimes the Hours Gather" and
 "Dios está aqui," Diadem: Selected Poems (trans. Adam Gianelli), Boa Editions (2012).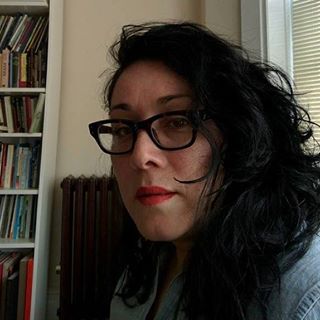 Diana Marie Delgado's first poetry collection, Tracing the Horse, is forthcoming from BOA Editions (Fall, 2019). She is the author of "Late Night Talks with Men I Think I Trust" (Center for Book Arts, 2015). She is a recipient of a 2017 National Endowment for the Arts Literature Fellowship in Poetry and has received grants and scholarships from the Frost Place Conference on Poetry, Letras Latinas, Hedgebrook and Bread Loaf Writer's Conference. In Summer 2018 she moved to Tucson to work as the Literary Director of the Poetry Center.
*
SPEEDWAY & SWAN is a monthly, one-hour free-format radio program that presents contemporary poetry against a context of variously compatible and offbeat musical selections.  Culling from the exceptional libraries of her partners, the University of Arizona Poetry Center and KXCI 91.3 Tucson Community Radio, host Susan Briante is joined in conversation each episode by a rotating guest co-host who brings to the hour a selection of poetry from his or her personal canon, which, along with the freshest and best from the "new shelves," they read live. 
Most episodes also feature a recorded performance from Voca, the Poetry Center's audio archive of its legendary poetry readings since 1963. SPEEDWAY & SWAN represents a partnership between the Poetry Center, which archives the show in listenable format with an annotated playlist, and KXCI, where the show streams live.   
Since 1983, KXCI 91.3 FM has been committed to connecting Tucson and Southern Arizona to one another and to the world with informative, engaging, and creative community-based radio programming.
Susan Briante's most recent book The Market Wonders (Ahsahta Press) was a finalist for the National Poetry Series. The Kenyon Review calls it "masterful at every turn." She is also the author of the poetry collections Pioneers in the Study of Motion and Utopia Minus (an Academy of American Poets Notable Book of 2011), both from Ahsahta Press. Briante has received grants and awards from the Atlantic Monthly, the MacDowell Colony, the Academy of American Poets, the Dorothy Sargent Rosenberg Memorial Fund and the US-Mexico Fund for Culture. She is an associate professor of creative writing and literature at the University of Arizona.