Speedway and Swan: March Shredness Edition with Ander Monson
 "but to me the poetry/ only grows under such conditions /
as to hold the candle up to the album/
to illuminate the grooves." --Garrett Caples
Poet, essayist, short story writer, and editor Ander Monson joins us in the KXCI studios to talk about March Shredness, a literary music single-elimination tournament, featuring 64 of the best and worst classic hair metal songs, and to share some poems that rock. You'll hear poems interrupted by White Snake and poems with cameos by David Lee Roth. 
With musical selections from Wilko, The Replacements, Slaid Cleaves and others.
Stephanie Burt | "The Cars Greatest Hits," Advice from the Lights, Graywolf Press, 2017.
Michael Robbins| "I Did This To My Vocabulary," Poetry, December 2010.
Hanif Willis-Abdurraqib | "Ode to Elliot Smith Ending in the First Snowfall of 2003" and "The Music and the Misery," The Crown Ain't Worth Much, Button Poetry, 2016.
Garrett Caples | "Garrett Caples Rides Again," Power Ballads, Wave Books, 2016.
Timothy Donnelly | "Poem Interrupted by Whitesnake," Poem-a-Day, Academy of American Poets,  2012.
Campbell McGrath | "Capitalist Poem #22," Capitalism, Wesleyan University Press, 1990.
Chris McCreary | "Pour Some Sugar on Me," [ neüro / mäntic ], Furniture Press Books, 2014.
Ander Monson is the author of eight books, including the forthcoming I Will Take the Answer and The Gnome Stories from Graywolf. He directs the MFA program at the University of Arizona, edits the magazine DIAGRAM and (among many other projects) and coordinates with his partner, Megan Campbell, a series of yearly literary/music tournaments: March Sadness (2016), March Fadness (2017), and this year's March Shredness (2018).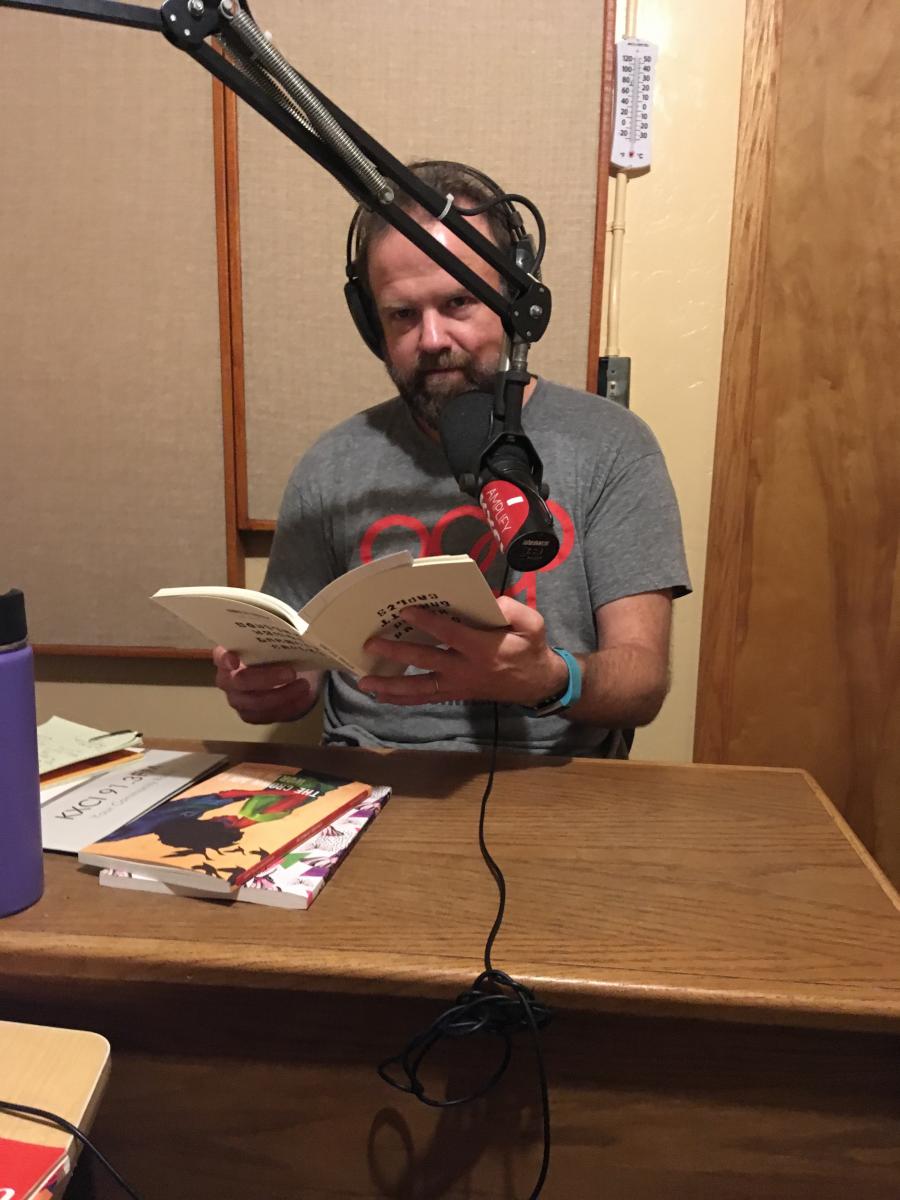 *
SPEEDWAY & SWAN is a monthly, one-hour free-format radio program that presents contemporary poetry against a context of variously compatible and offbeat musical selections.  Culling from the exceptional libraries of her partners, the University of Arizona Poetry Center and KXCI 91.3 Tucson Community Radio, host Susan Briante is joined in conversation each episode by a rotating guest co-host who brings to the hour a selection of poetry from his or her personal canon, which, along with the freshest and best from the "new shelves," they read live. 
Most episodes also feature a recorded performance from Voca, the Poetry Center's audio archive of its legendary poetry readings since 1963. SPEEDWAY & SWAN represents a partnership between the Poetry Center, which archives the show in listenable format with an annotated playlist, and KXCI, where the show streams live.   
Since 1983, KXCI 91.3 FM has been committed to connecting Tucson and Southern Arizona to one another and to the world with informative, engaging, and creative community-based radio programming.
Susan Briante's most recent book The Market Wonders (Ahsahta Press) was a finalist for the National Poetry Series. The Kenyon Review calls it "masterful at every turn." She is also the author of the poetry collections Pioneers in the Study of Motion and Utopia Minus (an Academy of American Poets Notable Book of 2011), both from Ahsahta Press. Briante has received grants and awards from the Atlantic Monthly, the MacDowell Colony, the Academy of American Poets, the Dorothy Sargent Rosenberg Memorial Fund and the US-Mexico Fund for Culture. She is an associate professor of creative writing and literature at the University of Arizona.