Content Warning: This piece discusses topics of racism, xenophobia, and violence against Asian Americans. Please take care while reading.
This piece was written in honor of Navroze Mody, Balbir Singh, and Srinivas Kuchibhotla; the eight victims of the Atlanta spa shootings: Soon Chung Park, Hyun Jung Grant, Suncha Kim, Yong Yue, Delaina Ashely Yaun, Paul Andre Michels, Xiaojie Tan, Daoyou Feng; and the countless other victims of anti-Asian racism.
According to this study by the Center for the Study of Hate and Extremism, hate crimes against Asian Americans has risen by 150% since March 2020, reaching nearly 3,800 incidents in the past year. The majority of these hate crimes have targeted women. Globally, anti-Asian hate crimes have also risen drastically, fueled by anti-Chinese rhetoric on the internet and from the mouths of public figures worldwide. The unrelenting harassment and life-threatening danger that East and South Asian communities have faced for decades has sharpened to a lethal point over the course of the COVID-19 pandemic.
In response to these alarming statistics, East and South Asian artists have taken a stand. Artist and NYC Commission on Human Rights 2020-21 fellow, Amanda Phingbodhipakkiya created "I Still Believe in Our City," a series of colorful portraits of New York City's Black, East Asian, and South Asian residents. Each portrait boasts a powerful statement such as "I did not make you sick" and "This is our home too." From November to December of 2020 these portraits took over the ad space of the Atlantic Terminal in Brooklyn. Phingbodhipakkiya's work honors the deep and historied connection that the fight against anti-Asian racism shares with the Black civil rights movement and how the work of Black civil rights leaders has uplifted the liberation of Asian and Pacific Islanders. Janel Foo, a stained glass artist from LA, has started an Instagram account where herself and dozens of other Asian American and Pacific Islander artists have come together to auction off their work in order to benefit the Stop AAPI Hate coalition. NPR recently placed a call-out for poems that grapple with the rise of anti-Asian racism in response to Emily Jungmin Yoon's poem "Between Autumn Equinox and Winter Solstice, Today." Finally, this evening at 7 PM EST the Asian American Writer's Workshop is hosting "Women Warriors: A Solidarity Reading," in which 41 Asian American women and poets share their work. These are just a few of the creative projects happening right now in response to anti-Asian hate; discover more Asian-American artists from the LA Times, Artsy, The New York Times, and the Smithsonian American Art Museum.
On Tuesday the Poetry Center launched its new online exhibit, Book Objects. This exhibit presents books that challenge what a book can be. In it you will find a box of paper gems, a printed silk scarf, a deck of cards, and more. In the shadow of recent violence against Asian Americans, I want to highlight CURB, a breathtaking artist's book and series of poems accompanied by rubbings made from sidewalks and curbs, and which maps our country's post-9/11 political landscape.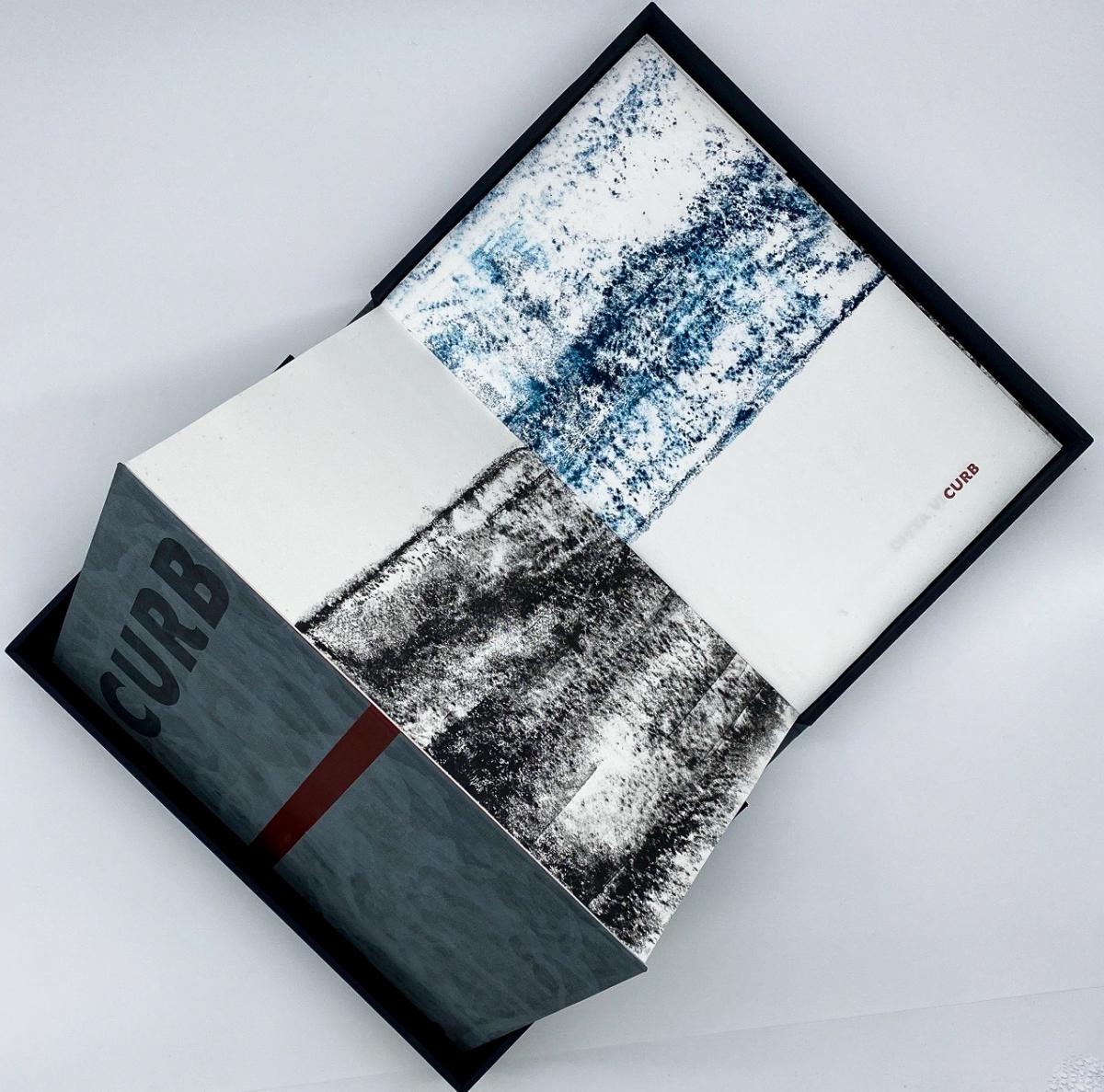 Open view of Divya Victor's CURB.
Author Divya Victor's work is innovative, crosses genres, and often deals with the Indian diaspora and its lasting effects. CURB tells the stories of three Southeast Asian men who all lost their lives to anti-Asian hate crimes. The first victim, Navroze Mody, was murdered by members of the Dotbusters in 1987 upon leaving the Gold Coast Café in Hoboken, New Jersey. The Dotbusters were a violent gang in New Jersey and New York which targeted Indians, specifically Hindus. The second victim, Balbir Singh, was murdered on September 15, 2001, just four days after the Twin Towers were hit. Singh was planting a garden outside of his gas station when he was shot and killed. The third victim Victor pays homage to is Srinivas Kuchibhotla. Kuchibhotla was having an after-work drink with his friend Alok Madasani when he was shot and killed by a man threatening them with racial slurs. Madasani survived his wounds.
A commonality amongst these three murders is the perpetrator's misperception of each victim's identity. Mody was mistaken for a Hindu, Singh was mistaken for a Muslim, and Kuchibhotla was mistaken for an Iranian. In CURB Victor speaks to this phenomenon of blind xenophobia, highlighting the interconnectedness of each community's fight against hate and violence. Nightboat Books says "Divya Victor documents how immigrants and Americans navigate the liminal sites of everyday living: lawns, curbs, and sidewalks undergirded by violence but also constantly repaved with new possibilities of belonging. CURB witnesses immigrant survival, familial bonds, and interracial parenting in the context of nationalist and white-supremacist violence against South Asians. The book refutes the binary of the model minority and the monstrous, dark "other" by reclaiming the throbbing, many-tongued, vermillion heart of kith." Please enjoy this poignant artist's book.
In solidarity, in peace, and in power.