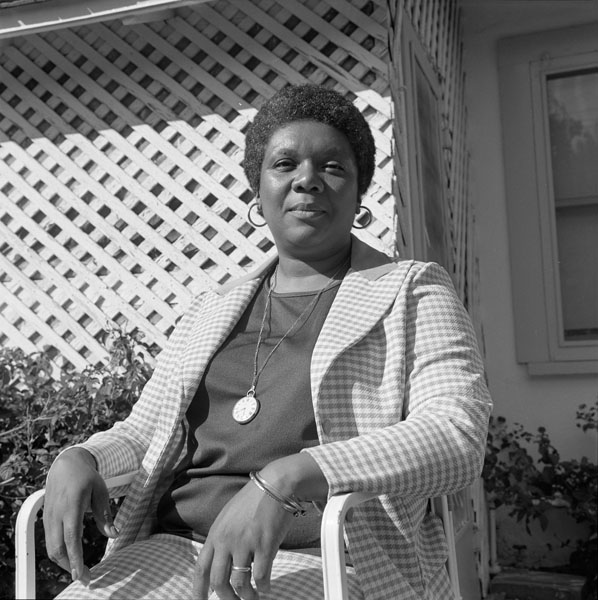 Our audiovisual archive, Voca, currently holds the work of 45 Pulitzer Prize Winners, 40 National Book Award Winners, 28 Poet Laureates and 4 Nobel Laureates in Literature. Today, I want to focus on the late Lucille Clifton, a poet and educator who served as the Poet Laureate of Maryland from 1979 to 1985. Clifton's short poems pack a punch. Elizabeth Alexander from The New Yorker describes her poems as having "enormous and profound inner worlds," being "committed to truth-telling in the face of silence," and holding history in a way that is "embodied, and autonomous, alert to its own contradictions."
Lucille Clifton was born in DePew, New York and grew up in Buffalo. She studied at Howard University and the State University of New York, Fredonia. Clifton worked as a claims clerk in the New York State Division of Employment, Buffalo before transitioning to working as a literature assistant in the Office of Education in Washington, D.C. In 1966 poet and songwriter Ishmael Reed introduced some of Clifton's poems to Langston Hughes who then published them in his 1970 anthology The Poetry of the Negro. Hughes is often credited with discovering Clifton and kick-starting her career as a well-known poet.
Clifton was as prolific a children's book author as she was a poet. She authored 14 collections of poetry in addition to 18 children's books, 8 of which were a part of her Everett Anderson series. Clifton also wrote a memoir. The recipient of many awards, Clifton was the first author ever to have two books of poetry chosen as finalists for the Pulitzer Prize: Good Woman: poems and a Memoir, 1969-1980 (1987) and Next: New Poems (1987). In 1980 her book Two-Headed Woman (1980) was a Pulitzer nominee; the book went on to win the Juniper Prize from the University of Massachusetts. In 2000 Clifton's book Blessing the Boats: New and Selected Poems 1988-2000 (2000) won the National Book Award for poetry. Lucille Clifton passed away in 2010 in Baltimore at the age of 73.
From 1975 to 2007 Lucille Clifton gave five readings at the Poetry Center. Today I want to focus on the last reading Clifton gave in 2007. This reading is unique because it was given at a local church called Saint Philip's in the Hills. I love this reading because it showcases the long-standing friendship Lucille Clifton shared with the Poetry Center. Clifton is introduced by Richard Shelton, an Arizona poet and husband of early Poetry Center director Lois Shelton. Clifton begins the reading with a love poem to the Sonoran Desert dedicated to the Sheltons and ends with her beloved poem "won't you celebrate with me." The reading concludes with an extra-long question and answer session in which Clifton shares her wisdom on separating the poet from the poem. Please enjoy.