Kingdom Animalia is a book of mourning. This is obvious to state, but something I did not fully process on my first read. Yes, there are poems that plainly state their grief: the book begins with the title poem, "Kingdom Animalia," an elegy, followed by the actual poem, "Elegy." I can be careless in my initial reads—letting my eyes sweep too quickly across the pages, too enamored by the magic of Aracelis Girmay's lines, reading the lines divorced from intention—"oh body, be held now by whom you love"; seeing only the romance of it instead of the sorrow. In grief, however, I did turn to Kingdom Animalia; for a year, I've been experiencing a compounded grief: the pandemic, of course, a trauma shared globally to different extents, but the passing of my grandmother as well. In February of 2020, she died after a long health decline. I remember my aunt telling us teyta had died after she finally left her bedside, like she knew and didn't want her daughter to see her die. As I waited at my gate for my flight home after the funeral, California entered a state of emergency, anticipating a surge of coronavirus infections. A week or so later, the state went into lockdown. If she had died just a little later, I would not have been able to attend the funeral, if there was one at all.
The final stanza of "Elegy" reads:
"Listen to me. I am telling you / a true thing. This is the only kingdom. / The kingdom of touching. / The touches of the disappearing things."
There is a comfort in the way this poem collapses realms: Girmay links "the young branch" to our "birthdays," "something beautiful"; as we mourn our people, the natural world turns. People I love have always existed far away—family in other countries, friends I have known for years only online; my continued mourning takes place virtually. In the pandemic, even my quiet grief feels closer to that of others—we are all severed from physical touch. This is the only place it can occur.
On the weekend of my teyta's funeral, my nuclear family and I ate cheesecake. This is only significant if you know us: my father who makes a point to refuse the dessert menu and redirect the waiter's attention to me, my mother who compliments desserts for "not being too sweet," my brother who does not like creamy foods (and then there's me and my sister-in-law, with major sweet tooths). Despite this, we ordered cheesecake, which was strangely on the menu of each of the places we went to in between funeral-adjacent events. I like to take pictures of my food, especially when it is pretty; I remember the cheesecakes as beautiful, rich colors in the syrup drizzled on top of each one, golden crusts. I didn't photograph these, though. Instead, I thought of Girmay's "true thing": this, my family seated around a table, plates of cheesecake being shared, the background of the restaurant shifting around us, all of us mourning—this is a true thing, the only thing. To share dessert; to pile into my cousin's car, knees knocking as we do a late-night Starbucks run on the eve of the funeral; to hug, tentatively, goodbye at the end of the mercy meal.
I have not had cheesecake since then. At the time of writing this, it has been exactly a year since my grandmother passed. The last time I saw her, she was small and grey; my whole life, she had reddish-brown hair. I realized, only a month before her death, she must had been dyeing it for most of that time. I ached that I was barely able to communicate with her, her English gone, fragmented Arabic not fully-formed in her state, my comprehension too poor anyway. But I could hold her hand.
For Aracelis Girmay, whose work has held me in such loving ways, I thought to prepare a cheesecake. Instead, I offer layali lubnan, a semolina pudding—something easier, but closer to my heart, closer to home (and texturally similar to cheesecake, anyway!).
Layali Lubnan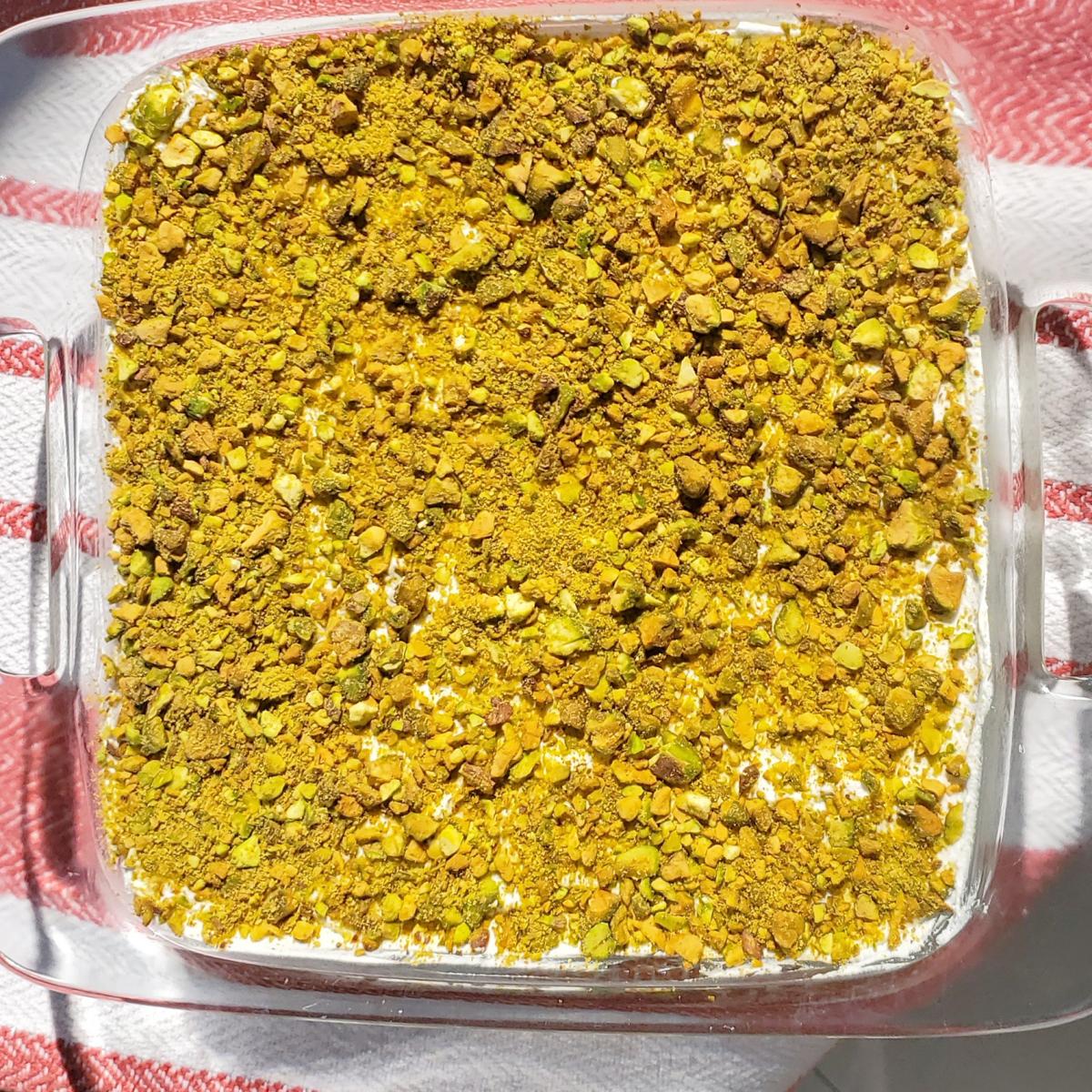 Pudding:
8x8 inch glass dish
4 cups whole milk
1/2 cup semolina flour
1 egg
1 tbsp sugar
1/8ish tsp crushed mastica
Toasted ground pistachio for coverage (can be lightly salted)
Whipped cream (can be store-bought or see below)
Orange blossom water syrup (see below)
Put milk, flour, egg, mastica, sugar in saucepan.
Stir until the egg is combined.
Put on medium heat. Constantly stir until thickened.
Take off heat and put into dish.
Let cool, put in fridge overnight to set.
Top with whipped cream and pistachios.
Add syrup for each serving.
Whipped cream recipe:
1 pint (2 cups) heavy whipping cream
1 1/2-3 tablespoons of confectioners/powdered sugar
1/2 tsp cream of tartar
1 tsp vanilla (optional)
Put bowl you will be whipping the cream in into the fridge overnight.
Mix sugar and cream of tartar.
Add heavy whipping cream and vanilla.
Whip with hand mixer until stiff (be careful not to over whip).
Syrup:
This is very loose proportions; you want it to be a little more on the watery side than the thick syrup-y side.
2 cups sugar
1.25-1.5 water
1-2 tsp lemon juice
1-2 tsp orange blossom water
Mix sugar and water until the sugar dissolves, on medium heat.
Add lemon juice before it boils.
Let boil for 5 minutes, on low-medium.
Remove from heat, add orange blossom water.
Let it cool, store in jar.
Summer Farah is a Palestinian American poet and editor. She is the outreach coordinator for the Radius of Arab American writers. Summer is currently a reviewer at Vagabond City Lit and co-writes the biweekly newsletter Letters to Summer. Her work has been published in or is forthcoming from Mizna, LitHub, The Rumpus, and other places.
Poetry Potluck is curated by Leela Denver and Wren Awry.