In her poem "What I Learned From My Mother," Julia Spicher Kasdorf shows us how physical presence and gentle, satisfying recipes fill the rituals of grief. I have never met the poet, but I recognize her in this piece: like Kasdorf, I come from a Mennonite family, and like Kasdorf, my parents attended Goshen College in northern Indiana. I too grew up putting home-preserved peaches on ice cream. One year my mother left home to care for my ailing grandmother in the middle of summer canning season, and I found myself canning our family's entire year's worth of green beans by myself for the first time. I was fifteen and worried, but my mother had left me detailed instructions. It all turned out just fine.
We grow our own food, and we show up with casserole dishes when there has been a death. We show up with hammers and nails when there has been a tornado. This devotion to practical-minded helpfulness is by no means uniquely Mennonite, but it is characteristically Mennonite, when we are at our best.
My husband Keith is a cook (he has thirteen years of experience in restaurants) and a caretaker. He and my parents are a mutual admiration society, trading gardening and cooking tips on our family text thread; most recently, Keith and my mom have been advising each other on the making of homemade yogurt. When the pandemic first struck in March 2020, the first thing Keith did was stock up on groceries. The second thing he did was visit the restaurant supply store to stock up on foil pans. In case of a food shortage, he wanted to be ready to feed everyone we know.
I learned from my mother how to love / the living, to have plenty of vases on hand / in case you have to rush to the hospital / with peonies cut from the lawn, black ants / still stuck to the buds—
Keith's foil pans have brought delicious things in unostentatious packaging to many friends since March. The homemade gnocchi on election night and, later, the full traditional Thanksgiving dinner for friends who recently had a baby. The soup and bread for the friends whose baby got very sick. The Christmas cookies he spent a weekend mixing, baking, and dropping at friends' stoops all over town.
Like a doctor, I learned to create / from another's suffering, my own usefulness, and once / you know how to do this, you can never refuse—
What a privilege it is for me to watch my family live this truth, loving the living, never refusing the call. They share a beautifully creative urge to take care of things and people, and they spend their waking moments in those forms of care. They fix the barn door and get the family fed. They have shown me is that it is not just possible to care for one another. It's delicious to perform that care, it's warm and dry, it's a square joint, it's a joyful birthright.
-Sarah Kortemeier
Baked Ziti with Sausage and Greens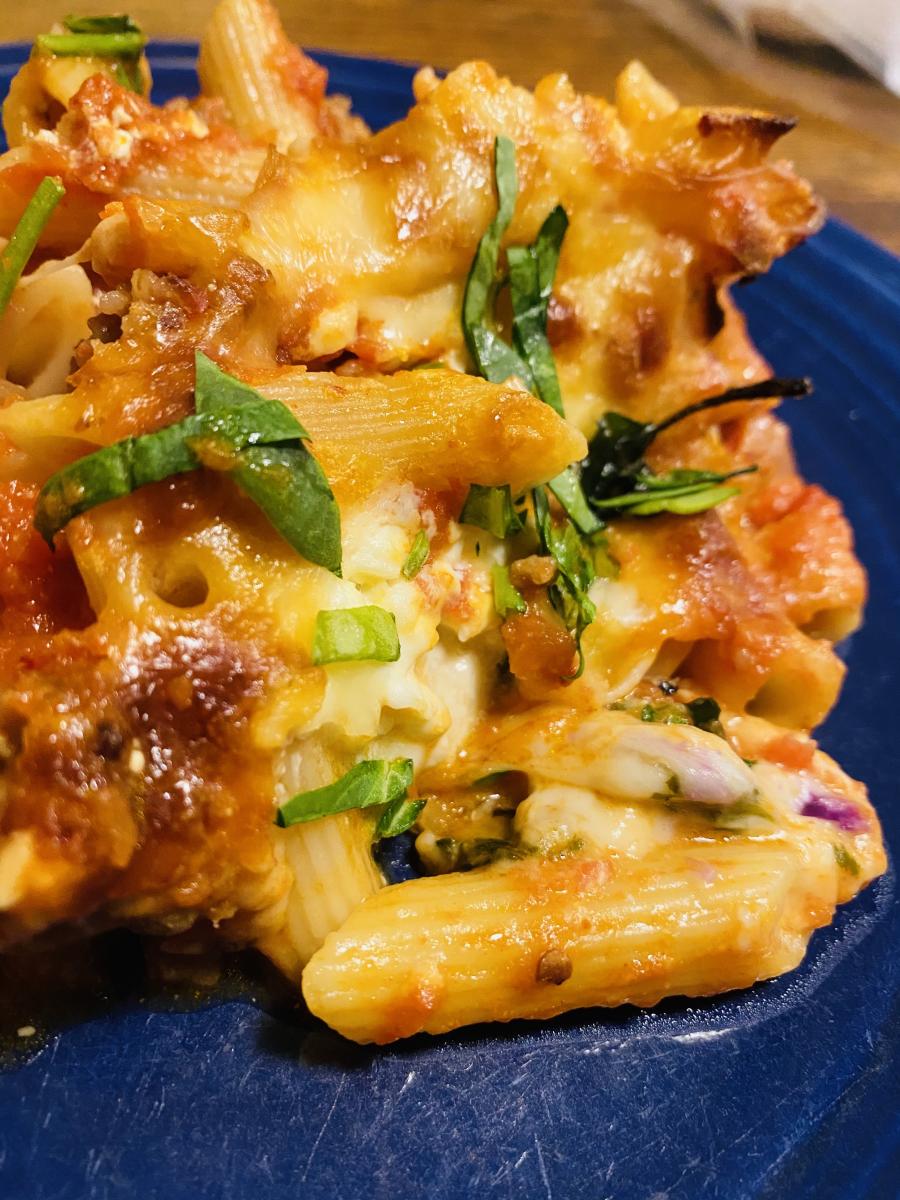 This is one of the dishes I go to most often when a friend is in need. It is easy and inexpensive to make, freezes extremely well, and is a complete meal in a pan. I will sometimes prep up a few pans worth (making multiples is just as easy as making one) and keep them in the deep freeze, well wrapped and labeled, for the next time I want to drop off a casserole (or when I want an easy dinner with leftovers for us.)  It can easily be made vegan, dairy free, or gluten free just by switching out the appropriate component with a decent supermarket substitute. -Keith Martin
Ingredients:
1 lb sweet or hot Italian sausage, casings removed
1 medium onion, diced
3 cloves garlic, minced
1 tsp red pepper flake (or more to taste)
Two 28 oz cans whole tomatoes
1 tsp salt
1 lb ziti or penne pasta
1 (15 oz) container ricotta cheese
8 ounces baby spinach, kale, broccoli rabe, or other green of your choosing
12 oz shredded mozzarella
1 cup grated parmesan or pecorino
Method:
Preheat oven to 350 F (if baking immediately)
Bring a large pot of salted water to a boil.
If using a tough green like kale or collards, remove the stems and chop into bite sized pieces or ribbons.
Brown off the sausage in a medium saucepan, breaking it into small chunks as you go. You want to leave some pieces about grape sized in the mix. Remove from the pan and drain on paper towels. While the sausage is cooling, toss the onion into the hot pan and cook until starting to turn translucent (about 5 minutes). Add the garlic and pepper flake and sauté about a minute more, then add the tomatoes and salt. As the tomatoes cook, break them up with a wooden spoon. If you prefer a smoother sauce, you can puree the tomatoes ahead of time or run them through a food mill if you have it. Allow the mixture to come up to a boil, then reduce to a low simmer while you work on the pasta. If you are using tougher greens, toss them into the simmering sauce to begin tenderizing.
Toss the pasta into the boiling water and cook until about 2-3 minutes shy of the package directions. Drain and set aside.
In a large bowl, combine half of the ricotta and half of the parmesan with all of the sausage, sauce, pasta, and about a cup of pasta water. Pour mixture into a 9x13x2.5" baking dish (or foil pan if you plan on freezing and delivering). Dot with the remaining ricotta and then sprinkle with the parmesan and shredded mozzarella*.
Place baking dish on a sheet pan to protect against drips and bubbling over, and bake in a 350 oven until the sauce and cheese are bubbly and oozing (about 25 minutes). Turn up the heat to 425 and bake another 10-15 minutes to brown the cheese. Remove from oven and let rest for at least 10 minutes before serving (the roof of your mouth will thank you).
*At this point, you can wrap the pan tightly with plastic wrap, then foil, and freeze for up to 6 months. To reheat, thaw pan in the fridge (I like to transfer from freezer to fridge before work so that the pan is ready for dinner) and then continue with the regular instructions.
Sarah Kortemeier won the Felix Pollak Prize from the University of Wisconsin Press for her debut collection of poems, Ganbatte (2019). Her work has appeared in Ploughshares, The New York Times Magazine, Alaska Quarterly Review, The Feminist Wire, and Fairy Tale Review, among others. She lives with her husband Keith and their two rescue mutts in Tucson.
Keith Martin is a former chef and restaurant manager who now teaches 4th grade. He has noticed remarkable similarities between those two jobs.
Poetry Potluck is curated by Leela Denver and Wren Awry.