It storms nearly every summer evening here in Greenville, South Carolina. Somehow Earth continually rearranges the same elements—water, electricity, heart-shaking booms—into a unique spectacle, and daily I throw open our porch door and watch the jagged lightning and smell the peculiar iron-salt of the sky and am taken away into a glorious drama that is both so outside of myself and not.
Just like Joy Harjo in "Praise the Rain," I find myself thanking the world for the beautiful things. "The curl of a plant/the raven talk—" Harjo writes, and I think of my partner Z's okra plants growing strong and the Carolina Wrens chittering at the birdfeeders. "Praise the dark, the moon cradle," she writes, and I think of how we point to the Sturgeon Moon that surprised us one night when we peered out from our bedroom window. I think of the storms that I appreciate even more now than I would have before. But then, Harjo writes too, "Praise the hurt, the house slack," and I recall the days we fight over nothing because the air feels stale around us. The way the house falls into disarray and we are powerless even though we are there every hour. That I fear for my chronically ill, often immunocompromised body and how it would fight back against a terrible disease if it needed to. We are tired of this. We are exhausted to our roots. How can we praise this? But then Harjo says, "Praise the eater and the eaten." To me, this feels like a call to embrace the oxymoronic quality of life. We are never just one thing or the other. In one moment, we can both gain—eat—and lose—be eaten. In praising this, we are allowing for multitudes instead of binaries of good and bad.
In choosing a recipe, I thought of a childhood book, Thunder Cake by Patricia Polacco, where the main character learns to overcome her fear of Michigan thunderstorms when her grandmother teaches her how to bake what she calls a thunder cake. Through the story, the young girl collects the ingredients for the cake: eggs and chocolate and sugar and flour and, strangely, tomatoes. Despite her fright—or, in some ways, due to her fright—the young girl creates a treasured memory with her grandmother. Within the storm, they build the solace they need. They bake.
During quarantine, Z and I bake just like the characters in Thunder Cake. I remember when we baked before this pandemic. We enjoyed it and talk about those days with fondness, but it didn't hold the same weight. Now, when we bake, I am grateful to dust a pan with flour and catch the particles in my nose or peel a hot, stewed tomato with my bare hands. Sometimes I think about how lucky I am that I can treat my senses to temperature, to texture, to colors, to scents and, of course, to taste. Being in the moment in the kitchen with the person I love is a miracle. It always has been. But now I know it, because in that very moment I am gaining this time and this experience and I am losing too, as the world steps deeper and deeper into a global tragedy.
In her poem, Harjo writes of storms too. She says, "Praise the rain; it brings more rain." In those lines, I read every iteration of a rain symbol, from renewal to despair. And despite that, I hear Harjo asking us to keep relishing in the breadth of that rain. She reminds us that good and bad do not sit as opposites to each other, but rather within each other. What is a thunder cake if not a little bit of fear mixed in with the velvet relief of comfort and love? Why else does the cake call for that sour-sweet note of fresh tomatoes every time?  
Thunder Cake (adapted from Polacco's recipe and this blog)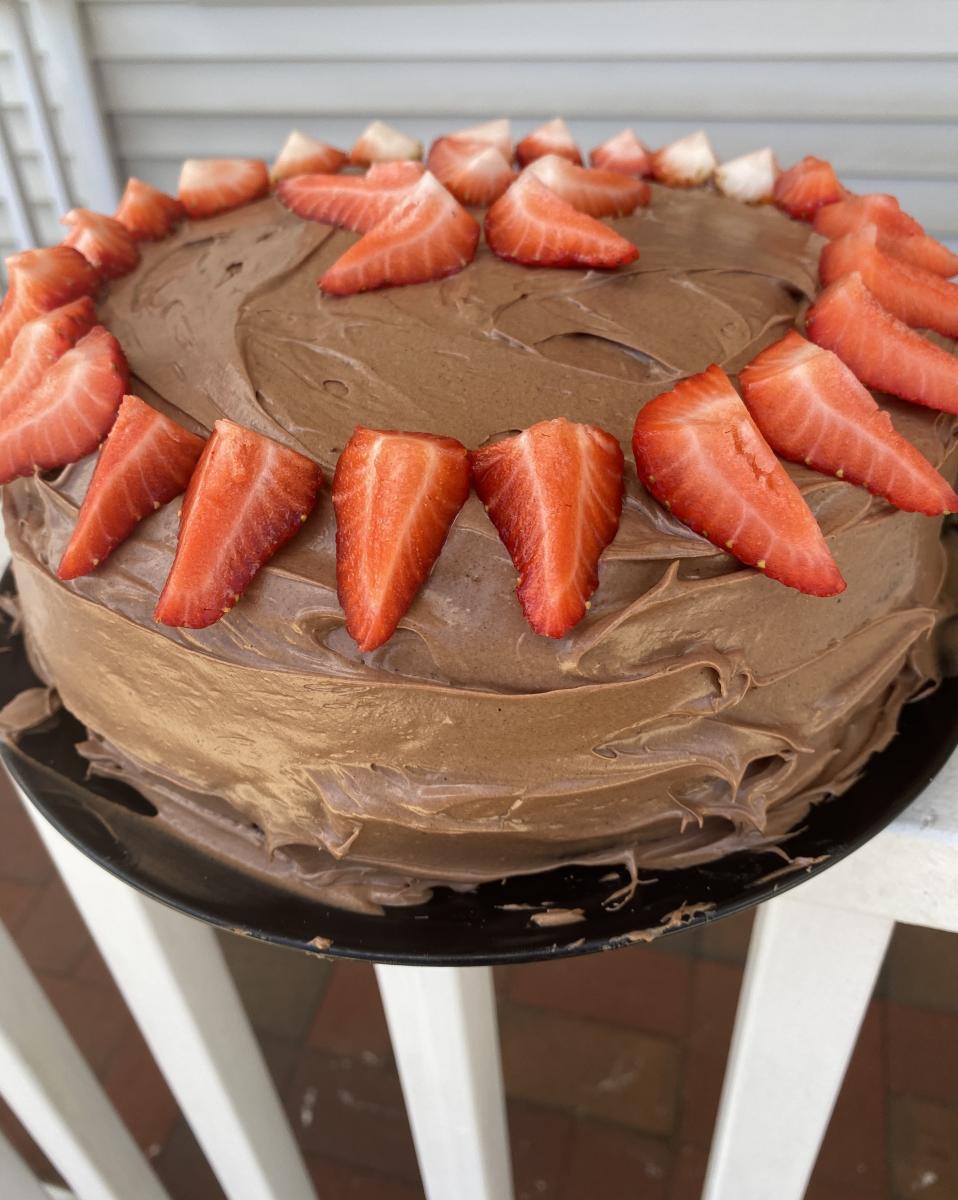 Ingredients:
1-2 tomatoes
3/4 c. oil
4 tbsp. butter (we used salted, though unsalted is recommended)
1 3/4 c. sugar
1 tsp. vanilla
3 eggs
1 c. cold water
2 1/2 c. flour
1/2 c. dry cocoa (we used basic store brand)  
1 1/2 tsp. baking soda
1 tsp. salt
Your favorite frosting
Strawberries (as many as you like!)
1.    Preheat oven to 350 degrees F. Grease and flour round pans.
2.    Puree fresh tomatoes by boiling them in water for 5-7 minutes until their skins split, peeling them, and then blending them.
3.    Cream together oil, butter, sugar, vanilla, egg yolks, cold water, pureed tomatoes.
4.    Whip egg whites into peaks.
5.    Fold in peaked egg whites.
6.    Sift together: flour, cocoa powder, baking soda, salt.
7.    Combine dry into wet.
8.    Pour into pans and bake for 30-40 minutes.
9.    Frost with your favorite frosting (we used chocolate cream cheese frosting, though buttercream or ganache is often recommended) and experiment with your strawberry designs.
Eshani Surya is a writer based in Greenville, SC. Her writing has appeared in or is forthcoming in [PANK], Catapult, Paper Darts, Joyland, and Literary Hub, among others. Eshani serves as an Assistant Flash Fiction Editor at Split Lip Magazine. She holds an MFA from the University of Arizona in Tucson. Find her @__eshani or at http://eshani-surya.com.
Poetry Potluck is curated by Leela Denver and Wren Awry. Interested in pitching a post? Email poetry@arizona.edu.