When I was a kid I wanted to grow a vegetable garden. I had a little patch with flowers in it, but tomatoes and herbs? My parents wouldn't let me. In retrospect, it may have been because they knew I'd make a mess of it. I was slapdash with most things back then: I started craft projects I never finished, left clothes all over my room, and ran late to the bus because I was busy daydreaming. Even now—five months after getting diagnosed with ADHD, at 31—I can't really garden: on the rare morning my partner asks me to water the kale, I'm likely to forget, and I recently killed an oregano plant just by harvesting sprigs. So at ten or eleven? I may have gotten way too excited and torn up the plants, like Ada Limón does in "I Remember the Carrots." Or, more likely, I would have forgotten to water and weed, would have wandered off to swing and never returned.
 
When Limón writes, "I'm 35 and remember all that I've done wrong," I think of the kid who got in trouble in third grade for cursing in class and later became a teen who stepped all over others' feelings because I thought it was punk rock. When she writes, "I haven't given up on trying to live a good life / a really good one, sitting in the kitchen / in Kentucky, imagining how agreeable I'll be—" it calls to mind the to-do list I make each day. I write down chores, work tasks, and plans for writing, but what I'm really trying to inscribe with the ritual is: don't talk too much, remember to turn off the stove, stay focused in meetings. And when she says, "In truth I resented / the contentment of the field. Why must we practice this surrender?" I'm twenty again, a livewire college dropout living in an environmental direct action campaign. I'm barely sleeping, learning to sit in trees, and seesawing between anxiety and euphoria. There wasn't anything I didn't mess up, at least a little bit, in those days; and there was a garden friends grew, a patch of tilled dirt between our too-loud houses. I remember greens, juicy tomatoes sliced and set on bread, and bright orange carrots pulled from the soil and eaten raw.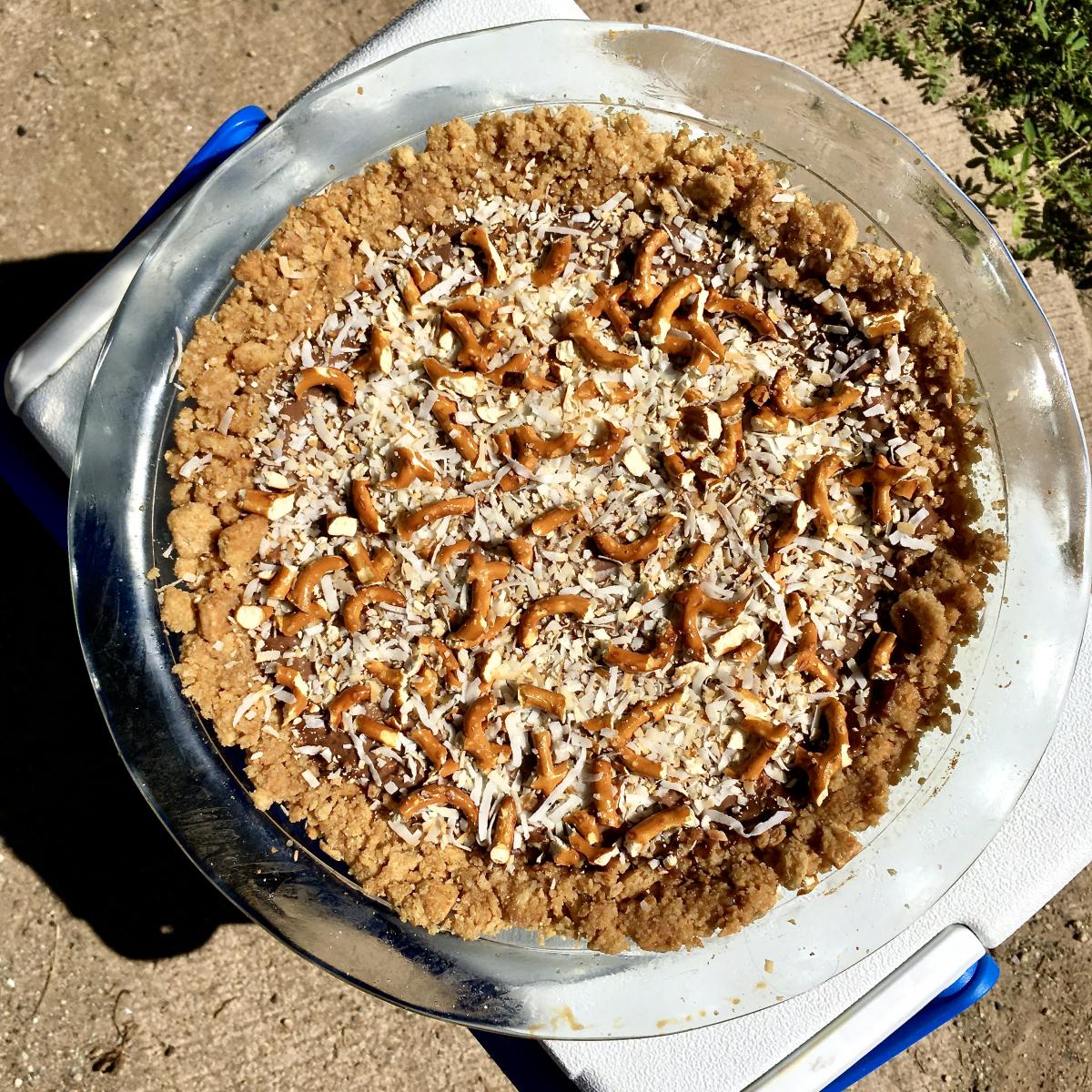 Last month, as Leela Denver and I worked on the recipe (which we collaborated on), I set out to adapt and tweak what she developed. I drafted a detailed plan for parfaits but at the last minute I scrapped it. I crumbled graham crackers and mixed in butter. I grated carrots. I whipped up boxed pudding. In the end, I made a sort of mud pie, the kind of thing I would have loved to eat during those childhood summers when I longed to tend a vegetable garden but passed hours daydreaming on a swing set instead. Bent over the sink, mouth full of chocolate and crumbs, my parfait diagram crumpled in the trash, I was, for just a moment, "kill[ing] the carrots because I [could]."
Carrot & Chocolate Pudding Pie
Ingredients:
One 3.4 oz box chocolate pudding [see note]
One 3.5 oz can of coconut milk
2 medium carrots, peeled and grated
2 packets (9 individual) graham crackers, crushed
1.5 sticks of butter, melted
1/2 cup salted pretzels, roughly crushed
1/2 cup lightly toasted coconut flakes
Coarse sea salt and/or chocolate chips (optional)
Mix the packet of chocolate pudding with the can of coconut milk and 1/2 cup water. Whisk to incorporate (you may need to bring these ingredients to a boil or might be able to mix them cold--look at the directions on the pudding box). Fold in the grated carrots.
Melt 1.5 sticks of butter and pour it into a bowl with the crushed graham crackers. Using your hands, combine the butter with the graham cracker until all of the graham crackers are moist. Oil a pie plate or tin and press the graham cracker mix into it. Pour in the pudding mixture. Cover and refrigerate the pie for 2 hours, to set.
To make the topping, combine the pretzels with the coconut. Sprinkle them over the set pie. If you prefer your desserts on the sweeter side, sprinkle chocolate chips on top as well. If you like them saltier, sprinkle on coarse sea salt. (Or do both!)
Note: Some pudding mixes won't set with alternative milks, like coconut. Look at the box before buying or, if you already have a box of pudding mix that requires cow's milk, you can do one of two things: sub cow's milk for the coconut milk, or make the pudding anyway. The pie won't slice as nicely--it'll be more like a trifle--but still delicous!
Poetry Potluck is curated by Leela Denver and Wren Awry.