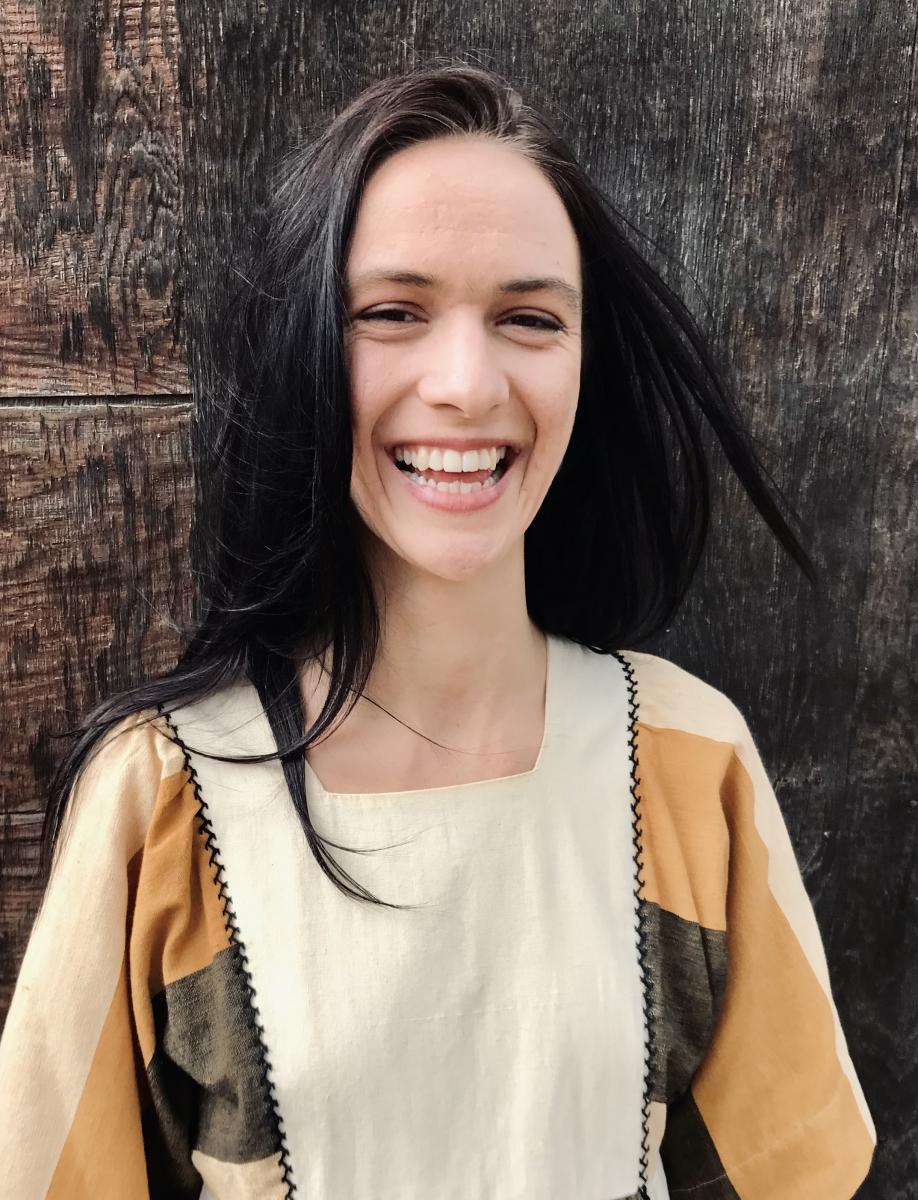 With Poetry Out Loud just around the corner, we're excited to introduce you to some of the people who make this exciting program happen! Sophie Daws is the Southern Arizona regional coordinator for the program, as well as a poet, educator, musician, and organizer.
Tell us a little bit about yourself.
My name is Sophie Daws (she/her). I am a poet, educator, musician, and organizer in Tucson, Arizona. I am a born and raised Tucsonan and graduated from the University of Arizona in 2018. I organize a reading series in town called Last Night a Poet Saved My Life which is part poetry reading, part DJ/dance night. In addition to writing music and poetry, I love to dance and practice yoga!
Tell us about your work at the University of Arizona Poetry Center.
I first came to the UA Poetry Center via their education program, Writing the Community, as an intern while an undergraduate. Renee Angle ran the program and at the time undergrads were paired with a professional teaching artist who they shadowed. The professional teaching artist and I taught a fourth-grade class at Safford—a magnet middle school in downtown Tucson. I learned a great deal from them in just the first few days of our residency. Soon after starting my first residency, however, the teaching artist had to step down, so I largely finished the residency on my own. I was thrown into the deep end so to speak and I wouldn't change a thing. The thing that struck me the most? I was learning every day from these fourth graders. In arts education, the lines of student-and-teacher—learned and learned-from—are blurred. I wasn't sure what I wanted to "be" as a 20-year-old, but I knew I wanted a job that I was always learning from. It turns out I found it: teaching poetry—or being taught poetry, I should say.
Upon graduating from the U of A in 2018, I was offered a paid position as a teaching artist for Writing the Community and have been doing this work since. Last year I was offered a position working as a coach for Poetry Out Loud. The year after my coaching position I was offered the position as Southern Arizona regional coordinator and I am absolutely thrilled to be doing this work!
What is your Poetry Out Loud role?
I am the Southern Arizona regional coordinator for Poetry Out Loud. I, along with the incredible Education Programs Manager at the Poetry Center, Gema Ornelas, connect teachers in Southern Arizona with talented teaching artist in the community who work as coaches for the program. I then connect students with these skilled coaches. It is a joy to work with so many insightful and inspiring individuals through the Poetry Out Loud program.
I also plan the regional semi-finals in Southern Arizona as well as the Arizona state finals. Both will be held at the Poetry Center this year!
When did you first learn about Arizona's Poetry Out Loud program? How long have you participated in the program?
I first heard about the program as a high school student. I participated in the program twice while I was a student at Tucson High School. The program was my first introduction to poetry. I loved discovering a poem as I memorized it.
I was offered a coaching position by Teré Fowler-Chapman when they were the Southern Arizona regional coordinator last year. I loved passing on my experience as a performer to the youth and carrying on lively discussions about performance and poetry. Then, just this past summer, I was offered the position as Southern Arizona regional coordinator. It has been such a joy to advocate for youth and their budding relationship with poetry from the administrative side.
What do you enjoy most about Poetry Out Loud?
I enjoy watching students come into their own understanding of poetry. I love witnessing what about poetry draws them in. If poetry were a room, what opens the door for them? What lets them in?
I also love watching students make a poem their own. When students lose themselves in the poem, the poem doesn't belong to Emily Dickinson, Robert Frost, Whitman—what have you—anymore. It is special to watch students from so many different backgrounds shoulder their way into the poem, pushing themselves up against the poem's words and lines and grow into the poem. In a moment you can see the student relax, trust themselves, and the truest emotions come through. In a moment, you wouldn't think this poem belonged to anyone but them.
What is your favorite poem from the Poetry Out Loud anthology?
Hands down, one of my favorite poets is Audre Lorde. I think it is so important—necessary even—that her poems are in this anthology. I have looked up Poetry Out Loud recitations of Audre Lorde because I find it so inspiring to watch young people breathe life into her poems. My favorite of hers in the anthology is "Who Said It Was Simple," which describes intersectionality in eighteen lines.
In a somber depiction of white women gathering at a restaurant counter before a women's rights rally, a black man next to them who sat first is ignored by the counterman. These white women may be speaking out against injustices, but in the end the women enjoy "the slighter pleasures of their slavery." These women may be bound by injustices but still benefit from the fact that the black man is below them in the social hierarchy. Lorde names all the chains that come with being a queer black woman: "But I who am bound by my mirror/as well as my bed/see causes in color/as well as sex".
The end of this poem punches me in the gut every time: "sit here wondering/which me will survive/all these liberations." If all of her cannot be liberated, liberation is inconsequential.
What are you looking forward to with this year's Poetry Out Loud program?
There is so much to look forward to! But I have to say that I look forward to the Southern Arizona regional semi-finals in February the most. The Southern Arizona semi-finals will be held at the Poetry Center and will be a full day of poetry recitation. I love putting on reading and music events, and I get a giddy feeling with the planning and anticipation of an upcoming event. And what a joy to organize an event that is dedicated to the youth and their relationship to poetry!  
Tell us about your artistic practice. Where can we find your work?
I am currently in a band where the members write songs together and it has been one of the biggest influences on my creative process. While vulnerable and scary to write with other people, the reward is incredible. One person's artistic instinct unlocks the artistic style of another person and so on. What does this mean for my writing process? I started writing poems with my friends. We call it a "response chain". One person writes a poem and sends it to the group via email, another person responds and then a person responds to that response and so on.  
As for the poems I write alone, I often write for performance. I write a set of poems specific for an upcoming performance. Poetry and performance! It is no wonder I'm drawn to the work of Poetry Out Loud.
You can follow me on Instagram (@sophzorado) to keep up with my performances as well as the readings and shows I organize.  You can also subscribe to the Google group for Last Night a Poet Saved My Life with the following link: last-night-a-poet-saved-my-life@googlegroups.com