The last 2+ years have been difficult in so many ways (and I'm certain none of you want to revisit a list of all the insanity we collectively lived through!). But these two years have also taught me, in ways I couldn't have imagined, what it means to be resilient – and that joy can be found in the most unexpected of places (or that joy can be found in some of the expected places… but maybe I needed a world-changing, life-altering reminder to refocus on the things that matter?).
Like so many of us, I struggled during the pandemic. After being nearly swallowed by the doom and gloom of isolation, I reconnected with two amazing friends last summer for dinner, trying to fill my "emotional bucket" by rekindling two of my most valued friendships. That dinner has gone down in history as an auspicious night: for over two hours, Mary Ellen Flynn, Jody Hardy, and I chatted about how we could focus our efforts on bringing more connectedness and kindness to Tucson. And honestly? Reconnecting with these two amazing women and making a plan to "do more good" through random acts of bookish kindness in our community has made all the difference.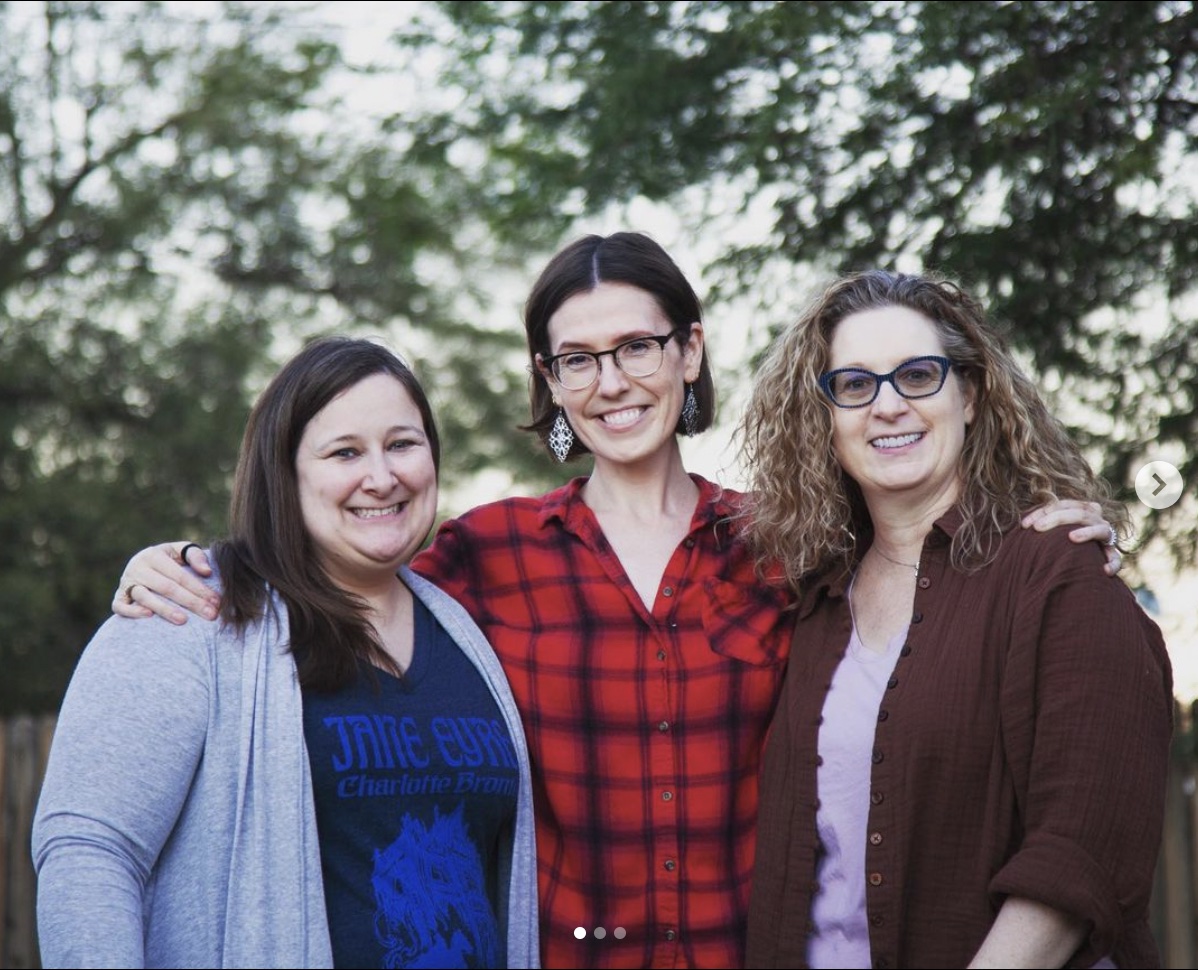 That hot summer night in July of 2021, excitedly plotting over burgers and fries at Zinburger, we hatched the idea of hiding surprise books around town as an offering of random kindness to our friends and neighbors in Tucson. As three avid readers, our goal was to simply bring some surprise delight to people who find a free book around town while going about their daily lives. Our hope was that people would read the book and then re-hide it somewhere new for someone else to find. So began the Tucson Tome Gnome.
The Tucson Tome Gnome officially launched in September 2021 when we bought 30 copies of one of our favorite books (The House in the Cerulean Sea by TJ Klune), put a bookmark/sticker/bow on all 30 copies, and hid them around town for people to find. And so began the "official" adventures of the @tucsontomegnome.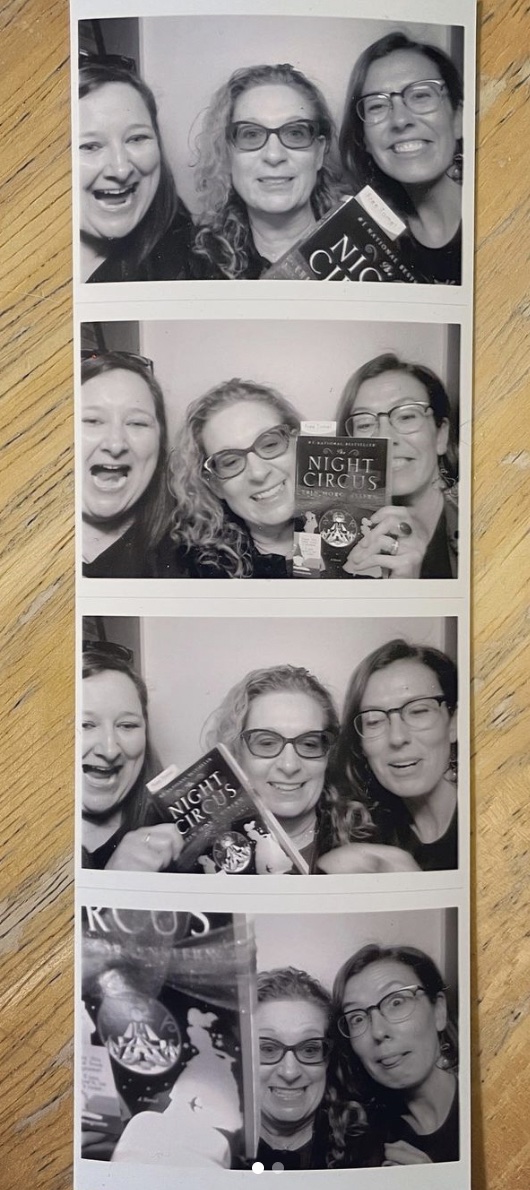 It was so heartwarming seeing people finding the surprise books - several people posted their finds on social media, and we received a few emails. We decided to do it again in October with Mexican Gothic (by Silvia Moreno-Garcia) and again in November with The City We Became (by N.K. Jemisin). We took a short break in December and January and started again in February 2022 with The Night Circus (by Erin Morgenstern) and Black Love Matters (edited by local author Jessica P. Pryde) in March.  Since launching in September 2021, we've hidden more than 150 books around Tucson, hoping they will bring some surprise bookish happiness to our friends and neighbors who find them.
And now, in celebration of National Poetry Month this April, we are incredibly excited to partner with the University of Arizona Poetry Center to hide bundles (yes, bundles!) of books around Tucson on Sunday, April 24. What better way to celebrate the month than with surprise bundles of poetry hidden around town? This will be our biggest distribution of books to date. We will be hiding 30 book bundles all over Tucson, and there might even be some hidden bundles along the Haiku Hike (hint hint!). Each bundle will include three signed books by Poets Laureate: An American Sunrise by U.S. Poet Laureate Joy Harjo, A Small Story About the Sky by Arizona Poet Laureate Alberto Rios, and Gephyromania by Tucson Poet Laureate TC Tolbert. We hope that these 90 books will find a good home and might inspire some people to discover (or rediscover?) love and appreciation for poetry.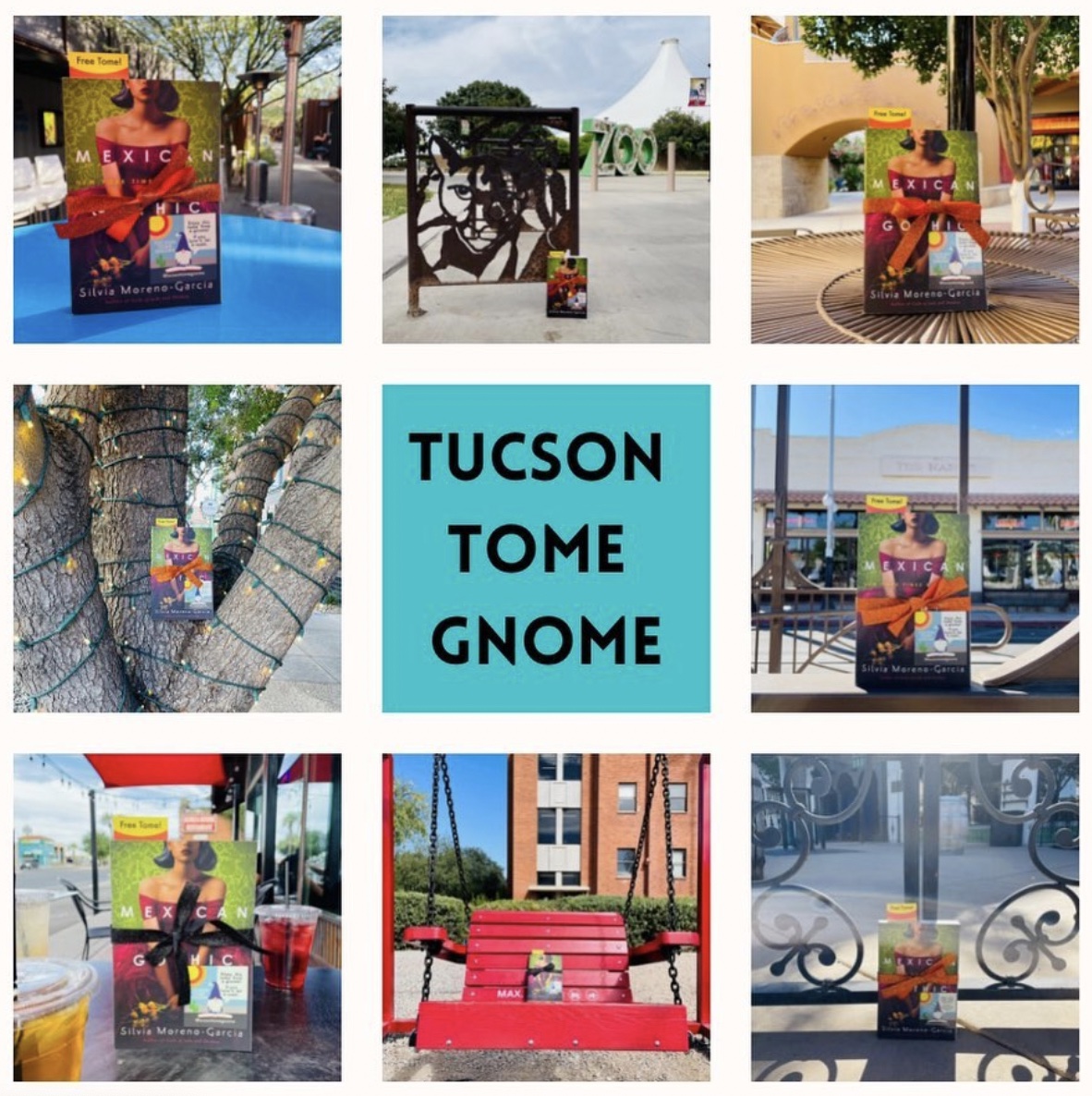 As our first collaboration, working with the Poetry Center on this month's book hiding is an especially meaningful partnership because I truly believe that both poetry and kindness can be a balm for times of uncertainty. When I was struggling last summer, I re-read Joy Harjo's Conflict Resolution for Holy Beings, which includes the poem "For Calling the Spirit Back from Wandering the Earth in Its Human Feet". You can listen to Joy read the poem on Voca (I was lucky enough to have be in the audience for that chilly winter reading on December 1, 2016) , and you can also read the full poem here. The entire poem is moving and beautiful, but when I was re-reading it last summer, these final lines really struck me:
"Let go the pain you are holding in your mind, your shoulders, your heart, all the way to your feet. Let go the pain of your ancestors to make way for those who are heading in our direction.
Ask for forgiveness.
Call upon the help of those who love you. These helpers take many forms: animal, element, bird, angel, saint, stone, or ancestor.
Call your spirit back. It may be caught in corners and creases of shame, judgment, and human abuse.
You must call in a way that your spirit will want to return.
Speak to it as you would to a beloved child.
Welcome your spirit back from its wandering. It may return in pieces, in tatters. Gather them together. They will be happy to be found after being lost for so long.
Your spirit will need to sleep awhile after it is bathed and given clean clothes.
Now you can have a party. Invite everyone you know who loves and supports you. Keep room for those who have no place else to go.
Make a giveaway, and remember, keep the speeches short.
Then, you must do this: help the next person find their way through the dark."
So why this? Why books? By sharing free surprise books, we hope to bolster a culture and community that is united in the joy of reading to inspire literacy, happiness, and kindness throughout Tucson. Escaping into beautiful stories and the written word is one of the ways we have survived these past few years - and we want others to have that experience as well. As Joy Harjo suggested, this is our way of helping others find their way through the dark.
Also, it's just nice to put some random kindness into the world. We can all use more of it.